Superior Graphite has modified its well-established high temperature fluidised bed technology to be applied to the production of natural flake and synthetic graphite-based anode materials for the fast-growing market of lithium-ion batteries.
The growing need for mobility decarbonisation is leading to a rapid conversion of the automotive industry, requiring the build-up of significant capacities for EVs, and the lithium-ion (Li-ion) batteries used in them. While the announcements for new gigafactories are getting a lot of public attention, the necessary supply chain for the raw materials involved is still underdeveloped and could become a strategic bottleneck, in particular if the stringent ESG criteria, intended to be applied in the automotive industry, should be applied equally to all players in the market.
As the situation for the metals used in the cathode of the Li-ion battery (e.g. lithium, cobalt, manganese) has started to change and significant investment in capacity expansion can be observed in the Western world, the supply chain for the anode remains underdeveloped.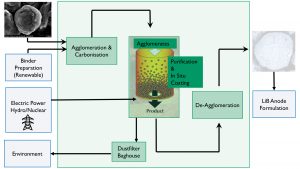 The current graphite purification process
Today, nearly 100% of the purification of natural flake graphite-based anode materials and more than 60% of the production of synthetic graphite used in Li-ion battery (LiB) cells, is performed in China. This is done either by acid/caustic leaching or by thermal processing in Acheson furnaces. Whereas, the chemical route involves the use of very aggressive reactants (e.g. HF or H2SO4), thermal purification and/or graphitisation is done in electrically-heated Acheson furnaces. State-of-the-art Acheson processing in China is very energy intensive (requiring >20 MWh/MT for graphitisation) and uses power from mainly coal/lignite-fired power plants. Furthermore, off gas scrubbing is non-existent.
Superior Graphite's fluidised bed technology
In contrast to the described purification/graphitisation technologies, Superior Graphite established high temperature fluidised bed technology, which has been developed and operated by the company for the past 40 years. This technology consumes
70-80% less energy and is devoid of any hazardous chemical usage. Moreover, it can easily be adapted to Li-Ion battery anode materials production, as recent pilot scale trials have proven.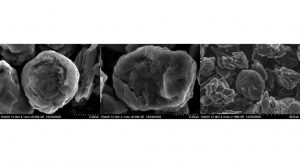 The newly-developed technology is based on agglomeration of spherodised precursor materials (petroleum coke, natural flake, used anode material from battery recycling) with a renewable binder, a continuous high temperature treatment between 2,600-3,000°C to purify/graphitise the precursor materials and apply an in-situ coating in the high temperature zone of the fluidised bed reactor. The ready-for-use product is achieved after a deagglomeration step and an optional additional coating of the 10-20 micron graphitic anode materials.
Superior Graphite has demonstrated the feasibility of the process on lab and pilot scale (>100kg), samples and electrochemical performance data are available.
Superior Graphite's plans for the future
Superior Graphite is actively looking for partners to add significant manufacturing capacity of graphitic anode materials to the Western markets for Li-ion battery production. Partial or full conversion of existing Superior Graphite sites or greenfield plants are considered.
In the case of converting the Swedish site, 15-20,000 MT of anode material could be produced. The Swedish power mix (50% hydro, 40% nuclear, 10% other others) results in a CO2 emission of just 60g/kWh compared to over 700g/kWh in China via the Acheson method. The lower power requirement per tonne produced, combined with the lower CO2 emission per kWh, would minimise the overall CO2 emission in the anode supply chain dramatically. Considering all ESG criteria, Sweden would be an ideal location for a European Li-ion battery anode plant.
About Superior Graphite
Superior Graphite Co., established in 1917 and incorporated in Chicago, USA, is a privately owned, mid-size company with a total of 200 employees and revenues of approximately $100m per year.
With manufacturing sites in the US (Chicago, IL and Hopkinsville, KY) and Sweden (Sundsvall), Superior Graphite produces high purity carbon and graphite materials for various markets relevant to the automotive industry (e.g. foundries and friction industry) but also for oil and gas exploration. The energy storage market is served with high purity conductivity enhancers for different batteries and high purity graphite for fuel cells.
Please note, this article will also appear in the eighth edition of our quarterly publication.