Gorden Glenn, Chairman, President & CEO of Minnova Corp, details its green hydrogen strategy, innovative technology, and production processes and highlights the role that green hydrogen can play in the energy transition.
Combating climate change is a global initiative supported by policymakers, regulators, investors, and consumers all making a concerted effort to reduce greenhouse gases (GHGs) and specifically carbon (CO2) emissions. Green hydrogen is widely viewed as a key energy vector to accomplish this.
Green hydrogen made from renewable resources can be used directly as an energy source or can be transformed into so-called 'hydrogen carriers' such as ammonia (NH3) or methanol (CH3OH) – both of which have established markets and are in wide use today.
Over 30 countries have released hydrogen roadmaps, and many more countries are working on their hydrogen and energy transition strategies. Considering the positive outlook for green hydrogen demand, this is exactly the time for smaller, innovative companies, like Minnova Renewable Energy, to look closely at this global market opportunity and possibly even displace larger, more established companies.
This is the opportunity we are presenting to investors seeking innovation, green energy, and growth.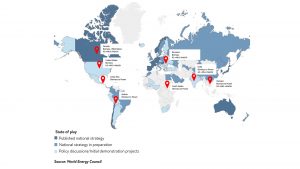 Seizing the green hydrogen market opportunity
Minnova Renewable Energy is a wholly owned subsidiary of Minnova Corp. (MCI:TSXV) and was established to take a leadership position in developing new green hydrogen production capacity in Canada and around the world via multiple green hydrogen production pathways.
First, we are rapidly advancing our innovative third-generation biomass gasification technology to produce a high hydrogen content (>50% H2 by volume) clean syngas with negligible tars, nitric oxide (NOx) and sulfur oxide (SOx).
Our second green hydrogen initiative is located in the City of Flin Flon, Manitoba, where we are working closely with MB Hydro, the provincial utility, to develop large-scale green hydrogen production via conventional electrolysis methods.
Both initiatives are encouraged by local community and all levels of government who are committed to reducing CO2 emissions through policy and financial incentives. We believe the energy transition will drive economic development opportunities associated with broader adjustments in local, national, and international green energy supply chains.
Sustainable biomass to power the global energy transition
Biomass qualifies as renewable energy because CO2 emissions are net zero against CO2 removed from the atmosphere from new biomass growth. Furthermore, the process can be carbon negative if coupled with carbon capture, utilisation, and long-term storage.
Power generation from biomass is not new and represents 6% of global energy supply. First- and second-generation biomass reactor technologies generate heat to produce steam that, in turn, drives a turbine to generate electrical power. These systems are inefficient compared to our third-generation gasifier design.
Our gasification technology is designed to produce a high hydrogen content syngas. It is a step change in gasification technology and opens a wide range of commercial green energy/chemical production opportunities on a worldwide basis, ranging from:
Green hydrogen;
 Syngas to power;
Green ammonia;
Green methanol; and
Other valuable biofuels.
Multiple and flexible production opportunities, combined with rapidly growing zero carbon emission energy markets, offer practical business opportunities to support industries transitioning to zero carbon energy sources.
Combating climate change will require development of all forms of renewable energy and biomass. We believe power and molecular energy produced from sustainable waste forest and agricultural biomass represents an obvious opportunity to develop a circular economy with decentralised, scalable energy derived from local waste feedstock.
Biomass pilot plant, summer 2023
Our innovative biomass gasifier design was initially developed by a private Manitoba-based company called DUMA ENGINEERING (2018) Inc. Initial laboratory test work was partially funded by NRC IRAP grants in 2021. At Minnova Renewable Energy, we recognise the importance of innovation (Minnova is a portmanteau of 'mining' and 'innovation') and entered into an agreement to acquire DUMA to advance and commercialise the technology. We completed the acquisition of an initial 50% interest on 30 September 2022. To date, we have invested over C$1m on laboratory studies and initial development of our planned pilot plant.
Pilot plant operations are planned for the summer of 2023 to demonstrate:
High hydrogen content (>50% H2by volume);
Low tar content and other impurities in the syngas; and
 Innovative design concepts that enable a significant reduction in commercial module footprint.
High hydrogen yield, low tar, and other impurities combined with a small footprint will reduce overall capital and operating costs of a commercial-scale module.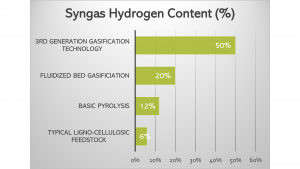 Our reactor design, internal catalysts and operating parameters are designed to produce a clean, high hydrogen content syngas, from a variety of lignocellulosic feedstocks. Feedstock is gasified at temperatures of over 1,000°C in a pressurised vessel. The resulting syngas can be processed to pure hydrogen gas via conventional water gas shift (WGS) reaction to remove carbon monoxide.
The commercial design is modular and scalable. A base module considers a 10MWthermal input that can be customised to direct syngas power generation (2.5MWelectrical plus heat) or pure hydrogen production (~1.4million kg/yr). Depending on available feedstock supply, we can scale up to many multiples of the base module output.
Equally important to the high hydrogen content, the syngas has very low impurities and other hydrocarbons that typically require extensive cleaning steps prior to the WGS process. As a result, our third-generation reactor design has a smaller footprint and fewer process steps, reducing overall capital and operating costs.
In 2022, our gasification technology was recognised by Ontario Sustainable Energy Organization (OSEA) for our waste to energy innovation. International recognition includes selection to participate in the Canadian Trade Commission Services (CTS) – Canadian Technology Accelerator programme to address Southeast Asia's climate target of net-zero carbon emissions.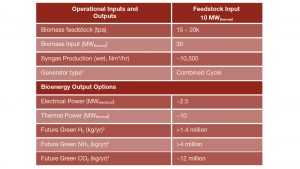 In contrast to intermittent solar and wind renewable energy options, biomass gasification is sustainable and can provide baseload power generation like hydro and nuclear. Beyond baseload power generation, biomass gasification can produce molecular energies like green hydrogen, and so-called hydrogen carriers like green ammonia, green methanol, and other biofuels all from waste biomass feedstocks.
Hydrogen is both an energy source but also represents an important vector to other chemicals that are widely used in industry.
Developing large-scale green hydrogen
In addition to gasification technology development and biomass project development initiatives in Canada and around the world, we are technology agnostic and intend to develop large-scale green hydrogen using commercial electrolysis technology where water resources are plentiful and renewable power is low cost. We announced a Memorandum of Understanding (MoU) with the City of Flin Flon, in central Manitoba, and have initiated an electricity load study with MB Hydro. This project envisions establishing a northern green hydrogen hub based on low-cost, renewable grid hydro power (>100MW).
Manitoba has one of the cleanest electricity systems in the world (97% renewable). Low-cost power and proven technology offer an opportunity to be a low-cost green hydrogen producer (less than $2/Kg).
Flin Flon has excellent industrial infrastructure and a highly skilled workforce, making this a larger-scale, lower technical risk project. There are a variety of electrolyser technologies available and other commercial technologies to process green hydrogen into other e-fuels.
Building a cleantech company
Beyond green hydrogen, we see an opportunity to pair electrolysers with our gasification technology so we can produce a suite of biofuels to help decarbonise local transport and industry. Green ammonia or green methanol can also be transported great distances on existing road and rail infrastructure to southern Manitoba.
We also see a market opportunity to supply the Canadian arctic and far north coastal communities with zero carbon fuels to replace diesel and other fossil fuels currently used for heat and power.
In the future, the Port of Churchill Manitoba may form an important part of the overall supply chain for future green energy exports to high-demand markets like Europe.
Our goal is to efficiently utilise Canada's abundant natural resources, renewable energy and available biomass waste, and transform them to green energy to support the global movement to reduce carbon emissions.
Growing domestic and global market opportunities include:
Hydrogen blending in natural gas networks (local);
 Replacing diesel in the long-haul transportation/ shipping industry:
Hydrogen internal combustion engines and methanol internal combustion engines;
Green ammonia (fertiliser); and
Other chemical and process heat applications like steel and cement.
Once-in-a-generation energy transition opportunity
The world requires ever-increasing amounts of energy and, because of climate change, the legacy of the carbon-emitting fossil fuel sector will eventually be replaced with clean, zero carbon emission renewable energy sources.
We believe this is an incredible, once-in-a-generation opportunity to be part of the green energy transition based on green hydrogen production. Whilst the green hydrogen market is still in its infancy, hydrogen carriers will play an important part in accelerating the pace of the transition.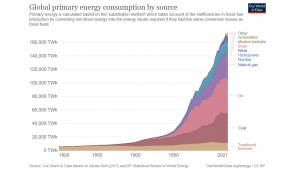 At Minnova Renewable Energy, we are working hard to demonstrate how our ambitious green hydrogen and cleantech development strategy can be translated into long-term value creation.
The first industrial revolution was driven by the transition from biomass to the use of coal. This was followed by oil and then natural gas and, by the late 21st century, renewable energy like solar and wind.
We believe our innovative gasification technology will support a resurgence of biomass as a leading source of green energy as we transition away from carbon-emitting fossil fuels in the future.
Many Minnova shareholders consider our Minnova Renewable Energy strategy to be a 'Rockefeller' moment, referencing that point in time when everything changes. When massive transformation can create new industries, new industrial leaders, and create generational wealth for those with the foresight to seize the opportunity.
That is a value proposition worthy of our ongoing development plans for Minnova Renewable Energy.
Please note, this article will also appear in the fourteenth edition of our quarterly publication.