Colin Bennett, Market Intelligence Director at the International Copper Association, shares his thoughts on the increasing use of copper in the EV industry.
Despite the challenges facing the automotive industry in 2021, it was a record year for zero and ultra-low emission vehicles. UK data shows that, as of January 2022, one in five buyers purchased an electric vehicle (EV) and this trend is expected to continue.1 The same data shows that average new car CO2 emissions fell by 11.2% to 119.7g/km2 in 2021, its lowest recorded level, demonstrating the meaningful impact EVs are having.
Copper's role in the future of EVs is broad, touching various components including vehicle wiring looms, energy storage (batteries), and power cables. Looking ahead to 2040, research commissioned by the ICA predicts that, amongst a wide range of components, the wiring loom alone will account for more than 50% of vehicle demand by weight.
Copper-based motors are growing in popularity
Currently, the total copper usage in a typical battery EV is roughly 83kg. This is a dramatic increase in the average weight of copper used in a standard internal combustion engine, which amounts to an estimated 23kg.2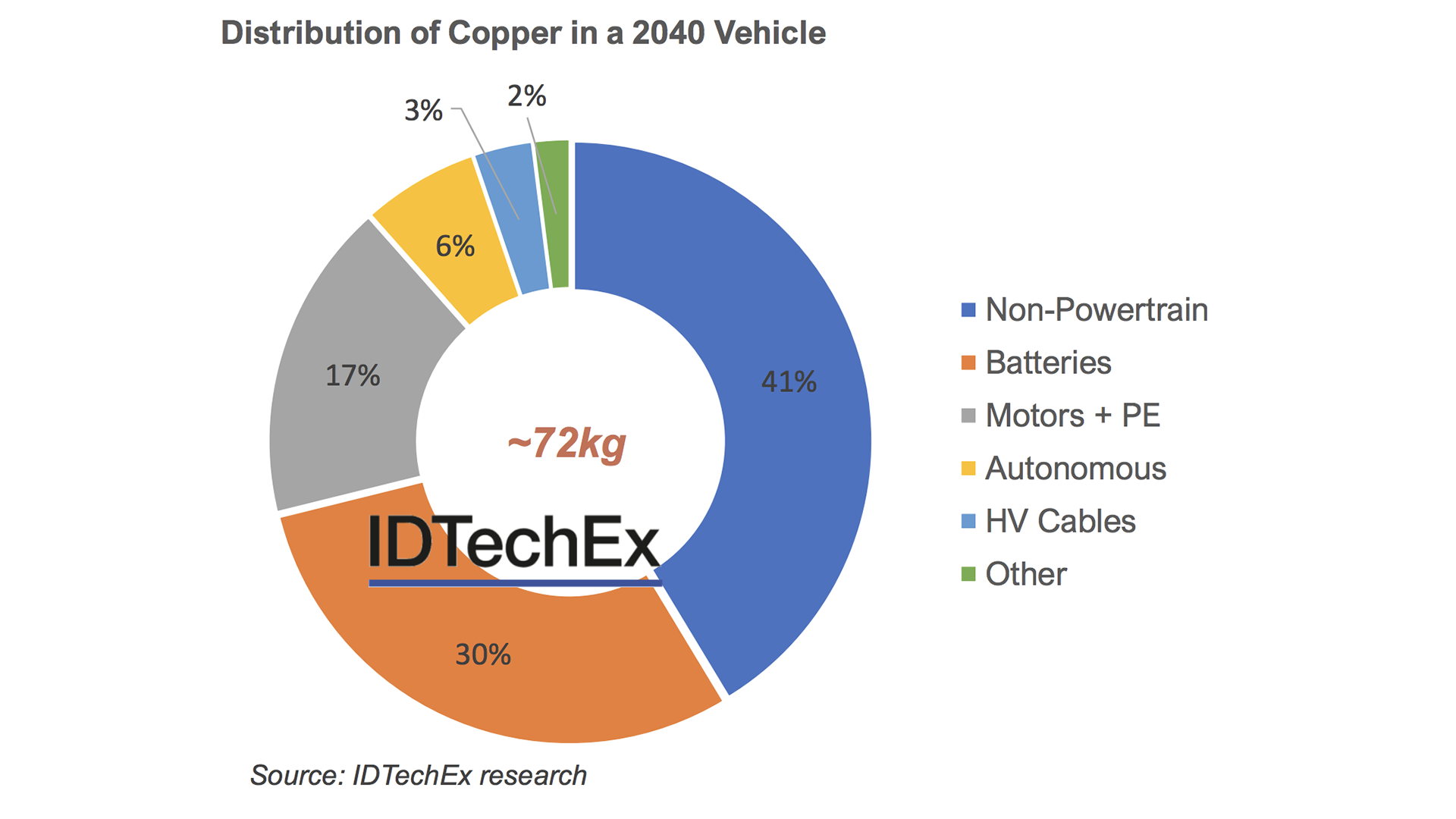 A significant part of this total use is found in the copper rotor induction motor. As the best nonprecious conductor of heat and electricity, copper proves to be more cost-effective, whilst offering greater efficiency, and is a relatively more reliable and sustainable material when compared to rare earths.
Whilst Tesla was one of the first key original equipment manufacturers (OEMs) to use copper in its engine designs, other manufacturers have followed suit worldwide.
A key defensive driver toward alternatives has been the increasing supply challenges facing manufacturers who were, and still are, reliant on rare earth elements (REEs). Facing availability and associated sourcing challenges, industry has been forced to innovate.
In the current market, copper is set to be one of the critical driving forces enabling the rollout of EVs across the globe. New technologies such as permanent magnet synchronous motors (PMSMs), AC induction motors (ACIM), and permanent magnet switched reluctance motors (PMSRs) also require copper. For example, ACIMs contain around 10-15kg for a pure electric passenger car due to the presence of copper in both the stator and rotor.
Copper underpins EV charging networks
Copper's applications for EVs do not end with the vehicle. According to SAI Industrial LLC, the number of EV charging ports is predicted to grow from 3.2 million in 2021 to 152.3 million in 2040. This increase is expected to buoy copper demand in the sector to reach 978,000 MT in 2040—a dramatic increase from the 43,300 MT used in 2021.3
Copper's popularity for use in charging ports and stations is largely due to its natural electrical conductivity and long understood durability. The metal's role in EV infrastructure also extends out to power cabling and heavy equipment such as transformers and utility grid upgrades.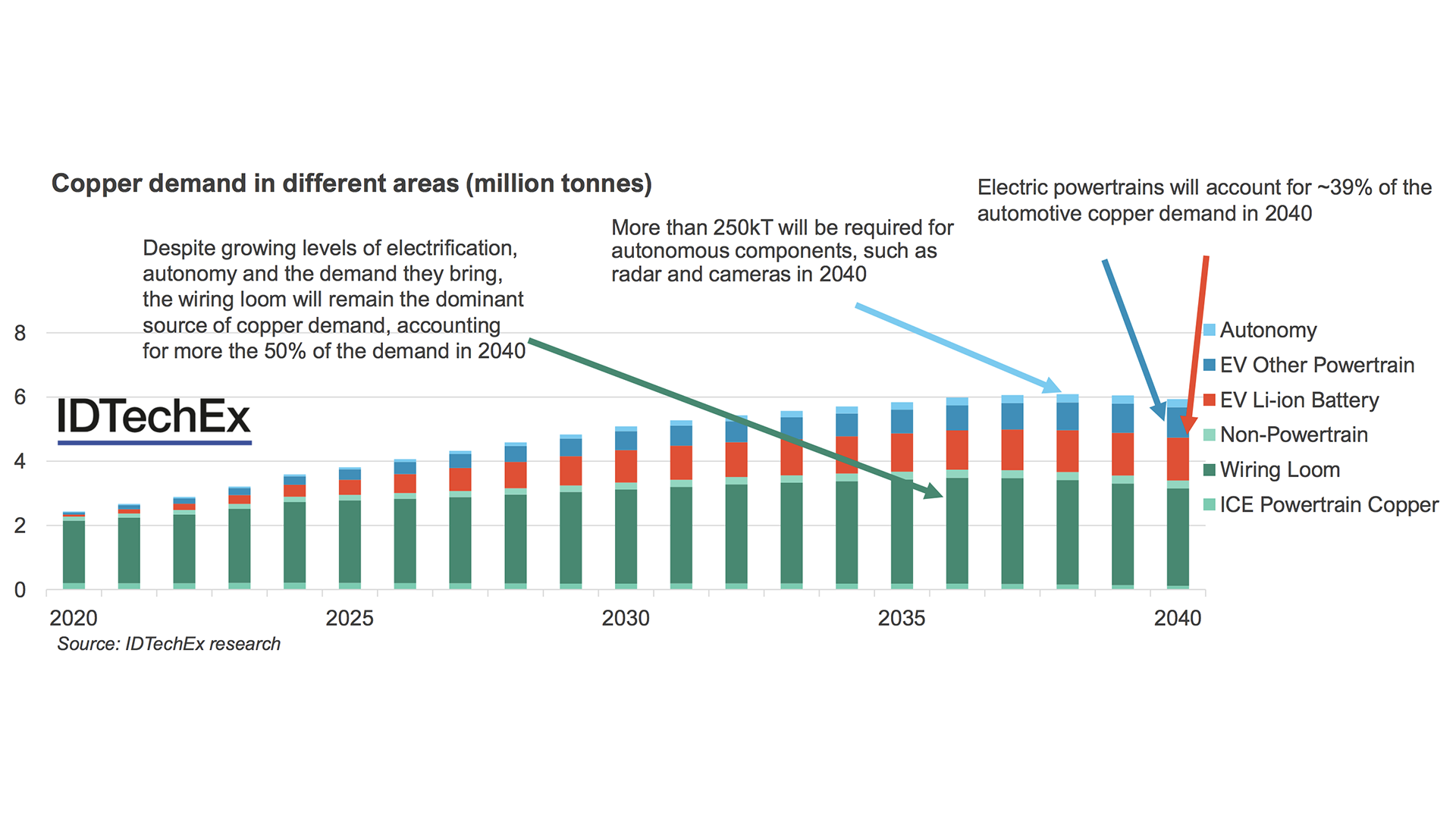 Power electronics working in the background
Power electronics are one of the most important components in an EV and are largely responsible for processing the flow of electrical energy. They control multiple EV functions including motor speed, braking, and general vehicle safety.
Given copper's superior capabilities, it is no surprise copper has emerged as the preferred material of choice for automotive manufacturers. IDTechEx's research showed that, by 2040, copper use in EV inverters is predicted to reach 45kt annually. Between 2015 and 2040, an accumulated 425kt of copper will be required for the main inverters of plug-in EVs.
The exciting move to autonomous vehicles
Vehicle automation requires the addition of many sensors, as well as additional on-board computers. Each sensor and computer contain printed circuit boards using ~50-100g of copper depending on the size, contributing additional wiring to the main wiring loom.
Future battery EVs with high levels of automation will require more than double the copper of today's conventional internal combustion vehicle. As the supply of either fully or semiautonomous vehicles on our roads increases, so too will the demand for copper components.
But what does the vehicle of the future look like? In 2040, ICA research predicts a typical vehicle to have a 108kWh battery supporting a 195kW motor. An autonomous system with 12 cameras, seven LiDARs (light detection and ranging), eight radars, and one automated driving control unit; all of which will depend on copper connections. All in, the autonomous vehicle of the future contains an estimated 72kg of copper.
Sustainable copper: Supporting a flourishing circular economy
Copper's role in EVs and charging infrastructure will continue to contribute to sustainable development, climate action, and global green transition goals. Copper is fully recyclable, meaning that components used in EVs will also support a flourishing circular economy at end of life.
About the International Copper Association
The International Copper Association (ICA) brings together the global copper industry to develop and defend markets for copper and make a positive contribution to the UN's Sustainable Development Goals. Headquartered in Washington, DC, ICA has offices in three primary regions: Asia, Europe, and North America. ICA and its Copper Alliance® partners are active in more than 60 countries worldwide. For additional information, please visit The International Copper Association's website.
References
1 Society of Motor Manufacturers and Traders (SMMT)
2 IDTechEx
3 ICA, SAI Industrial, 2022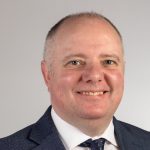 Colin Bennett
Market Intelligence Director
International Copper Association
https://copperalliance.org/about-ica/about-ica-and-copper-alliance/
https://www.linkedin.com/in/coppercolinbennett/?original_referer=https%3A%2F%2Fwww%2Egoogle%2Ecom%2F&originalSubdomain=uk
https://twitter.com/colinofbritain
Please note, this article will also appear in the eleventh edition of our quarterly publication.