Eclipse Metals (ASX: EPM) has made encouraging progress in its Greenland drill programme to test and confirm the potential for polymetallic rare earth and lithium mineralisation at the Ivigtût and Grønnedal targets.
Advancing from the planning and preparation stage, Eclipse has completed a maiden drilling programme at its flagship Greenland project, with initial objectives of drill hole and trenching activities and sampling already completed.
Eclipse's southwest Greenland project hosts two targets, the historical Ivigtût cryolite mine precinct and the Gronnedal carbonatite rare earth element (REE) complex. Over both sites, the project has multi-faceted commercial potential for REE and high-purity quartz (HPQ), lithium, cryolite, siderite, and several base metals.
Whilst the historical mine at the site produced 3.8 million tonnes of high-grade cryolite (a mineral used as a flux in the production of bauxite into aluminium), Eclipse is the first company targeting the REE and multi-commodity potential at both Grønnedal and Ivigtût. Capitalising on this opportunity first requires Eclipse to transform the exploration targets of both sites into an accurate evaluation of the potential of the systems.
Eclipse's drill test and sampling progress in Greenland
Following successful fieldwork studies and mobilisation planning, Eclipse commenced its maiden drilling programme at both Greenland sites in October 2022. With earlier surface sampling, indicating that the Grønnedal carbonatite complex could be highly prospective for both light and heavy REEs, the primary objective of this phase was to collect sub-surface samples of the REE-bearing carbonatite formation and obtain samples of the Ivigtût mine wall rocks. These samples would confirm this, along with other mineralisation in the exploration licence area.
This maiden drilling and trenching programme follows approvals from Greenland's Minerals License and Safety Authority (MLSA). Since the programme's initiation, Eclipse has completed 31 percussion drill holes at Grønnedal, nine holes at Ivigtût, and more than 50 excavated pits and trenches to sample carbonatite at Grønnedal and the Ivigtût mine waste dumps.
Harnessing local expertise, including Greenlandic geological consultants and drilling and earthmoving contractors, Eclipse's Executive Chairman Carl Popal was on site to observe and assist with activities, concentrating the company's resources on this critical step in exploration activities.
Grønnedal Complex exploration
Since its partial drill testing in the mid-1900s, Eclipse's current drill programme, of the Grønnedal carbonatite complex, is the first systematic exploration since closure of the Ivigtût mine. By early November, Eclipse had completed 31 drill holes between three and 24 metres, utilising a grid pattern where possible and excavating trenches where appropriate.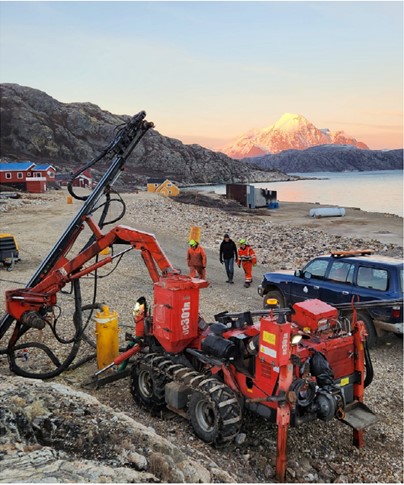 The programme has confirmed the highly altered REE-bearing magnetic dolerite dyke to be widespread and deep-seated, based on geophysical interpretations of the system. This was confirmed in rock chip descriptions and visually in trenches and drill holes.
In May, Eclipse announced results from previous surface samples of the dykes confirmed enrichment in REE, with up to 4.66% total rare earth oxides, and pink mineral samples tested by XRD assessment as possibly being bastnasite-enriched in REE carbonates.
Ivigtût Mine Precinct
The company completed nine percussion drill holes at the Ivigtût mine precinct to sample wall rocks of the existing mine. The estimated exploration target of 870,000t and 916,200t of remaining cryolite mineralisation, grading between 16.0% and 17.7%, was calculated on historical drill results.
Eclipse is set to move forward with a thorough assessment of the historical drill core to confirm these results, and to also further confirm the purity of the large quartz body located beneath the existing pit floor. This was identified by Eclipse earlier this year, as it announced to the Australian Securities Exchange in April.
Waste dumps are another focal point for the analyse of the Greenland drill programmes. Waste-rock dump samples containing visible cryolite, fluorite, and quartz, zinc mineral sphalerite, and lead mineral galena were also identified in these dumps.
About five tonnes of bulk samples from five trenches are being shipped to Australia for assessment of other potentially economic minerals, including REE, lithium, and tin, following the highly encouraging visual interpretations. Eclipse looks forward to updating the market with results of the drill program when testing of the samples has been completed.
Greenland from a wider perspective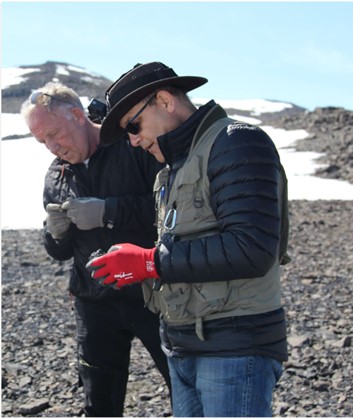 Earlier this year, Eclipse announced its plan to preserve Ivigtût's mining history, liaising with Sermersooq municipality to assist in restoring Ivigtût's Mining Museum.
Along with exploration activities, the company is working with residents to develop the project into one that benefits all stakeholders. It has hired and incorporated local Greenlandic contractors where possible during this drill programme, along with a leading European consultancy firm to commence the environmental and social study of the project.
The project in Greenland is as demanding as it is promising, and Eclipse aims to invest its resources to maximise value for all stakeholders.

Go to this partner's profile page to learn more about them