C29 Metals Limited (ASX:C29) is using groundbreaking technology to extract metals such as lithium and copper situated within Tier 1 mining regions.
C29 Metals made its ASX debut in November 2021, following the successful completion of an A$5.0m Initial Public Offering for the purpose of exploring and developing copper, gold, uranium, and base metal assets in Tier 1 Australian mining jurisdictions.
C29 targeted its first drilling at its Reedy Creek Project, located on the world-class Lachlan Fold Belt, just weeks after making its ASX debut. The project encountered positive results and promising copper-zinc-lead targets. Following this, the company continued to advance its early-stage exploration projects through systematic exploration. In mid-2022, C29 added the highly prospective Mayfield copper-gold Project, located within the well-known Mount Isa inlier of Queensland, to its portfolio.
Advanced lithium brine projects
More recently, C29 took a strategic option to acquire two highly prospective lithium-bearing salars in South America's Golden Triangle, known as the Pocitos Lithium Brine Projects (Fig. 1). The company says the two 'drill-ready' projects will "strengthen and complement the existing portfolio and provide a sustainable future for the company."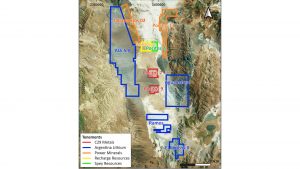 "It's the right commodity at the right time," stated Mark Major, CEO of C29. With the Lithium Triangle being home to the world's lowest cost lithium production, C29 is now poised to take advantage of the option agreement to acquire 80% of the projects.
The company plans to drill-test these geophysical targets in the short-term, before commencing a programme of lithium extraction process testing. The Lithium Triangle is estimated to contain 75% of the world's lithium supply and is the premier lithium exploration address, with C29 noting the acquisition is underpinned by the unprecedented growth in the lithium market. These factors are driven by rapid demand for increased electrical storage and from the electric vehicle (EV) market, as we transition to a new electrified world.
Major said: "We recognise the rapid changes in the future world's metal usage, caused by the evolution to a more sustainable electrified world. The fundamental movement for increased electrical storage and the growth in electric vehicle markets is driving unprecedented growth in the lithium market.  The company believes the potential of lithium brine extraction operates at the lower end of the cost curve and is more sustainable than other methods.
"This will be critical to fill the void created with the current and future demand fundamentals. We now have an opportunity to establish ourselves in this demand-driven market within the world-renowned Lithium Triangle of South America, a place with suitability established infrastructure."
Other concessions are surrounded by land held by other lithium brine explorers. These include major players, such as the dual-listed Argentina Lithium & Energy, Power Minerals, Spey Resources, and Recharge Resources, which all hold an interest in land at the Salar de Pocitos.
The benefits of C29's lithium extraction processes
C29 has signed a non-exclusive intellectual property license agreement with Ekosolve Ltd to use its technology and expertise in order to directly extract lithium specifically for brines like the Salar de Pocitos, for over six years. C29 will also utilise Ekosolve's facilities at Melbourne University to undertake the analysis and test work needed to determine the feasibility of the project's brines, with the aim of moving to pilot testing in late 2023. The Pocitos projects have the potential to become a long-life, low-cost producer of battery-grade lithium carbonate, using emerging direct extraction technologies such as Ekosolve. These methods are considered superior to older solar evaporation methods by:
Eliminating the need for solar evaporation ponds –major CapEx reduction;
• Being environmentally-friendly – reinjection of brine, small plant footprint;
•    High recovery of lithium from brines as lithium chloride or lithium carbonate;
•    Producing battery-grade lithium carbonate (around 99.5%);
•    Circumvents problems of brine contaminants, such as magnesium, calcium, and boron;
•    Single continuous process, which is completed in a matter of hours; and
•    Low OpEx.
C29's other projects
Other DLE technologies will also be tested to determine the most suitable lithium extraction process. C29 will commence a technical due diligence process focusing on the geological and process fronts. An exploration programme will be developed to determine the hydrogeological characteristics of the aquifer, including drilling, as early as December 2022 and various test-work on drill core, water sampling, flow-testing, and more. The aim is to establish a JORC compliant mineral resource estimate soon.
Major said: "The team at C29 have a busy six months of exploration ahead to unlock the potential at its highly prized lithium brine project within the South American Lithium Triangle, along with seven highly prospective copper-gold projects.
"We are also very excited by the potential of our copper-gold portfolio consisting of Mayfield, Ready Creek, Stadler's, Sampson's Tank, and Torrens Project.
"The Mayfield project presents an opportunity to strategically add to our copper project portfolio and provide a strong exploration asset in a well-established mineral camp. There are various prospects previously identified and sporadically explored. There is a lot of smoke, and we believe that, with modern high-powered geophysics and systematic exploration, we have a good opportunity to find substantial copper and gold mineralisation."
Mayfield is in the highly mineralised and extremely prospective Mount Isa inlier, and just 25km from Carnaby's Nil Desperandum project. The project boasts excellent potential, with more than 80% of the project area under thin alluvial cover. This allows for extensive near-surface mineralisation associated with magnetic anomalies.
The Stadlers Project is located 60km south of Paraburdoo in Western Australia, and covers a land area of 63km2. Aeromagnetic and radiometric surveys are being undertaken to help redefine the structural interpretation and establish an advanced, project-wide targeting programme.
Sampsons Tank is located in the world-class Lachlan Fold Belt, within the southern portion of the Ordovician Girilambone Basin, which consists of 93km2. Upcoming work programmes will include RC drilling and downhole geophysics at two recently defined electromagnetic targets, one having coincident anomalous copper soil geochemistry.
The Torrens Project is located in the world-class Olympic IOCG Domain, Gawler Craton, with over 1,700km2 of tenements. C29 will commence detailed geophysical surveys for targeting IOCG drilling hotspots in 2023.
Reedy Creek is a base metal skarn with gold and copper footprint. It is located within the Lachlan Transverse Zone (LTZ), with an area of 42km2, in New South Wales.
Please note, this article will also appear in the twelfth edition of our quarterly publication.