Dr Frédérick Bordry, Scientific Advisor and former Director for Accelerators and Technology at CERN, outlines his career achievements working in the field of accelerator physics and the significance of energy conversion.
With a highly extensive career spanning five decades, French physicist and electrical engineer Frédérick Bordry is well recognised for his work in the significance of energy conversion and accelerator physics. Most notably, Dr Bordry has been a longstanding member of CERN, the European Organization for Nuclear Research, joining in 1986 as part of the group working on the power converters for the Large Electron-Positron Collider (LEP). During his time at CERN, Dr Bordry held several positions, including as Head of the CERN Technology Department and his most recent role of Director for Accelerators and Technology. Despite completing his term as Director at the end of 2020, he remains an honorary member of CERN and continues to work within the related communities as a Scientific Advisor to various start-ups and projects using particle accelerators.
In April 2022, Dr Bordry completed a five-month sabbatical at the SLAC National Accelerator Laboratory, operated by Stanford University in the US. Here, he participated in the commissioning of the upgrade to the Linac Coherent Light Source (LCLS-II), amongst other research activities.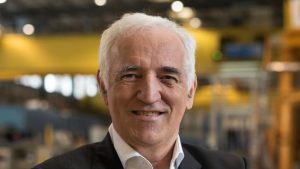 Exploring his career path in further detail and highlighting the growing importance of energy conversion, Dr Bordry spoke to The Innovation Platform Editor, Georgie Whitworth.
Can you briefly summarise how your career has progressed, highlighting your most notable achievements?
By education, I am an electrical engineer. I started my work in electrical conversion, centring my PhD around the topic of energy conversion. I joined CERN in 1986 when they were building the Large Electron-Positron Collider (LEP). Because of my work in energy conversion, I was asked to join the group working on the development of the LEP power convertors. After two years in this position, I was asked to stay as the First Engineer, responsible for the control of LEP. This was an offer I could not refuse. I spent six years in this position and, when the LHC was approved in 1994, I moved back to the Power Convertor Group, where I was responsible for the development of energy to power the collider.
I was then appointed as Head of the Technology Department at CERN, which takes care of all the technology needed to build an accelerator – magnets, power convertors, vacuum systems, etc. I spent five years in this very interesting department, before transitioning to the role of Director for Accelerators and Technology at CERN. My role in this position was twofold: to oversee the operation of all the accelerators at CERN; and to look at developing state-of-the-art technology to be ready for the next generation of accelerator.
The development of an accelerator is a very long-term project. For the LHC, the first idea was established in 1984, ten years before the approval in 1994. Development and installation then continued until 2005 before its first operational run from 2010-2014. Now, we must foresee the potential for the next possible machine. In 2015, we started to think about what the next accelerator in 2040 could be and what we would need to build it. I was responsible for determining all the technology we need to develop at CERN, in collaboration with top universities and institutes around the world, to prepare for what could be the next accelerator. I finished my mandate at CERN in 2020.
Over my career, energy and the significance of energy conversion was a very important focus for me. I am immensely proud to have focused on the notion of energy management, energy efficiency, and energy recovery at CERN. I was an initiator of a very important series of workshops we are carrying out called Energy for Sustainable Science. Our next workshop will take place in France in September, gathering all the people from different organisations and labs in Europe, the US, Japan, and more, looking at how we manage energy, how we can reduce the consumption of energy and improve our energy efficiency. It is also important to show that big labs are not only consuming energy but are also developing technology that can help towards alleviating the climate change effects attached to energy consumption. This is something that is close to my heart.
Accelerator technology has clearly been a crucial element of your career. How important has innovation been in advancing accelerator technologies?
As you say, technology is an essential factor in developing new accelerators. When I was Head of the Technology Department at CERN, I had to be at the state of the art to examine all the different parts of technology. In physics, when you want to see small particles, you must consider big accelerators.
Looking at what could be the new accelerator in 2040, it is important that we develop the technologies now. My career revolved around looking at futuristic technology, that we know will be used for the next accelerator, but it was also important to look at existing technology in laboratories and universities that you can do by R&D transfer to industry.
When it comes to working with accelerators, I feel it is important to focus on operating the existing technology, whilst also thinking about what the next 15 years could hold and what the next accelerator could look like in the very distant future.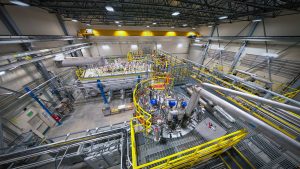 There is also the issue of protecting the environment. For any new accelerator proposal, it is an obligation to have a chapter on energy management. It will not be approved in a policy context if you fail to demonstrate that you are developing your accelerator with the environment in mind. Your accelerator development plan must contain reference to the environment, whether that is demonstrating how you will minimise energy consumption or material consumption, how you can convert energy, or how you can decommission your machine to have less impact on the environment.
Reflecting on your last point of energy, can you explain the significance of energy conversion in more detail and the importance of nuclear fission in today's world?
My work in the significance of energy conversion focused on improving energy efficiency and energy consumption.
Today, it is very important to look at not only how to produce energy but how to convert energy, as well as how energy is consumed.
Electrical energy production is becoming more and more necessary, particularly as the transition to electric vehicles gathers pace. If we can produce green electricity, it is very good for the transport sector. The main problem with electricity production, however, is that you cannot store electrical energy, meaning that it must be consumed once it has been produced.
The main threat to humanity today is CO2. It is already a huge problem and, if we are unable to reduce CO2 production to zero by 2050, mankind will be in major trouble. We need to save humanity and, to do this, we must be able to produce and consume energy without the emission of CO2. For this to be achieved, nuclear fission is essential.
Nuclear fission is the process of splitting a large atomic nucleus into smaller nuclei, releasing a large amount of energy. It exerts no CO2 emissions, which is very important. There are two major issues, however: safety and security, and nuclear waste. The safety and security has already largely improved, but it can be enhanced further with a subcritical reactor, known as Generation IV, for the transmutation of nuclear waste.
One solution for nuclear waste is to have a proton accelerator to smash protons on targets to produce fast neutrons and to transmute new elements that are less radioactive. You can reduce the lifetime by a factor 1000 (300,000 years to 300 years) and the volume of radioactive waste by more than a factor of ten. This is an area I invest a lot of my time in, particularly in my role as Scientific Advisor for the Transmutex start-up for the transmutation of nuclear waste using high intensity proton accelerators and energy production with the thorium.
How did your previous work lead you to your most recent efforts at SLAC and how have you found this collaboration?
At CERN, we have a lot of international collaborations and this is part of our DNA for lab projects now. We have long had a very close collaboration with the US, particularly with Brookhaven National Laboratory, Fermilab, and SLAC. I have visited these labs several times in the past and, when I finished my mandate at CERN, the project leader of the LCLS-II invited me to SLAC to contribute my knowledge and competencies to support commissioning.
I am very happy to have participated in this as it has broadened my mind. I have been able to work with familiar technology, but in a different project and with new colleagues. The fact I had no executive tasks there allowed me to ask questions. It was important for people working on the project to benefit from my experience of accelerators and beam commissioning.
I think it is very good to have sabbaticals to work in another organisation with fresh eyes. I was able to complete a lot of work at SLAC, but with less constraint than my previous positions, allowing me to be more of a mentor for young people.
Having completed your sabbatical at SLAC, what are your vocational plans for the near future?
As a scientific advisor, I will be spending time meeting with a lot of people. I will continue to work within the Transmutex start-up.
Another pillar of my work is accelerators for medical applications. I am a member of the association board for the SEEIIST project, which aims to build an international accelerator facility for charged particle cancer therapy for Southeastern European countries.
Another project close to my heart is the VITAE project, for which I am the Scientific Advisor and Logistical Leader. This is an art and science project and a participative artwork by Anilore Banon, seeking to unite people across our globe. I am convinced that art and science is a universal language of humanity. Science is beautiful. Art is beautiful. The aim of the project is to collect one million handprints to be engraved onto a sculpture that will then be placed on the Moon. We are currently looking at how to finance the project and we are looking at NFT to fund the project. I like this kind of challenge – a few months ago I knew nothing about NFT but now I am learning a lot more.
Dr Frédérick Bordry
Scientific Advisor and former CERN Director for
Accelerators and Technology
home.cern
https://www.linkedin.com/in/frederick-bordry-8823662b/
Please note, this article will also appear in the tenth edition of our quarterly publication