One of the global leaders in fluoroproducts, Gujarat Fluorochemicals, will now supply high-quality raw materials for lithium-ion batteries.
Lithium-ion (Li-ion) batteries have dominated the portable electronics industry for almost two decades now. These batteries are known for offering almost unmatched volumetric energy densities and are now also powering zero-emission electric vehicles (EVs) and plug-in hybrid electric vehicles. Moreover, global warming, rising pollution levels and the energy crisis are global challenges forcing all major economies to maximise energy conversion from renewable sources. In recent years, we have also seen tremendous growth in eco-friendly transportation using alternate energy, as well as EVs.
E-mobility has especially been identified as a safe, efficient, and cost-effective route to address global enviro-economical concerns. These factors have collectively resulted in an exponential increase in demand for Li-ion batteries over the last few years, for both EV and stationary storage requirements. Whilst there is impressive progress in the exploration of electrode materials, lithium-based chemistries are expected to dominate the segment for many years ahead.
The global Li-ion battery market is moving into surge mode and is expected to show a steady and steep annual growth for the next decade. Such a strong increase in demand will create new risks for the lithium-ion battery supply chain, particularly around the availability of raw materials. Battery manufacturers are now going through a raw material crisis and the industry urgently needs to ease pressures linked to raw material availability to meet the ever-growing requirements.
Gujarat Fluorochemicals Limited
Gujarat Fluorochemicals Limited (GFL), has become a leading supplier of fluoroproducts to global markets over the last three decades. GFL holds domain expertise in four major product verticals: fluoropolymers, fluorospecialities, refrigerants and chemicals. With its vertically-integrated operations and access to key raw materials, the company will now be a major supplier for battery raw materials. With products ranging from binders, electrolyte salts, and more, the company intends to exploit its expertise in fluorine chemistry for the development, manufacturing, and supply of value-added products for the battery industry.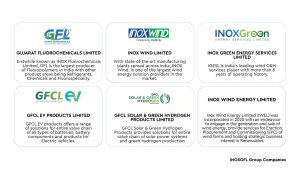 Headquartered in Noida, India, Gujarat Fluorochemicals Limited (GFL), is a part of the INOX-GFL Group. The group has diversified business segments comprising fluoropolymers, speciality chemicals, wind energy, and renewables.
The company's commercial operations commenced in 1989 with India's largest refrigerant manufacturing unit at Ranjitnagar, Gujarat, India. The site was further expanded to produce fluorospeciality products catering to the growing demands in the global agriculture and pharmaceutical industries.
Foraying into new avenues in 2007, with one of the world's most integrated facilities at Dahej, Gujarat, India, GFL now has a diverse portfolio of fluroropolymers comprising PTFE, PFA, FEP, FKM, PVDF and fluoropolymer additives.
With three manufacturing facilities in India, a captive fluorspar mine in Morocco, offices and warehouses in Europe and the USA, and a marketing network spread across the world, GFL is an established player in the fluoropolymers and fluorospecialities markets.
GFL's key value proposition is its vertical integration from natural minerals to value-added products – fluoropolymers and fluorospecialities. This strong vertical integration allows GFL to ensure an uninterrupted manufacturing environment required for fulfilling customer requirements while maintaining the highest quality standards.
GFL endeavours to create sustainable value through its businesses and, therefore, pledges to promote 'Value through Green chemistry' and a firm focus on operational excellence and sustainability. Guided by strong intellectual capabilities and new-age technology, its facilities can efficiently handle new product development and meet the growing demand for different types of chemicals. With core competence in the chemical sector for over 30 years and cost-competitive operations, the company has been able to seamlessly integrate strategies to retain leadership in major business segments. Furthermore, an emphasis on value-accretive  products enables GFL to retain a competitive edge and, by leveraging its key strengths, GFL looks forward to successfully penetrating the Li-ion battery supply chain.
Fluoropolymers for LIB
GFL has positioned itself as one of the leading producers of fluoropolymers in the world, delivering a diverse range of products suitable for its global clients from sectors such as automotive, aerospace, semiconductors, electronics, energy, and common household appliances. Fluoropolymers, with their unique set of properties, are high-performance specialty products which are critical to technological advancement and are the backbone of new-age industries such as electric vehicles, renewable energy, hydrogen fuel cells, Internet of Things, etc. These unique set of properties are also important for various applications in Li-on battery manufacturing and fluoropolymers are extensively used as binders, separators, and high-performance sealing materials in batteries.
InoflarTM PVDF binders
InoflarTM PVDF is fluoropolymer with excellent thermo-mechanical properties, abrasion resistance and chemical resistance. With a good balance of these properties, PVDF is widely used in a wide range of applications for the chemical process industry, oil and gas, semiconductors, and architectural coatings. Unlike other fluoropolymers, PVDF is also soluble in polar solvents like NMP, making it the preferred material for filtration membranes and for use as a binder in electrode formulations.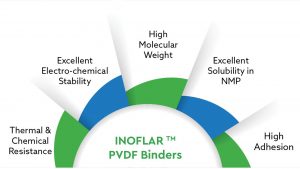 Lithium batteries demand long-term reliability, chemical and electrochemical resistance, as well as high temperature performance in the specific chemical environment of Li-ion cells. Inoflar PVDF binders are very high molecular weight resins known to offer high adhesion required to ensure safety and durability of Li-ion batteries. This is further supported by the low swelling properties of PVDF with respect to typical organic solvents, salts and additives used in electrolyte formulations.
GFL is also focusing on the development of advanced PVDF binder grades with improved adhesion while maintaining easy processability for market requirements of safer batteries with higher energy density and exceptional high temperature performance.
To further strengthen its commitment to the Li-on battery supply chain, GFL has already invested in the installation of additional PVDF capacities dedicated to binder application in its integrated manufacturing facility to keep up with market requirements. Like most of its other products, GFL is investing in backward integration, ensuring availability of adequate feedstock to support the capacity expansion as per market requirements.
Fluoropolymers for safer batteries
Battery makers always try to adopt a no-compromise approach to battery safety. Lithium-ion batteries can be made safer by making them 'smart' by building an additional layer of intelligence into the batteries. This additional layer is nothing but the use of high-performance materials in all battery components. This assists in timely actions, preventing damage to the system and ensuring battery safety.
The lithium-ion battery industry now uses more and more plastic parts in their manufacturing processes, mainly to reduce the overall weight of the batteries. Plastic components incorporated in batteries include separators, gaskets, and casing components. Plastics also offer good shock-absorbing characteristics and prevent damage to the basic cell unit from minor accidental shocks. Plastics may also lower the cost of production of batteries and may eventually replace most metallic components of batteries. With the increase in plastic components used in batteries, it is also important to use the right materials for the battery components to ensure safe operation of such batteries. Various fluoropolymers manufactured by GFL find applications in Li-ion batteries for improving the overall operational safety of these batteries and meet with demanding safety standards for key applications.
Fluonox® FKM
There has been a major shift from metals to plastics in battery manufacturing. Fluonox® FKM is a family of fluoroelastomers known for their chemical resistance and operational temperature range in the most demanding environments. These FKM's are an ideal choice for cell gaskets in advanced Li-ion batteries. The exceptional chemical and compression set resistance help FKM cell gaskets to achieve excellent sealing performance during operation. Fluonox FKM gaskets significantly improve the electrolyte containment efficiency and, thus, the safety of each cell.
Inoflon® PFA
Inoflon® PFA resins offer exceptional temperature and chemical resistance and very low gas and moisture permeability. Inoflon PFA resins are melt-processable fluoroplastics with very good processability and can be easily moulded into thin gaskets that can be used in cell assembly. With a continuous operating temperature as high as 250°C and resistance to electrolyte solutions, use of gaskets made from Inoflon PFA resins offer additional safety to high-performance batteries.
INOLUBTM R Series & I-SAN
Use of plastic materials for casings significantly reduces the overall weight of the batteries. INOLUBTM R Series & I-SAN, when compounded to plastic casing material, impart flame retardance to the casing. This ensures the containment of battery fire in case of any malfunction. These additives are effective at low concentrations and are typically used to contain fire spread by the elimination of flaming droplets falling from plastic articles. These additives also impart anti-drip characteristics to the casing material, which further ensures safety in case of thermal runaways.
INOLUB additives can be used in many polymer compounds, such as polycarbonate (PC), acrylonitrile butadiene styrene (ABS), PC/ABS, poly (p-phenylene oxide) (PPO), polybutylene terephthalate (PBT), high-impact polystyrene (HIPS) and polypropylene (PP). It prevents dripping during combustion and enhances the ability of the polymer compound to comply with UL-94 V0 rating, even at low dosage levels of 0.1 – 0.5%.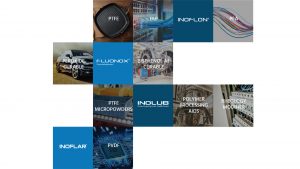 PTFE powders for dry battery electrode application
Conventional Li-ion battery manufacturing processes typically comprise of a wet coating process using PVDF binder dissolved in NMP. Active material is dispersed in this PVDF-NMP solution to form the electrode slurry which is coated to the metal conductor. NMP or N-methyl-2-pyrrolidone is the most common solvent for manufacturing cathode electrodes in the battery industry; however, it is becoming restricted in several countries due to its negative environmental impact and toxicity. Whilst most of this solvent is recovered in the cell manufacturing process, ever-evolving regulatory restrictions pose a severe threat to the conventional wet coating process and battery makers are constantly investigating novel procedures to eliminate the use of NMP solvents.
One such evolving technology involves a dry coating process using high purity PTFE powders as binders. The technology requires special PTFE powders with high fibrillation characteristics to bind the active material. High fibrillation in PTFE requires high crystallinity and high molecular weight of the polymer. It is also important that the PTFE should not fibrillate prior to mixing of active material.
GFL has already developed special PTFE grades that are suitable for the dry coating process. These PTFE grades will be further optimised with aggressive R&D approaches, in case a transition to a dry coating process is seen in the coming years.
GFCL EV Products Limited
In a world that focuses on sustainability, green energy and eco-friendly transportation are becoming more and more integral to our daily lives. With the rapid growth of electric and hybrid vehicles, global car manufacturers line up investments in e-mobility which is driving record demand for Li-ion batteries. Growth in other sectors, such as telecommunications, electrical, and energy, have further added to this demand for energy storage requirements. Such a strong increase in demand has created new risks for the lithium-ion battery supply chain, particularly around the availability of raw materials.
With an intention to contribute to the global push for green energy and energy storage solutions requiring a growing demand for Li-ion battery raw materials, GFL has set up a wholly-owned subsidiary – GFCL EV Products Limited. Leveraging from its expertise in fluorine chemistry and focus on green chemistry, the company will operate in the areas of providing solutions for the entire value chain of all types of batteries, battery components and products for energy storage applications.
Lithium hexafluorophosphate (LiPF6), electrolyte formulations and more
The market for advanced energy storage devices is set to expand, spurred by the development of newer products and broader areas of application. Accordingly, the demand for lithium-ion batteries will likely grow, a prospect for which ensuring a stable supply of the electrolyte material for the battery is expected to become increasingly important.
Electrolyte plays a key role in transporting the positive lithium ions between the cathode and anode, which is the basis of battery functionality. While there are various formulations of electrolytes, all electrolyte formulations for Li-ion batteries typically have a lithium salt – lithium hexafluorophosphate (LiPF6) – in an organic solution.
Considering this, GFCL EV has put a strong foot forward in the battery supply chain by setting up India's largest LiPF6 manufacturing plant in a well-integrated complex expected to be commissioned in the first quarter of 2023. The plant will also have a modular design for rapid capacity ramp-ups to support growing demands of the lithium salt. The organisation again intends to exploit its expertise in fluorine chemistry, availability of key raw materials, such as electronic-grade anhydrous hydrofluoric acid, and existing knowhow and assets to bring LiPF6 to battery markets quickly.
In addition to lithium salt, GFCL EV will further forward integrate into manufacturing of high purity battery electrolyte product line. The electrolyte portfolio shall include both standard electrolyte solutions, as well as customised formulations as per customers' requirements.
In addition to lithium salt, a range of additives need to be included in the finished electrolyte to give the required properties to the electrolyte solution. These Li-ion battery electrolyte additives improve the stability of the cells and impart various performance characteristics to the cells. GFCL EV has already considered development of these performance-enhancing additives in its R&D roadmap which shall support further developments in Li-ion cells. The company keenly follows newer technologies in energy storage and is committed to developing novel materials required for alternate cell chemistries, as well as next-generation batteries.
Global subsidiaries
Gujarat Fluorochemicals GmbH
(+49) 40-808074-667
contact@gfl-europe.com
www.gfl-europe.com
GFL Americas LLC
(+1) 512-446-7700
www.gflamericas.com
Please note, this article will also appear in the eleventh edition of our quarterly publication.