Barry O'Shea, Chief Financial Officer at Highland Copper, outlines how the company will ensure a domestic copper supply in the US.
Strong trends continue towards green energy as countries look to meet their emissions targets. At the same time, many countries, particularly the US, are striving for resource and energy independence. These two factors are driving the need for copper to be mined and produced in the US. Highland Copper hopes to contribute to the US domestic copper supply with its two assets in Upper Peninsula, Michigan. Highland's vision is to mine copper ore in Michigan, produce a copper cathode on-site, and supply the finished copper product to the auto and green energy industries directly in Michigan.
Copper is being increasingly recognised as a critical metal for use in green technologies, particularly for electric vehicles (EVs), charging infrastructure, wind, and solar power. Key economies worldwide are adopting clean energy initiatives, continuing to drive demand. Increased environmental legislation around the world, combined with ambitious targets set by car producers and consumers alike, is seeing demand for copper soar. The ongoing focus on environmental, social, and governance (ESG), as well as zero emissions targets set by many companies, should continue to push the demand to higher levels.
This high demand is also encouraging both countries and companies to focus on securing a supply of copper. This is evident, for example, with the recent news that Rio Tinto and Ford Motor Company have partnered to jointly develop supply chains for materials needed for Ford vehicles.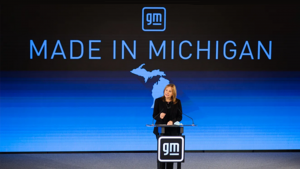 Highland Copper sees this partnership as encouraging as it looks to progress its vision of producing and supplying copper directly in Michigan. In doing so, it would reduce its carbon footprint by eliminating global shipping of concentrate, while at the same time supplying critical resources to the EV and green energy producers in Michigan. Though there is considerable work to make this vision a reality, there is a strong appetite in the State of Michigan to encourage this structure and the related investment needed.
Michigan and federal support for green energy
Michigan recently passed the Strategic Outreach and Attraction Reserve (SOAR), as well as the Critical Industries Initiative and Michigan Strategic Fund. The aim is to provide economic assistance for certain manufacturing or commercial sites to attract and promote investment in the state. Of particular note, the Michigan Strategic Fund approved an incentives package, which included a $600m Critical Industry Program grant for a battery plant that GM and its partners are planning to build in Lansing, Michigan. The project is significant to the area because it is expected to bring a large amount of well-paying manufacturing jobs to the state. This deal demonstrates the State of Michigan's willingness to invest in projects that will invigorate local economies and also promote the development of EVs and green energy.
At the same time, the US federal government is also prioritising initiatives to support the supply of critical metals.
Highland Copper is actively assessing its eligibility for similar programs and funding with the State of Michigan. Highland has two potential projects to develop in Upper Peninsula, Michigan, a historic mining district in need of investment and employment opportunities. The Copperwood project hosts 1.7 billion pounds of measured and indicated copper, as well as 1.3 billion pounds of inferred copper. With an initial mine life of 11 years, and the possibility to extend this meaningfully, the project could provide hundreds of jobs in the local area.
The White Pine North project is even larger, hosting 3.2 billion pounds of measured and indicated copper, as well as 2.2 billion pounds of inferred copper. With an initial mine life in excess of 20 years, it has the potential to be a massive economic contributor to Michigan for decades to come. White Pine North is the extension of the historic White Pine Mine which produced copper in the region for 50 years up to the mid-1990s. Highland hopes to bring this great mine back to the Upper Peninsula.
Both of Highland Copper's assets seem to be an ideal fit for the type of investment that the State of Michigan is currently deploying. Development and subsequent operation of the assets would create hundreds of well-paying jobs in the region, as well as the residual economic activity that is generally spurred by mine development. Importantly, Highland Copper would be producing a metal that is critical to green energy, and more broadly, US resource and energy independence.
Corporate alignment to miners
Direct supply of critical materials is becoming increasingly important to US industry. This is clearly evidenced by the recent news that Rio Tinto and Ford Motor Company have signed a non-binding global memorandum of understanding to jointly develop more sustainable and secure supply chains for battery and low-carbon materials to be used in Ford vehicles. The multi-materials partnership will support the transition toward a net zero future by supplying Ford, one of the world's largest automakers, with materials including lithium, low-carbon aluminium, and copper.
Tesla is also at the forefront of companies looking to secure the supply of metals needed for its EV batteries. Earlier in 2022, Tesla announced an arrangement with Talon Metals for nickel supply from its Tamarack project in Minnesota, which is expected to reach the production phase in 2026.
Highland Copper is engaging with US and Michigan industries to determine the role it can play in supporting their production goals.
US need for copper
S&P Global recently issued a study identifying the current and growing supply imbalance for copper in the US. While demand continues to increase, particularly with the importance of EVs and green energy, production and supply of copper in the US are growing at a considerably slower pace.
The US needs to progress its green energy initiatives to meet lowered emissions targets. This is clearly demonstrated in Fig. 3, showing the sharp spike in US copper usage as initiatives related to ongoing electrification and green power sources ramp up, peaking in 2035.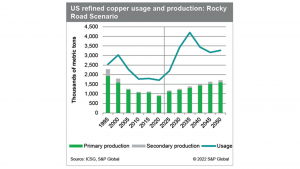 This will either require the import of copper for domestic usage or an increase in US copper mines coming into production. The latter is likely the preference from a US perspective.
Highland Copper's vision
A key way to address this imbalance is to construct new copper mines in the US. Highland's vision is to produce and sell copper directly in Michigan. Mining in the Upper Peninsula would create many jobs in the region, providing it with an important economic boost. Importantly, this is aligned with key initiatives and related funding at the State of Michigan. Highland Copper is in active discussions to determine how it can best work with the state and ideally access funding to assist in the development of its two projects.
Highland Copper is also assessing the economic viability of developing a cathode plant on-site to produce finished product copper directly in Michigan. If successful, this would avoid the need to ship copper concentrate elsewhere for refining. Furthermore, it would allow the copper to remain in the state for nearby distribution to key industries that require copper for EVs, construction, as well as solar and wind power.
The overall benefit is to retain US copper in the US and keep all related jobs and economic benefits in Michigan (Fig. 2).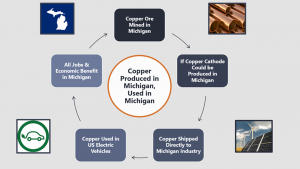 The path forward

Highland Copper is excited about its prospects of mining in Michigan. There is a current alignment between miners, government, and corporates that should serve to make Highland's vision a reality.
At a federal level, there is a focus on critical metal supply in the US to assist with resource and energy independence. At a Michigan state level, there is a further focus on invigorating local economies by supporting industries that contribute to the production of green energy metals.
Further alignment is in place from a corporate perspective, particularly evidenced by recent partnerships between the State of Michigan and the auto industry, as well as partnerships from miners directly to the auto industry (Fig. 1).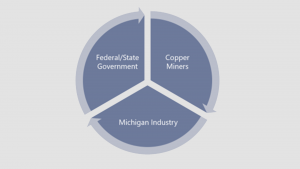 Highland Copper seems to be in the right place at the right time. It is ready to engage with both government and industry to play its part in the critical metal supply and economic development.
Please note, this article will also appear in the eleventh edition of our quarterly publication.

Go to this partner's profile page to learn more about them