Shannon O'Rourke, Chief Executive Officer of the Future Battery Industries Cooperative Research Centre, outlines how Australia can position itself as a leader in the global battery value chain.
Batteries are set to become the hottest commodity globally in the coming years, as this vital technology of the green energy transition will experience exponential growth to meet the ambitious goals of climate neutrality. Estimates suggest that by 2050, there will be around 700 million electric vehicles on the road, all dependent on a crucial power source, batteries. Similar to how the combustion engine era positioned oil-rich countries at the top of the economic food chain, the e-mobility age provides new opportunities for countries to reap the benefits of the green transition. Australia has the potential to become a battery industry leader, with the country being rich in a range of battery raw materials. The Innovation Platform spoke to Future Battery Industries Cooperative Research Centre (FBICRC) CEO, Shannon O'Rourke, to find out how Australia can capitalise on the growing battery value chain and establish a domestic battery industry.
What potential does Australia have to become a major player in the global battery value chain?
Australia is in the driver's seat to build a domestic integrated battery industry, we are already a major mineral player and a world leader in renewable uptake. We have a ~50% market share in critical ores and leading domestic demand for grid-based and behind-the-meter energy storage.
Global battery demand is expected to grow at least nine to tenfold over the next decade, with sales values expected to be between $133-$151bn by 2030.1
Looking ahead to 2050, the International Energy Agency forecasts a 40-fold increase in battery investment, eclipsing the opportunity for solar, wind and hydrogen. Batteries are expected to capture 70%2 of all renewable energy investment in a net zero world. Lithium exports alone currently add around $5bn in value to Australia's economy.4  Australia's critical minerals endowment, emerging materials and manufacturing capabilities, global strategic partnerships and our reputation as a low-risk investment destination make us uniquely positioned to play a leading role in the global battery technology revolution.
However, it is clear that time is running out for Australia to compete in the parts of the battery value chain that hold most of the value-creation and macroeconomic opportunities.3 Beyond minerals extraction, Australia could feasibly manufacture the chemicals, advanced materials, cells and modules for integration into global battery value chains.
What is needed to facilitate this?
Given the global scale and importance of the battery industry, we need to co-ordinate all levers behind an ambitious national goal – to build a vibrant battery industry and secure Australia's share of this significant economic prize. To do that, we propose a range of measures that fall into two broad categories of a visionary policy environment that is underpinned by mechanisms to drive consumption.
Visionary policy settings include to:
Develop the National Battery Strategy and align associated strategies (i.e. Critical Minerals);
Build Australian refining and materials with the $1bn Value Adding in Resources fund;
Build Australian cell and pack manufacturing with the $1bn Advanced Manufacturing fund;
Build international trade co-operation that encourages greater investment in Australia; and
Invest in facilities to help Australian businesses prototype, train, and research the best.
Consumption mechanisms include:
Adopt practical support measures such as guarantees, rebates, fiscal support, and      concessions; and
Legislate guarantee of origin information systems assuring a sustainable, trusted value chain.
How does the work of the FBICRC support the advancement of Australia's position in the global battery supply chain?
The FBICRC is Australia's largest organisation for the battery industry, bringing together over 70 participants to execute 15 programmes of collaborative work valued at $120m. Our mission is to develop a battery industry for Australia. Cooperative Research Centres are federally funded, and we have the mandate to develop an evidence-based policy for the government.
We meet regularly with international dignitaries to provide briefings and to connect local partners with potential international investors. We have signed a number of Memorandums of Understanding (MoUs) with partners in India and have other international partnerships in development. We act as an independent advisor to a range of Government departments and associated ministries and we assist with business development and connections for our participants (and non-participants).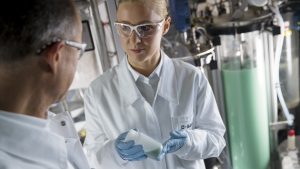 What has 2022 looked like for the FBICRC? What have been the key achievements of your research?
2022 has seen a massive acceleration and expansion of the battery industry in Australia. In July 2021, we released our Future Charge report, which forecasted that an Australian battery industry could create $7.4bn in value and 34,700 jobs. Fast forward to mid-2022, and the market has grown far more than anticipated. By 2023, Australian Lithium exports alone are expected to exceed $13.8bn.4 We have seen a lot of new announcements and new Australian entrants.
In July of this year, we launched our flagship project the Cathode Precursor Production Pilot Plant in Western Australia. Backed by 19 industry, research and government  participants, the launch represented a major step in Australia's journey to expand our presence throughout the global battery value chain.
Cathode precursors are precisely engineered materials, the highest cost component of a cell, and a crucial element of the battery value chain.
The first of its kind in Australia, the Cathode Precursor Production Pilot Plant will establish the technology and capabilities for Australia to design and build cathode precursor manufacturing facilities on a commercial and industrial scale.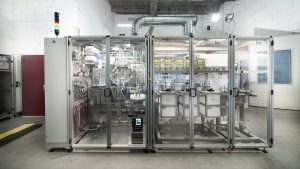 We have just launched our scene setting and research report:
Development of a trusted supply chain for Australian battery minerals and products.
We are preparing to launch two further reports:
Certification and sustainability assessment for battery materials; and
Safety Standards reports.
In March, the 2022 Critical Minerals Strategy was published. How important is this for Australia's economy and how has this impacted the direction of your work?
Developing a mine for export is hard; it requires engagement with export buyers, complicated logistics and finance. Financing the development stage is difficult given the upfront risk and approvals timeframe.
The first strategy, written in 2019, focused on the discovery and development of critical mineral resources for export. Support was anticipated as grants and sales support through Austrade.
The 2022 Critical Minerals Strategy reflected the advice of the FBICRC.
The 2022 strategy is a substantial revision. The strategy encourages domestic mineral processing, refining and materials industries. Access to these industries will make it easier for Australian critical minerals producers to connect to the market, manage their risk and finance their mines. We look forward to contributing to the revised 2023 Critical Minerals Strategy, where we hope to focus on domestic supply chains, environmental approvals, provenance and traceability.
The FBICRC recently spoke at the Global Clean Energy Action Forum. What were the key takeaways from this event?
It is clear that the world sees Australia's importance in the energy transition, with our rich mineral endowment, skilled workforce and thriving education and training sector. It is also clear that the global race to decarbonise is well and truly underway and Australia is competing in a highly contested space.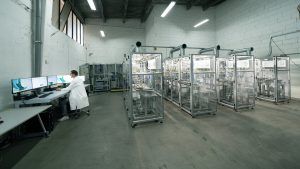 In a keynote address, the Hon Minister for Climate Change and Energy, Chris Bowen, reiterated the Australian Government's ambition to be a green energy superpower spanning the value chain.
He said that the ambition is for Australia to be a trusted and reliable source of key materials up and down the renewable supply chain, not just of raw minerals but of manufactured compounds and of exported renewable energy itself.
It is also clear that decarbonisation cannot be achieved without critical minerals, giving Australia both a strategic advantage and a critical role to play in achieving global climate ambitions. The FBICRC and our participants are helping to drive clean tech innovation and bringing technologies to market that will be essential to achieving 2050 emissions targets.
With a burgeoning clean tech sector, national ambition and clear support of the Government, Australia is ideally placed to not only provide the raw materials the world is seeking, but we can add value to those resources, securing a domestic battery industry in the process.
References
Accenture (2021) Future Charge, Building Australia's Battery Industries, Future Battery Industries CRC, https://fbicrc.com.au/wp-content/uploads/2021/06/Future-Charge-Report-Final.pdf
IEA (2021) World Energy Outlook – Estimated market sizes for selected clean energy technologies by technology and region 2020-2050
McKinsey and Company (2022) Capturing the battery value-chain opportunity
DISR (2022) Resources and Energy Quarterly September 2022
Shannon O'Rourke
Chief Executive Officer
Future Battery Industries Cooperative Research Centre
https://fbicrc.com.au/
https://www.linkedin.com/company/future-battery-industries-cooperative-research-centre/
Please note, this article will also appear in the twelfth edition of our quarterly publication.