Rebecca Geraghty, Chief Commercial Officer at Agrimetrics, outlines how assessing environmental data is crucial for reducing carbon emissions in the agriculture sector.
Agriculture is not short of views and opinions on how the industry can reduce its impact on the environment, particularly around carbon emissions. However, the assessment of environmental data is arguably the most effective way.
Some experts have cited widescale tree planting or scaling back production as solutions. Yet both do little to help from a food industry perspective, particularly if the emissions associated with food production are just switched to another country, and it may even increase overall emissions.
The farming industry recognises that land management measures (e.g. peatland restoration, enhanced soil carbon storage, enhancing hedgerows) do have a role to play. However, it is the changes that can be integrated into farming businesses that arguably offer win-wins for farmers – the link between productivity and sustainability should not be ignored. For example, actions like improving animal health, making better use of home-grown forage, and optimising fertiliser inputs all help reduce emissions as well as improve farm business performance.
In addition, other factors, such as meeting renewable energy commitments, reducing food waste, and zero carbon modes of transport in the supply chain, all have a part to play. Arguably, the quicker we can bring new innovations to agriculture, the better for both our industry and society.
Many of the decisions that can influence these actions can be made easier by the use of environmental data, but currently, a lot of data is locked away or untapped.
How can data help reduce the environmental impact of agriculture?
The first step towards operating more sustainably is to have a reliable, accurate, and consistent method for monitoring emissions and impact and having regular access to data. The right environmental data enables more targeted management and mitigation activities at the farm and food supply chain level. It means better use of key inputs, more timely interventions, and less wasted productivity on ineffective practices. In short, it helps makes smarter, sustainable farming decisions.
For example, it is at the farm level where emissions savings need to be made if the UK is to achieve its net zero targets, with agriculture the main sector responsible for nitrous oxide and methane emissions. To do this, farmers need to have access to more granular environmental data, ensuring any actions taken are then based on localised data at the individual farm and food business level.
Too much data still remains locked away, underused and static – it is a critical yet untapped asset, often hugely valuable in the learnings it can bring.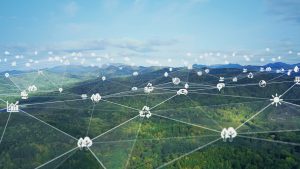 Data that helps quantify greenhouse gas emissions with greater accuracy and at more business-specific levels will enable improved monitoring and, ultimately, mitigation. Helping farmers and supply chain businesses to measure and understand where they are now, what they can practically do to reduce emissions and encouraging regular monitoring is key. Many of the low-carbon farming practices will also save farmers money (e.g. the use of organic fertilisers and increased use of home-grown forage), improving both productivity and business resilience.
One of the biggest challenges with using data is that although environmental tools are increasingly available, this plethora of tools can add to the confusion. Supporting farmers by providing simple solutions to access the relevant data is key to driving engagement, reducing agriculture's impact on the environment, and achieving the Net Zero targets.
How can Agrimetrics help?
Agrimetrics is one of four Agri-Tech Centres with core funding from Innovate UK and was created in 2015 to help organisations realise the potential trapped in their environmental data. Agrimetrics launched its Data Marketplace in 2019 and has developed and delivered significant products and services for the wider agri-food sector.
Agrimetrics, in partnership with Telespazio UK, has been awarded the contract to host the Defra Data Services Platform (DSP), which has 4,500 environmental open-access datasets which will make environmental data publicly accessible to farmers and the wider food industry.
Projects to improve sustainability across the agriculture industry
Example projects where Agrimetrics has worked with businesses to use data to improve sustainability across their supply chains include:
ForestMind: A new service which predicts the risk of rainforest deforestation in South America using terrestrial data as well as land use derived from Earth Observation data;
Regenagri: A regenerative farming platform built, hosted and developed by Agrimetrics covering over 1.2 million acres and increasing globally;
SmartCow: a shared research platform created by Agrimetrics to improve sustainability in the cattle industry; and
BASF wHen2g0: a tool that connects data to help farmers efficiently manage herbicide use to improve water stewardship and protect habitats.
SmartCow – creating a shared research platform to improve sustainability in the cattle industry
 The Problem
The European cattle farming sector faces critical challenges in remaining competitive in a global market whilst also reducing its environmental footprint and meeting societal expectations for animal welfare standards.
The ability to access research environmental data and use it to determine insights that can drive improvements in the sustainability of cattle production in the face of climate change is, therefore, key. However, the infrastructure needs to be in place to do this.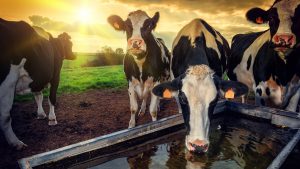 The Solution
 The SmartCow project, funded by The European Commission as part of the Horizon 2020 project,  was developed to build a shared research infrastructure that avoided duplication and made data generated in one research facility available and usable by others.
Working with a consortium of 14 leading research institutions from nine European countries, Agrimetrics was tasked with building the data platform which underpinned the SmartCow project. This platform enabled SmartCow to bring together datasets from across these research groups and allowed greater access and linking of environmental data.
Using integrated datasets significantly increased the range of analyses that could be conducted. For example, users were able to combine data from different methane emission sensors to improve their understanding of how diet affects the release of this greenhouse gas from dairy farms.
An important aspect of ensuring all environmental data could be linked and shared was agreeing on a shared vocabulary and naming conventions for the types of data involved, making it easier to integrate, link, and compare data. This work resulted in an expanded ontology (data-labelling system) for cattle farming, which has now been shared publicly to encourage wider use, and for others to build upon.
Agrimetrics is committed to ensuring that the platform enabled data to meet the FAIR principles, meaning that it is:
Findable through dataset descriptions and metadata;
Accessible where appropriate, the data is available openly;
Interoperable through the use of the agreed and expanded ontology; and
Reusable the database will remain active and kept up-to-date.
One element of the infrastructure required to make data FAIR is the domain model. This is a universal description of the data relating to a specific domain which allows data to be accessed in a standardised way, as well as providing the framework to support the addition of new data.
The Impact
SmartCow helped to develop and validate new predictors of feed efficiency, methane emissions, and animal health status. The collaboration gave rise to numerous public and private projects which are testing technological developments in various fields of animal nutrition, and the strong working relationships built across the consortium will enable these organisations to continue working together.
Björn Kuhla, Research Scientist at FBN (Germany's Research Institute for Farm Animal Biology), explained: "The platform which Agrimetrics created for SmartCow was highly self-explanatory, and allowed owners of data to upload and control the sharing and linking of their data. Very important was the integration of the platform within the AgroPortal and the use of the Linked Open Vocabularies ontology because they enabled the discovery and wider reuse of SmartCow data in accordance with the FAIR principles.
The additional training organised by Agrimetrics was also highly useful, first to explain the functionality of the data platform, and secondly to facilitate its use and share knowledge between users."
The SmartCow data platform represented a significant step forward in organising and sharing research data on cattle farming, and looking beyond this sector, demonstrating what is possible when different datasets are brought together in a consistent framework – opening up new opportunities to link and make better use of data relating to other parts of the agrifood industry.
Although the SmartCow project has officially ended, Agrimetrics will continue to host and maintain the environmental data platform. As more research datasets are added, yet more meaningful insights will be gained, generating potential improvements to the social, environmental, and financial sustainability of cattle farming.
SmartCow saw Agrimetrics making substantial progress on the creation of a domain model for livestock environmental data, which can be used to deliver interoperability to such data beyond this project. In particular, this model will be used and extended to link Defra livestock data in the new Data Services Platform (DSP3), which Agrimetrics has recently been appointed to deliver alongside Telespazio.
Richard Tiffin, Chief Scientist at Agrimetrics, said: "Agrimetrics' primary goal is to make it easier to find and use data so that that the food system is better able to meet the challenges it faces. A key facet of this is to enable better use to be made of data that is generated in research projects. The SmartCow project allowed us to develop this capability, and it also helped us to understand how we can make livestock data available beyond research projects."
About Agrimetrics
Agrimetrics Data Exchange helps businesses avoid spending years of effort and millions of pounds creating their own environmental data infrastructure from scratch – helping businesses to host, catalogue, share, and link their own and others' data in either an open or private data exchange.
The data exchange platform currently hosts over 1,000 datasets, many of which are foundational datasets, including the 2.8 million UK field boundaries that we have mapped using AI and satellite imagery, soil data, weather data, and water body data.
Rebecca Geraghty
Chief Commercial Officer
Agrimetrics