Mervi Ryynanen, Director of Customer Development at Sharper Shape, explains how the impacts of climate change require innovative, digital solutions to be put into place.
The impacts of climate change are becoming clearer with every passing year. The summer months in Europe have been nothing short of out of the ordinary, but is the extraordinary likely to become the norm? Devastating wildfires have wreaked havoc across the continent, burning in the region of 700,000 hectares and impacting life, property, and infrastructure – and this is set to become more frequent. Meanwhile, across Europe, pressures are building regarding costs of living and energy supply concerns. As a result, utilities – not just in Europe but around the world – must react quickly by finding new solutions to ensure the ongoing supply of electricity.
When looking to the future, with climate change and social factors in mind, utilities must introduce new technologies and infrastructure design to grid systems that may already be struggling to offer an acceptably priced supply, as well as ensure grid resilience to unexpected, severe weather events or even the introduction of new renewable energy sources.
The most promising strategy to meet these goals is to implement digital solutions. The International Energy Agency's (IEA) updated Electricity Markets Report, released in July 2022, supports this solution. "Digitalisation is crucial for executing clean energy transitions at the speed and scale needed to meet short-term emergency needs and long-term net zero goals."
The question is, how will both utilities and communities benefit from a digital future? And why should European utilities be concerned that wildfire severity is on the rise?
An upgrade to the data: Making it digitised
Digital solutions give data the opportunity to shine in a multitude of ways. Data is available in numerous forms, allowing relationships between factors, locations, predictions, and more to be easily visualised and acted upon. In essence, the right data can allow utilities to effectively determine the root of any problem and address the specific challenge head-on, whether this concerns resilience, efficiency, control, balancing, or a special blend of all these combined.
Accessing the right data at the right time is what many transmission and distribution (T&D) utilities across the globe have been trying to achieve. However, too often, tactics are siloed, and overall company objectives are forgotten as repetitive data collection exercises are prioritised and focus falls on a specific area of the business. Ultimately, opportunities for better synergy are missed, and hopes of developing utilities that are fit for the present and future, remain nothing more than a dream.
For utilities to gain a complete view of their entire operation, and press ahead with company strategy, a digitalised management system is needed. However, vital to the success of this comprehensive overview is to retain the precision and strengths that can be provided by individual solutions.
A mirror image of real-word utilities
The foundation of a digitalised management system is the digital twin – a real-time digital reflection of real-world infrastructure. If implemented correctly, digital twin technology can be genuinely transformational.
A proper digital twin goes beyond a standard, static 3D model of some adjacent assets. A twin of this kind will represent the grid in incredible detail, displaying assets, immediate surroundings, and connecting infrastructure, and then incorporating the valuable aspect of time. Updating a digital twin with real-time information provides a digital twin that is a living replica of a utility's real-world grid at a given point in time.
There are numerous, immediate advantages to utilities using a digital twin. There is the human aspect – a declining availability of qualified electrical workers to carry out crucial inspections, combined with the increasing workload due to ageing infrastructure and resiliency needs, leaves digital inspection and its intuitive interfaces a welcomed solution. Financially, digital inspection is also more cost-effective, reportedly 10% of the cost of legacy methods. Since a digital twin can deliver targeted, proactive asset intelligence, the time, resources, and risks associated with on-site inspections are no longer significant.
However, where a digital twin truly flourishes is its ability to flag management interventions to the human user. By combining analytics, Artificial Intelligence (AI), and automation, areas of concern can be rapidly noticed and automatically brought to the user's attention, accompanied by a prioritisation level. This skill is highly-relevant when considering the current market and environmental conditions. Escalating electricity demand, pressures faced by integrating renewables, the need for tech to help with decarbonisation goals, and the increasing frequency of extreme weather are all having an impact on the grid and utility operators. Digital twins can prove valuable here as they give utilities the power to respond to events with urgency, without hindering accuracy or effectiveness.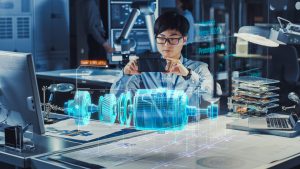 Scenario modelling and emergency management
'What if?' is a recurring question in life. If we routed the powerline ten metres further south, what vegetation would be impacted, or equally, what vegetation could impact the line? If we expanded the right-of-way, would this reduce wildfire risk? If there is heavier snow this winter, what risk is there to the powerlines? There are so many potential outcomes since there are many factors at play. A digital solution or system is needed to assess these scenarios and gauge the actual effects of proposed actions is of huge importance. Digital twins can successfully model the 'what if' scenarios and whittle out the most important ones for utilities to act upon.
Take vegetation management as an example – encroaching vegetation has the capacity to interrupt powerlines and cause power outages or damage to assets. A digital twin has the ability to not just display the grid assets, but also the immediate surroundings (e.g., trees, houses, roads, waterways) plus further vegetation data that covers species, tree health, and growth rate. This is because integrating meteorological data enables the utility to observe how changes in weather patterns can influence vegetation growth and correlate and make informed decisions about how storm winds will directly impact vegetation around an asset and the potential damage caused by them. A digital twin that is this deeply enriched with data can provide a report that prioritises the risk of vegetation encroachment on a utility's assets, so the operator can determine where to act and how urgently, before they have dispatched any management crews to a site. In essence, the reports enable utilities to assess the viability of their remediation plans or develop alternative strategies that deliver preferred outcomes.
Digital solutions can make decision-making more refined, accurate, and cost-effective, and significantly reduce the likelihood of being blindsided by unexpected complications. Unwanted and inconvenient complications are only set to increase in the future as climate change impacts become more apparent, the energy transition accelerates, and the scope of 'what if' scenarios expands.
Inevitably, dealing with catastrophic weather events and natural disasters should feature more prominently in utility companies' considerations for the future. The European Forest Fire Information System (EFFIS) reported that the vast quantity of hectares burnt this summer in Europe has been the highest value since recordings began in 2006, and it was the culmination of several heatwaves and droughts that have fuelled most of the fires. The need for grid resilience could, therefore, not be more profound, with utilities needing a detailed understanding of the grid in order to protect their assets and remedy damage should it arise. The intricate information provided by a digital twin can create order in the midst of chaos. Emergency services and asset operators can be smoothly allocated roles and direction during a fully informed, risk-managed response.
The integration of renewables is another component that utilities must consider, with complex consequences arising for grid operation and management. If a developer decides to connect a major solar farm to the grid, for instance, they must first understand how this may impact other grid assets, and whether these will require upgrades or reinforcement to cope with the rising energy load. A digital twin can model this scenario and provide accurate answers as to how the new supply will alter the current state of the grid's assets. With every scenario and real-life event that a digital twin models, the AI algorithms keep learning, developing, and finessing the programme, which positively benefits the grid, that can then become more resilient from each hazard or fault.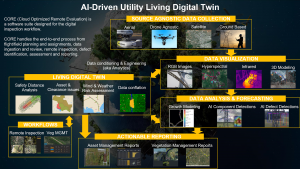 It is widely known that Europe's distribution system operators provide a high level of reliability, with 99.99% a rumoured figure. However, this level of near perfection cannot and will not be sustained. The increasing challenges that utilities will face from integrating new shares of variable generation and new energy loads such as electric vehicles (EVs) into the grid are exposing asset vulnerabilities. Investment is needed to replace ageing infrastructure and provide preventative maintenance, to keep the level of quality and reliability as unwavering from 99.99% as possible.
By depicting a full, deep overview of a utilities' grid, digital twins are rapidly becoming indisputable tools to keep up with the pace of change. An all-encompassing store for data, images, reports, analyses, and more, the digital twin continues to learn and develop, providing bountiful loads of invaluable information to T&D utilities.
With better safety, cost-effectiveness, and skills variety than a human utility employee, taking a digital twin into previously unexplored areas is now better justified. Drones can use LiDAR, hyperspectral, and HD RGB imagery to inspect powerlines and collect data, with the digital twin holding the realms. The digital twin ultimately provides a map for a drone to determine its route and then navigate itself, facilitating greater quantities of data collection at more frequent intervals. This is not to say human inspectors are without jobs, as they can be utilised for non-routine interventions where the skills and expertise they hold go above and beyond that which a digital twin has learnt.
The summer of 2022 has turned many known norms upside down. Europe has experienced wildfires at a scale that is above the 15-year average, with specific concern for life, property, nature, and health in Spain, Romania, Portugal, France, and Italy, which have been the most severely impacted on the continent this year. Whilst utilities in each of these countries may have different regulations, economic statuses, and access to emergency teams, their overall objective of grid resilience remains in common. Energy assets and businesses have much to contend with, and if utilities wish to continue their high reliability of power supply and service, digital solutions must be taken advantage of. Digital twins can help utilities predict upcoming danger, respond in moments of crisis, and plan a clear route ahead, by adapting critical infrastructure in safe and sustainable ways.
Mervi Ryynanen
Director of Customer Development
Sharper Shape
https://sharpershape.com/
https://www.linkedin.com/in/merviryynanen/?originalSubdomain=fi