Stephen Learney, Vice President and General Manager of Haskel Hydrogen Systems Group, discusses the use of hydrogen fuel a green alternative.
To develop a low carbon fuels strategy, the UK government will need to display stronger leadership and provide more ambitious messaging than it has previously. The launch of the Hydrogen Strategy last year was a positive first step, but it lacked detailed plans for a network of hydrogen refuelling stations across the country. Without that crucial infrastructure in place, establishing low carbon fuels as a viable alternative to petrol and diesel will be extremely challenging.
New Zealand provides a shining example of what can be achieved by a coherent low carbon fuels strategy. Its government has invested NZ$22m to support green energy specialist Hiringa as it rolls out hydrogen refuelling infrastructure in both the north and south islands over the next five years. Beginning with eight refuelling stations in 2022, a further 16 stations will be installed across the country from 2024.
UK state of play
In February 2022, the UK Department for Transport called for ideas for its low carbon fuels strategy. Inviting feedback from a range of industry stakeholders, the consultation sought to clarify the priorities needing consideration in order to establish a long-term low carbon fuels strategy.
During the past ten years, policies such as the Renewable Transport Fuel Obligation have been designed to support the adoption of low carbon fuels (LCFs), one of the main ways of decarbonising the transport sector. LCFs encompass a number of liquid and gaseous fuels, including ammonia, biofuels and renewable hydrogen, which all provide significant carbon savings in comparison with fossil fuels.
Hydrogen fuel is perhaps the most promising of all LCFs because it delivers a refuelling experience comparable to existing methods and is becoming increasingly adopted by countries around the world as a means of delivering zero emission vehicles, such as HGVs and buses. For example, the Beijing Winter Olympics saw China create a total of 30 hydrogen refuelling stations serving more than 800 fuel cell electric buses.
Low level investment compared with EVs
It is instructive to compare the approaches of the UK and New Zealand to installing hydrogen refuelling infrastructure as the two countries are roughly the same size in terms of land mass. Using data analytics related to traffic flow across New Zealand, Hiringa calculated that a total of just 24 stations of varying capacity were required at strategically positioned spots around the country, ensuring that no more than 200 kilometres separated one station from the next.
New Zealand's rollout provides an example of a working model, and the UK could derive similar benefits if its government demonstrated greater foresight. The whole of the UK could be covered by a refuelling network consisting of no more than 30 stations, which would simultaneously banish range anxiety and create security of supply.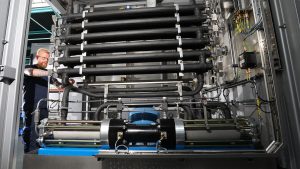 The rollout of EV charging infrastructure needs support if we want to reduce transport related carbon emissions, but installing the related charging infrastructure by 2030 will cost a minimum of £8bn. Installing 30 hydrogen stations to cover the whole of the UK, at approximately £3m for each station, could be achieved at a fraction of the cost.
HGVs and buses are the starting point
In terms of vehicle class, the UK's low carbon fuels strategy needs to focus on medium-to-large HGVs, before moving on to buses. Refuelling stations for HGVs could also serve long-haul buses, allowing the two types of vehicles to refuel at the same location. In municipal areas, these stations would need to be sited at the start and end points of bus journeys. These are typically depots located outside of, or close to, the urban area.
Diesel and petrol HGVs have had their day
The UK government recently announced that it will end the sale of new diesel and petrol HGVs by 2040, as well as phasing out new, non-zero-emission HGVs weighing 26 tonnes and under by 2035.
But Europe and other regions have taken more aggressive action. In 2021, Austria announced that all new HGVs under 18 tonnes would be zero emission from 2030, and those over 18 tonnes by 2035. The United States government issued an executive order instructing the Environmental Protection Agency and the Department of Transportation to develop new emissions and fuel economy standards for HGVs. And in the last five years, Norway, Pakistan, and Ireland have published their own initiatives designed to reduce carbon emissions produced by new HGVs by 2030-35.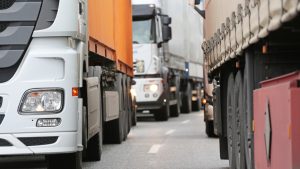 Hydrogen-powered HGVs offer many of the benefits of diesel, such as a carrying capacity comparable to diesel vehicles without the harmful emissions (provided that the hydrogen's production process is powered by renewable sources of energy).
Range is not an issue for hydrogen fuel cell HGVs: Daimler is testing a hydrogen-powered HGV capable of travelling more than 600 miles on a single tank of fuel.
The footprint of hydrogen refuelling stations is comparable to that of diesel facilities, as is the refuelling time and process. The hydrogen stations of the near future will be capable of delivering 6,000kg/day, enough to fuel up to 150 HGVs.
Despite that, decarbonising the HGV sector is likely to need more than a single 'silver bullet' technology, and battery electric vehicles will have a role to play.
Hydrogen buses well established in Europe
Using hydrogen as an alternative fuel to diesel for buses is now well established and has been adopted by local authorities across Europe for many years. The UK was actually a pioneer in this area, as Transport for London first began running hydrogen fuel cell buses (FCBs) on the Riverside bus route RV1 in 2002, connecting central London with the South Bank.
In Europe, local authorities and cities have been operating FCBs for more than a decade. Since 2011, the Swiss town of Aargau has had FCBs on its roads, while a number of cities have recently begun converting their fleets to hydrogen, including Barcelona and Lyon.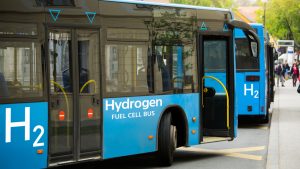 The Joint Initiative for hydrogen Vehicles across Europe (JIVE) has been responsible for funding many of these projects. The initiative was designed to deploy 139 FCBs and related refuelling infrastructure across the UK, France, Germany, Italy, the Netherlands and Spain. Beginning in January 2017 and running for six years, JIVE is co-funded by a €32m grant from the Fuel Cells and Hydrogen Joint Undertaking (FCH JU) under the European Union Horizon 2020 framework programme for research and innovation. JIVE 2, a follow-up project, began in January 2018. By the early 2020s, the JIVE programmes will be responsible for the largest deployment of fuel cell buses in Europe to date: almost 300 fuel cell buses in 22 cities.
If UK public bodies would like to follow the example of those above, they can now procure FCBs via a new procurement framework provided by The Procurement Partnership, which grants local authorities access to 27 bus suppliers over the next four years.
Hydrogen supply is a pressing concern
The final piece of the hydrogen-fuelled transport jigsaw is the supply of hydrogen itself. At the moment, demand for hydrogen is massively outstripping supply, so we need to address that issue as urgently, if not more urgently, than the availability of refuelling infrastructure. Hydrogen needs to be produced from renewable sources of electricity if we are to reap the rewards of decarbonising the transport sector.
At the same time, we urgently need to install new hydrogen transport infrastructure to deliver the hydrogen to where it needs to be. While such infrastructure does exist, significant investment will be required to expand and update it.
In short, if the UK wants to benefit from a low carbon fuels strategy in the decades ahead, it needs to take a more urgent and ambitious approach to realising zero emission transport. According to the European Automobile Manufacturers' Association: "In order to facilitate the roll-out of hydrogen-powered vehicles, the relevant [Alternative Fuels Infrastructure Regulation] targets (and related requirements) should be set earlier than 2030."
For hydrogen-powered transport to gain traction, the UK needs to revise its own targets, including the number of hydrogen refuelling stations it wishes to see built. To date, the government has not published any targets related to refuelling infrastructure.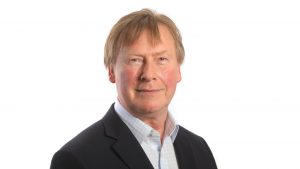 Stephen Learney
Vice President and General Manager
Haskel Hydrogen Systems Group
www.haskel.com/en-gb
https://www.linkedin.com/company/haskel-international/
https://www.facebook.com/Haskel.International
https://twitter.com/haskelusa 
Please note, this article will also appear in the eleventh edition of our quarterly publication.