The Goldfields Group of Companies is aiding the energy transition through the Debert Lake mineral deposit and Brazil Lake Lithium Project in Nova Scotia, and aims to produce battery-grade lithium at deposit scale.
The Brazil Lake Lithium Project is expanding through an aggressive drilling programme
The Brazil Lake Lithium Project in Nova Scotia is an exciting hard rock lithium (Li) exploration story that continues to play out with every new drill hole. The discovery of spodumene (lithium) in the Army Road pegmatite by the Champlain Mineral Ventures exploration team in late 2022 has energised further exploration.
This work complements the historically discovered but previously only relatively shallowly drilled North Pegmatite. Further drilling on the project has continued to delineate significant widths of spodumene-bearing pegmatites down plunge to the southwest to lengths of up to 800m each.
The continuation of the thickness and lithium grade of these spodumene-bearing pegmatites is accumulating towards a total deposit of significant scale. These spodumene-bearing pegmatites are often found in swarms. The Brazil Lake Lithium Project mineral claims contain other untested spodumene surface anomalies in glacial till-covered areas up to 5km to the southwest towards Deerfield.
This means it is highly probable that other spodumene-bearing pegmatite discoveries will be made in the near future on this project.
Discovery of the Brazil Lake Lithium Project
The Brazil Lake Lithium Project was discovered in 1960 after a spodumene-bearing glacial erratic boulder was found beside Holly Road, 25km northeast of Yarmouth in Yarmouth County, Nova Scotia. Two pegmatite dykes up to 200m long, and 10-12m wide were then identified (the North and South pegmatites), but little was known about them as the area is covered by a thick layer of glacial till.
In 1993, the Nova Scotia Department of Natural Resources drilled five diamond cores through these pegmatites, and they have been under an exploration license since that time.
Champlain Mineral Ventures Limited gained ownership of the claims covering the Brazil Lake Lithium Project in 1997. The company drilled the property in 2002, 2003, 2010, 2019, and 2020; providing an additional 71 diamond drill cores that established the location, orientation, grade, thickness, and zoning of the North and South pegmatites to relatively shallow levels.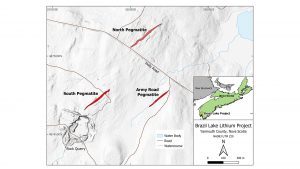 They also intersected the Army Road pegmatite, which had a parallel strike and was situated only about 250m to the southeast, but it did not contain significant Li or tantalum (Ta) concentrations where it intersected.
A rise in lithium demand has motivated further exploration of the resource
Recent increases in lithium demand due to the use of lithium batteries motivated further exploration of the property by Champlain Mineral Ventures Ltd. This involved stripping the glacial till from the tops of the North and South pegmatites, undertaking metallurgical studies that have demonstrated that the pegmatites contain lithium (in spodumene – LiAlSi2O6), as well as high-quality quartz, albite, microcline, muscovite, rubidium (Rb) in microcline and muscovite, minor beryl [Be3Al2Si6O18], and low concentrations of tantalum, tungsten, and tin.
Lastly, Champlain Mineral Ventures Ltd also commissioned a 43-101 Mineral Resource Estimate by Mercator Geological Services in April 2022, which estimated that the North and South pegmatites contained approximately 934Kt @ 1.37% Li2O.
In mid-2022, the high-grade drilling results to date and the clear exploration potential on the greater Brazil Lake Lithium Project area attracted the attention of Australian exploration company Lithium Springs Limited (LS1). Once a deal between Champlain and LS1 was struck, LS1 began funding a drill programme to test for extensions to the North and South Pegmatites at depth.
Exploration holes were also drilled into the Army Road pegmatite to the southwest along the strike of the initial drill holes that had not discovered any spodumene at that time.
After 17 holes started to successfully define and extend the North and South pegmatites at depth, the drill rig moved to the Army Road Prospect, and from the first drill hole, spotted by Champlain's geologist, Don Black, intersected a new spodumene-bearing pegmatite. Ongoing drilling at the Army Road Prospect has continued to successfully expand this deposit down plunge to the southwest with thicknesses up to 20m wide and up 1.9% Li2O over considerable widths over a strike of some 800m.
Then to complement the ongoing drilling success of the Army Road Prospect, a second drill rig was engaged in April to focus on the North and South pegmatites, which has also continued to successfully expand this deposit down plunge to the southwest with thicknesses up to 12m wide and up to 2.3% Li2O over considerable widths.
The drill rigs continue to turn on the Brazil Lake Lithium Project with over 90 drill holes completed at the Army Road and North/South pegmatites. This drilling continues to deliver excellent results and these lithium deposits remain open down plunge to the southwest.
The rapid growth of these hard rock lithium deposits has been amazing to observe and the excitement around the potential of the Brazil Lake Lithium Project to one day possibly be of a scale that could support an economic mining operation is palpable.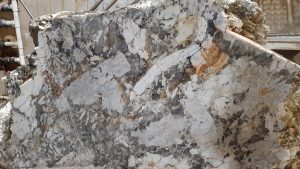 IXOS® LI: Clean nano-technology for the production of battery-grade lithium (LCE)
An innovative disruptive technology to produce domestic LCE at deposit scale
Sixth Wave Innovations Inc. creates advanced extraction and purification technology for the mining industry. The technology increases profitability while reducing environmental impact.
Its flagship product, IXOS-AU, is a molecularly imprinted polymer (MIP) specifically designed to replace activated carbon in gold/silver mines. IXOS has shown significantly increased efficiency in extracting gold and silver from leach solutions.
It leaves less gold in tailings; provides a robust media that does not break down during use, thereby increasing overall gold and silver yield; and operates with fewer and recyclable reagents and a substantially reduced power requirement. Overall benefits have shown the ability to reduce all-in sustaining costs per ounce in excess of $100/oz produced.
The substantial reduction in reagents and power contribute to significant reductions in the operating carbon footprint of the mine, reducing environmental impact. IXOS-Au has been extensively tested in laboratory and pilot plants in mines around the world, and has been independently tested by several mine engineering firms.
Developing an efficient lithium extraction process

Under contract to Champlain Mineral Ventures through The GOLDFIELDS Group of Companies, Sixth Wave applied its same systems engineering approach to evaluating and developing a greener and more efficient process for extraction and purification of lithium from hard rock sources such as pegmatite from the Brazil Lake Deposit in Nova Scotia.
Lithium has become a metal classified by many countries as a critical mineral and, in North America, a critical mineral associated with national security interests. High demand continues to be forecasted as the electrification of the transportation industry and others are pushing demand for battery-grade lithium in both carbonate and hydroxide forms.
Arguably, the pace of innovation in mining and extracting lithium from hard rock sources such as pegmatite has lagged behind the increasing demand for battery-grade lithium from substantial deposits around the world.
Furthermore, in North America, the government pressure is increasing to develop supply and production of battery-grade material domestically as opposed to shipping raw materials to potentially adversarial countries for processing which also adds cost, the increased carbon footprint from shipping, and utilisation of less environmentally friendly processing methods.
The historically used process for hard rock includes the separation of the lithium-bearing spodumene from the surrounding material using floatation to increase the lithium concentration and reduce the volume of resulting ore that must be treated to extract the ore. This float concentrate, which can be seen pictured in Fig. 1, is then superheated for a period of time to convert the spodumene into a form that the lithium can be leached from the spodumene. From that point, conventional processing has a complex set of steps combining a high-temperature sulphuric acid leaching process and multiple purification stages which use additional adsorbents and reagents to achieve lithium sulphate which is then converted into the carbonate or hydroxide form.
Sixth Wave evaluated this process against some historical alternatives including a basic flow chart originally developed by Chen et al., 2011, that appeared to be a simpler pathway with fewer process steps and non-toxic reagents. The generic flow chart is depicted in Fig. 2.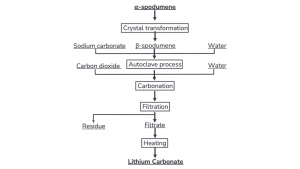 With proprietary changes to this flow sheet, focusing on the processes post-conversion of the spodumene to the leachable form called beta-spodumene, Sixth Wave was able to generate significant improvements in extraction and recovery of lithium while reducing/eliminating toxic chemicals, reducing capital, and operating expenses and a lower environmental impact. Relevant improvements include:
Elimination of sulphuric acid and replacement with non-toxic sodium carbonate;
Extraction efficiency between 96-100% at up to 75% lower power usage and 30% reduced processing time yielding an estimated reduced power requirement of nearly 500kWh per kilogram of input material;
Reduced CapEx for the autoclave due to lower operating temperatures, pressure, and elimination of specialised materials needed to deal with acid leachate;
Lithium complexes directly with carbonate create lithium carbonate during the leaching process, enabling a simplified process to carbonate and filter to already highly purified lithium carbonate;
Single pass recovery rates achieved nearly 75% overall recovery of lithium carbonate at a purity level of 97.7%. Recycling processes have shown the ability to recover an additional 9% of the lithium. With further optimisation, the process should achieve greater than 90%overall lithium recovery using the Sixth Wave process versus between 60-85% for the conventional process;
Increased purity achieves battery-grade lithium. Sixth Wave has applied its expertise in polymer development to create a prototype resin to polish the lithium to increase its purity to meet the LCE battery grade of 99.5% from the achieved purity from the base process. To date, the company has successfully upgraded technical-grade lithium sulphate to in excess of 99.3% purity, and additional development is expected to achieve the battery-grade goal; and
R&D to improve the costly conversion process. Sixth Wave has begun exploring the use of alternative heating and energy sources to replace the high temperature and long duration processes of converting the spodumene to leachable beta form but also to replace the conventional autoclave process that is still energy intensive and of long duration, making continuous processing more difficult. Early testing in this area has yielded some compelling advancement and demonstrated that, with conventional acid leaching, energy usage can be reduced by an order of magnitude, acid reagent use can be reduced by 75%, and leaching time reduced by nearly 70% while still achieving over 96% lithium recovery.
While all of the above work has been done at a laboratory scale, there is a solid indication that, with further optimisation, the process is ready to be scaled up to an end-to-end demonstration level with a significantly simplified process flow.
The data already suggests that significant increases in overall recovery and lower capital and operating expenses can be achieved while also providing a pathway to battery-grade lithium carbonate. Sixth Wave continues to work on process improvements to the generic flow sheet presented in Fig. 2 but is also evaluating alternative reagents based on proprietary deep eutectic solvents which have additional potential to reduce power requirements and purification steps.
Frenchvale – Flake Graphite Deposit: An emerging 'green EV' development opportunity
In 2004, as part of a regional reconnaissance exploration programme, Mt Cameron Minerals Inc. mapped extensive beds and ridges of graphitic marble and schist in Pre Cambrian – Grenville Age rocks on the eastern flank of the Boisdale Hills at Frenchvale, some 25km west of Sydney, Nova Scotia. Preliminary metallurgical work on samples taken during the mapping of these units determined that the graphite in these carbonate rocks is of the rare flake form. Marble hosted flake graphite is extremely rare and is highly prized because of its ease of refining without damage to the flakes. Average grade of the marble hosted surface samples was greater than 4% graphite.
Further metallurgical work since 2009 determined that the flake graphite could be readily separated from the marble by flotation with expected commercial production after refining of above 99% graphite. Bench-scale metallurgical testing has already achieved a grade of 99.3% from a large bulk sample taken in 2008. Assays of historic drill core averaged greater than 6% graphite over a zone of ~20m. Extensive beds of higher grade (4 to 6%) flake graphite occur in outcrop over a 9km strike length within the projected five billion tonnes of graphitic marble estimated to occur on the Property.
Annual demand for 'battery grade' flake graphite is projected to grow to >2 million t/a by 2025. This will create a demand / supply squeeze resulting in much higher prices. Recent initiatives by the Biden administration to gain American leadership in EV production using lithium-ion batteries and fuel cells will accelerate this market. A new market using flake graphite as a fire retardant in building materials is expected to exceed 2million t/a in China alone.
The company plans to commence an exploration and metallurgical testing programme over three to five years. Initial results from deep penetrating geophysics, drilling, assaying, bulk sampling, and pilot plant testing at the Mineral Engineering Centre at Dalhousie University have met or exceeded expectations. A 1,300m diamond drilling programme identified an area west of Campbell Lake where ten holes intersected up to 40m of high-grade graphitic marble extending about 400m along strike. This area shows considerable promise for the development of a substantial mining operation. Future work scheduled for 2023-24 will include 2,000m of drilling, on high priority targets identified in a 2017 airborne geophysics survey. This will be followed by additional bulk samples and processing refinements, baseline environmental studies, initiation of the permitting process and the nurturing of community relations. A budget of $4m has been designed to achieve these objectives by 2027.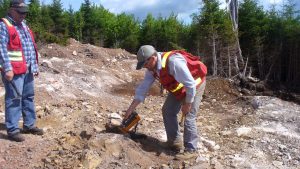 The rich rare earth portfolio of the Debert Lake mineral deposit
The Debert Lake mineral deposit boasts a rich rare earth portfolio, with a >60% heavy rare earth elements (HREE) enrichment in veins and granites. The HREE, naturally liberated from zircon, skew towards yttrium and high-value neodymium and dysprosium.
A recent glaciology study by Dr Ralph Stea suggests HREE mineralised boulder sources lie within the property in around 50m to 100m of ice. There is a thin till cover of ~2m.
Rock sampling from a 2015 till study returned two boulders >12,000ppm TREE, with two more samples returning total rare earth elements of 7,000 to 8,000ppm. All other rock samples returned background TREE levels between 400-1,500 ppm.
Magnum Resources Inc. holds 100% interest in the Debert Lake Property in north central Nova Scotia, consisting of 20 claims covering 800 acres.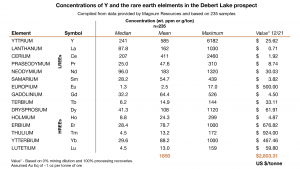 Proposed 2023 work programme
The proposed work programme for 2023, which is estimated to cost around $1.3m, includes the following:
Trenching;
Stripping;
Bulk sampling; and
Diamond drilling.
Location and geological advantages
Debert Lake has no known environmental liabilities, previous mining, or industrial development.
Recently cut-over land is owned by a forestry company.
The property is uninhabited and is well-serviced by gravel roads and bush trails. It is located within ~8km of the power grid, paved highways, and 20km of the main rail line.
Debert Lake is underlain by a contact zone between felsic volcaniclastic rocks of the Byers Brook Formation and underlying high-level felsic plutonic rocks of the Hart Lake-Byers Lake granite. The contact zone is of great importance due to the discovery of granitic dykes and hydrothermal vein zones in bedrock containing REE.
The regional geology is similar to REE deposits in China, western parts of the US, and Canada. This environment includes associations with alkaline igneous rocks, proximity to major subduction-related structures, and the known related occurrences of REE, niobium, and iron magnetite/hematite.
Please note, this article will also appear in the fourteenth edition of our quarterly publication.

Go to this partner's profile page to learn more about them