Steve Gill, CEO of First Hydrogen Automotive., explains more about the company's plans to develop hydrogen-powered vehicles for the light commercial market.
Based in Vancouver, Canada, and in London, UK, First Hydrogen Corp. is focused on zero-emission vehicles, green hydrogen production and distribution, and supercritical carbon dioxide extractor systems.
The company is currently in the process of designing and developing hydrogen-fuel-cell-powered light commercial demonstrator vehicles (LCV), with a range of over 500 km, under two agreements with AVL Powertrain (AVL) and Ballard Power Systems Inc. (Ballard).
To support the infrastructure available for such vehicles, First Hydrogen is developing its approach to providing portable refuelling through its partnership with FEV Consulting GmbH (FEV) in Germany, as well as exploring opportunities in green hydrogen production and distribution.
The Innovation Platform spoke to Steve Gill, CEO of First Hydrogen Automotive., to find out more about the company and its ambitious plans for future development.
Why did you decide to focus on the light commercial vehicle market?
We see a strong role for hydrogen-fuel-cell-powered vehicles in this market. Where traditional original equipment manufacturers (OEMs) have invested considerably into the battery electric vehicle (BEV) solutions, we have chosen to focus on this less-saturated hydrogen-powered vehicle route. We believe that there is a gap in the market, affording a wealth of opportunities for newcomers.
We are developing USP's in both our modular and flexible vehicle design and in the services we offer, which will include Hydrogen-as-as-Service, making hydrogen fuel available to our fleet customers.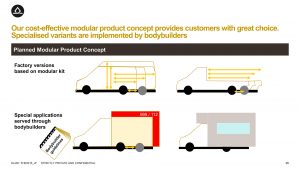 Can you explain more about First Hydrogen's product offering and your current focuses?
We are currently working on the design and development of our light-commercial demonstration vehicles – supported by AVL Powertrain and Ballard. We aim to have two road-legal demonstrator vehicles ready by Q4 2022. The demonstrator vehicles will provide early experience to fleets interested in the benefits of hydrogen-fuel-cell-powered vehicles, including range and speed of refuelling as well as giving real-world input to the design of First Hydrogen's bespoke LCV vehicle platform. We already have ten major fleets interested in trialling these vehicles in 2023.
Our bespoke platform will be targeted at the 3.5-7.5t light and medium commercial vehicle market. It will be designed to optimise the benefits of hydrogen-powered vehicles, being lightweight and highly efficient with leading payload capability.
Our vehicles will feature a flexible energy storage concept, that packages hydrogen tanks and battery modules into the same space and offers range capability matched to the customer's need.
We plan to integrate intelligent range and energy management using predictive software using data on route topology and dynamic traffic and weather information to optimise range and efficiency.
To support the infrastructure for hydrogen-powered vehicles and to provide customers with affordable hydrogen, we are developing our approach to portable hydrogen refuelling stations together with FEV Consulting.
We are also working on the production and sourcing of green hydrogen.
What are the main benefits of hydrogen power and why should fleet managers consider hydrogen-powered vehicles over EVs for their fleets?
One of the main benefits of hydrogen-powered vehicles is that they offer a higher range than electric vehicles (EVs). They are also very suited to heavier payload and towing requirements, making them ideal for commercial vehicles including long-distance delivery and transport vehicles, and vehicles with auxiliary loads, such as refrigerated vans and ambulances. Another major plus point is the refuelling time, taking just one minute to deliver a 100km range compared to 15 minutes for EVs, making them highly suitable for vehicles requiring long or multi-shift operation or simply those wanting operational flexibility.
Is the current infrastructure capable of supporting an increase in hydrogen-powered vehicles? What are you doing to accelerate the infrastructure?
In the industry, there is a 'chicken and egg' effect on infrastructure. We are addressing that by developing our own or partnered fuel stations which we will be able to offer to fleets, in their depots or at public refuelling hubs, to supply them with green hydrogen. We have identified four green hydrogen production sites in the UK and are in discussions with landowners to secure land rights. Located in industrial areas in Greater Liverpool, Greater Manchester, the London area and the Thames Estuary, the four sites are expected to generate a total of 80 MW to 160 MW from hydrogen production, with applications made to the UK Net Zero Hydrogen Fund for UK Government subsidies for two initial sites.
We are also looking at production sites in Canada.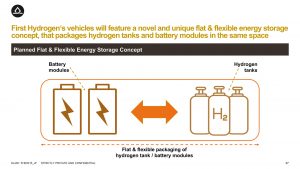 How do ESG criteria drive your work?
Strong ESG focus is important for us. One of the benefits is that we are starting from scratch and thereby can impose or overlay ESG considerations right from the beginning in our own operations and those of our suppliers. Our focus will be on supporting emissions transport, the energy transition and the circular economy.
Although you are based in the UK, you have senior executives in various areas around the world. What are your plans for international development and expansion?
We are building a diverse and international team. We will focus on the European and Canadian/US markets for vehicle sales. Vehicle sales will initially be offered in the UK and Europe. Our first production facilities will be located in the UK or Europe.
We have a unique business model. We plan to provide a combined vehicle and Hydrogen-as-a-Service offering; flexible zero-emission propulsion vehicles; intelligent range and energy management; modular super-structure design, enabling cost-effective niche customisation; a direct, digital and asset-light sales model and a partnered service model.
What stage is your business model currently in and what are your next steps?
Our two demonstrator vehicles are currently going through testing. We expect the vans to be road legal by the Q4 2022. Then, we will be able to showcase them to potential customers via our collaboration with the UK Aggregated Hydrogen Freight Consortium (AHFC). We have received great interest already, as numerous fleet operators have expressed interest in trials of our vehicles. These fleet operators include telecoms, express delivery, national utilities, national infrastructure companies, a UK supermarket chain, a national vehicle breakdown and recovery association, an ambulance fleet, a national leasing group and a zero-carbon technology group. This will be coupled with our bespoke vehicle strategy and concept.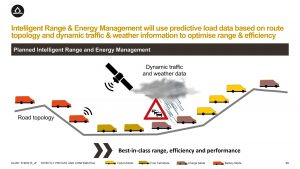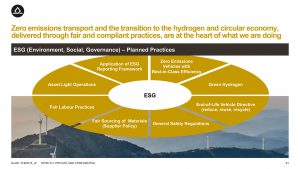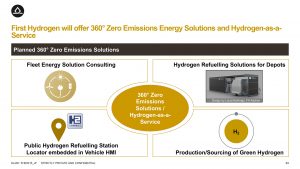 We are working with FEV Group on refuelling stations and have initial projects identified for green hydrogen production. We have identified four potential hydrogen production sites in the UK. These four sites have an estimated capacity of between 80MW to 160MW. Green hydrogen is produced in electrolysers which split water into hydrogen and oxygen with power provided from renewable sources. We have applied for funding under the UK Government's Net Zero Hydrogen Fund Strand 1 programme, for two of our four green hydrogen production facilities.
Please note, this article will also appear in the eleventh edition of our quarterly publication.

Go to this partner's profile page to learn more about them