InhaTarget Therapeutics speaks to The Innovation Platform about their promising preclinical efficacy data on CIS-DPI product combined with ICIs.
In December 2018, we presented our InhaTarget project as a promising academic project to develop new treatment modalities of lung cancer by inhalation. The project has now hatched from its laboratory egg to become an entrepreneurial venture bringing a new hope in the lung cancer treatment landscape.
Lung cancer, including non-small cell lung cancer (NSCLC, 85% of cases) and small cell lung cancer (SCLC, 15% of cases), is the most prevalent and the deadliest cancer in the world, and is now unfortunately facing a sustained growth due to environmental and human factors (such as pollution and smoking). Despite recent progresses in patient care, such as the introduction of immunotherapies as a new treatment modality (e.g. checkpoint inhibitors like anti-PD1 monoclonal antibody), there remain major unmet clinical needs in lung cancer treatment.
While early stages patients (approximately 35% of patients) may be treated by surgery and/or radiotherapy with a quite good success rate, most of the late stage patients (representing approximatly 65% of them) shall require a systemic treatment (intravenous chemotherapy and/or immunotherapy) inducing severe toxicities and hence limiting the duration and frequency of the treatment.1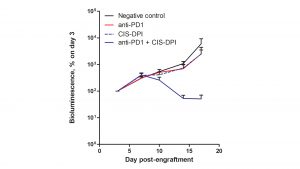 A new route of administration
InhaTarget Therapeutics is currently developing innovative solutions to overcome such treatment limitations, and the toxicological and efficacy results generated during the last three years are particularly encouraging. Their innovative approach is based on the delivery of conventional chemotherapy compounds by inhalation in order to bring therapeutic and safe doses in the lung without increasing the systemic toxicities of the current treatments.
More specifically, the lead product of the company (CIS-DPI) is a dry powder formulation for inhalation (DPI) of cisplatin. This patented innovative formulation presents many advantages for the treatment of lung cancer through:
1) The deposition of high amount of cisplatin in the deep lung,
2) The control of the pulmonary release of cisplatin to improve local tolerance,
3) The prolonged retention of cisplatin in the lungs to sustain its therapeutic effect.
CIS-DPI is a breakthrough therapeutic approach to be used in combination with the current standards of care such as immune checkpoint inhibitors (ICIs like pembrolizumab or nivolumab):
• It enables a high frequency of local administrations of chemotherapy to the patients (as compared to systemic intravenous chemotherapy, which requires off-treatment periods 21`of three weeks due to their related systemic toxicities);
• Thanks to the specificities of the combined inhalation device and the powder formulation, it will enable the patients to be treated at home, hence overcoming the logistic and cost burdens of hospitalisation; and
• The frequent local administration of DPI chemotherapy may present very interesting synergies in combination with ICIs, leading to a boost of the immune response at the systemic level and the treatment of metastases.
ICIs have indeed become central in the care of patients with advanced lung cancer including SCLC and NSCLC (anti-PD1 monoclonal antibody pembrolizumab is currently used, depending on the PD-L1 tumour proportion score, as monotherapy in approximately 30% of stage IV NSCLC or combined with chemotherapy in around 60% of them).1
The synergies of immunotherapy and CIS-DPI: encouraging preclinical results observed
CIS-DPI will be used in combination with immunotherapy in stage IV patients.2 While the benefits of combining immunotherapy with systemic chemotherapy has already been observed in several of patient populations, InhaTarget Therapeutics is now demonstrating the real interest of integrating their CIS-DPI as a promising clinical candidate in combination with immunotherapy.1,3,4
Over the last year, InhaTarget team has generated promising preclinical efficacy data on CIS-DPI product combined with ICIs. An illustration of this data lies in those observed in a study on the aggressive orthotopic murine lung carcinoma (M109 model), in which the combination of CIS-DPI with an anti-PD1 monoclonal murine antibody (RMP 1-14) led to a significant decrease of lung tumour growth over time (see Fig.1). Up to day seven post-cancer cell engraftment, tumour growth was equivalently uncontrolled in every groups with approximately three-fold tumour cell increase between day three and day seven (see Fig.1).
However, from day 10, while tumour growth of anti-PD1-treated mice followed the negative controls', it sharply decreased in anti-PD1/CIS-DPI-treated mice leading to mean values below the initial tumour size at days 14 and 17, indicating a reduction of tumour cell number compared to day three. This data clearly pointed out, in vivo, the positive effect of CIS-DPI administrations in combination with the anti-PD1 therapy.
Moreover, in the anti-PD1/CIS-DPI combination group, we observed one (out of seven) long responder with no trace of any tumour, neither primary lung tumour nor locoregional nor systemic metastases (see Fig.2). This is a very promising result considering that this total remission was not observed in the anti-PD1 monotherapy, which could indicate an 'abscopal' effect of CIS-DPI, (i.e. a systemic immune response from a local administration).5 This effect will of course be further investigated and confirmed in future studies held by the company.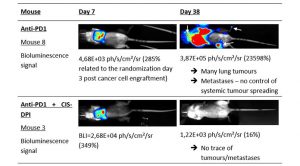 Bring leading products to the proof-of-concept clinical stage
Founded in August 2019 by the ULB entrepreneurial team and Theodorus (the private investment fund partner of the University of Brussels), the company announced recently to have successfully closed a €5.6m Series A funding round to bring its products to the clinic. Based on the promising preclinical data generated, the company succeeded in gathering a good mix of investor profiles: Theodorus, Sambrinvest (private-public investment fund), SMB Technology (a Belgian pharma company active in the respiratory field), Galephar PR INC (a Puerto Rico pharma company specialised in R&D and manufacturing), and other private investors. Thanks to this equity commitment, the company can also count on the financial support of the Walloon region (South of Belgium) for more than €2.6m in subsidies and recoverable advances.
The strategy of InhaTarget Therapeutics is to bring its lead product to the proof-of-concept clinical stage while continuing to build a strong pipeline of inhalation products, and to contemplate any partnering opportunities with major market players for the late clinical trials and the commercialisation of its products.
Frédéric De Coninck, CEO of InhaTarget Therapeutics stated: "This approach (i.e. new route of administration of chemotherapy in combination with the standards of care) provides many therapeutic advantages to enhance the patient care without disturbing the current lung cancer medical practice. Thanks to our complementary team and the strong support of our pharma and medical partners, the company has all necessary resources and expertise to efficiently develop our products and validate their clinical interests".
More information at www.inhatarget.com or by email to info@inhatarget.com.
References
1 Souquet and Couraud. 2019. The Lancet Oncology
2 Rosière et al. 2019. Cancers
3 Brown et al. 2018. Br J Cancer
4 Smit and de Langen. 2019. The Lancet Oncology
5 Derer et al. 2015. Frontiers in Immunology
Professor Karim Amighi
Co-founder
InhaTarget Therapeutics
Laboratory of Pharmaceutics and biopharmaceutics
Université libre de Bruxelles (ULB)
+32 2 650 52 52
karim.amighi@ulb.be
Please note, this article will also appear in the first edition of our brand new quarterly publication. Subscribe here for all the exciting news updates.