Jayeson Hendyrsan, CTO and Co-Founder of Hempcrete Natural Building, speaks to The Innovation Platform about the history of commercial hempcrete builders in the Canada.
Hempcrete Natural Building was started not as a company, but as a project and as a desire for our family to create a more organic living environment, free from mould and petrochemical toxins. Around the summer of 1999, we began to look for an alternative to regular construction as we planned our own building project on a small island near Vancouver, Canada. We had the help of our friend, Les, a local engineer, who had an extensive background in concrete and had built his own concrete house.
We were working from an old Canadian magazine article about someone who had built a beautiful house from blocks made with shredded rock wool, lime, and straw. After many trials, our engineer friend got frustrated as to our insistence that we use organic materials in our 'concrete': "Straw begins to rot and produce sugars within four hours of being wet" he said. "But if you must use organics, at least use hemp as it doesn't readily break down like straw."
We therefore began a search for hemp and we were able to find a Canadian supply, did some experimenting and, in 2002, built our first hemp home, which turned out better than we ever could have imagined.
However, our construction process was very labour intensive, taking over two and a half months to pour the walls for a 1,000 square feet cottage with a crew of four young helpers. We swore that we would never do it again after so much work, but about six years later we began to build an extension to our house, experimenting with a more conventional size and two stories high.
Using our hard-won knowledge and with a smaller crew, we completed the hempcrete portion of double the square footage in less than half the time. We now have formulas and techniques to hempcrete a conventional 2,000-3,000 square feet home in 10-20 days using normal, readily available construction tools.
We are the first builder to be licensed and insured for hempcrete construction in British Columbia, Canada, and also the first to have our buildings insured under the Province's New Home Warranty Act. We have built or consulted on over two-dozen hempcrete projects, from full complete builds to outdoor walls and 'artsy' type projects as well as retrofitting older building with high quality hempcrete. We have also developed ways to integrate conventional construction with elements of standard construction.
Our family now lives in our second hempcrete house and we joke that it would really be a step down to live in a standard North American construction of gypsum board and petrochemicals again!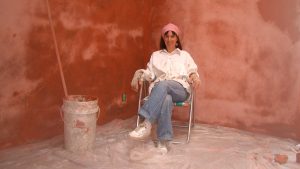 Accomplishments
Systemisation: We have systemised a hempcrete building method to be competitive with mainstream building costs;
Full Builds: As a licensed and insured builder in British Columbia, we can design and build your dream home! We have also worked as a sub-trade/consultant on a three commercial hempcrete projects;
Consulting: We have developed consulting packages to assist owners, builders, or contractors to build their own homes;
Testing: We have been accepted for testing our hempcrete and our own plaster recipes with the National Research Council of Canada. As one of the most experienced hempcrete builders in North America, we have an extensive plan of future R&D;
Hempcrete manufactured houses: We have designed and/or built with partners three small modular homes from 280- 650 sq feet;
Hempcrete structural panels: We have developed a hempcrete structural panel that can be used for both interior and exterior walls; and
Workshops: Although we are currently not offering hempcrete workshops, we have hosted a few dozen over the years, for many wonderful people and groups.
Where do I start?
Planning and building a hemp house
There are some good books on being your own general contractor; and even if you wish to hire a general contractor, you should certainly spend a significant amount of time pre-construction to read up and gain some knowledge of how the construction process works. Your sense of control of the process will go up and your stress will go down when something comes in over budget (and it will).
Time: Plan at least a 12 month lead before the shovels hit the ground. You need this time for planning, costing, choosing the right insurance, financing, permits, and engineering.
Assistance: Make sure that you choose your entire team carefully; your builder, architect, and engineers all need to be able to work together. The professionals on your team need to be excited about your hempcrete home, and they need to be honoured to put their name and their seal on your project. Reservations about natural building methods from any of your professionals have absolutely no place on your team; it is your money funding the project.
Foundation: The only foundation type that we recommend is that of a rubble trench design, with a concrete grade-beam on top (or somewhat below ground in earthquake zones). Proper drainage measures must also be taken.
Structure: Hempcrete is generally considered a non-structural wall infill. Structures are typically standard wooden framing or timber framing. However, some companies have recently used a metal structure which has potential in tropical areas with termite problems (although we think that wood fully embedded in hempcrete would be termite resistant, the entire structure and all connections would have to be protected, and so more research is needed). Another potential for structures is glass.
Roofing: We highly prefer using 'standing-seam' metal roofing. The embodied cost of metal is high, but so is the longevity and the ability to recycle.
Siding and plaster: People often ask us about siding options, or facing the hempcrete with brick, or the use of 'smart-barriers'. We truly prefer to let the hempcrete breathe from both sides. Adding 'barriers' like rain screen and strapping and more petrochemical products limits hempcrete's performance and adds extra expense. There are dozens of plaster 'looks' and hundreds of natural colours. We use a lime-based plaster on the interior with pigments added and a breathable plaster on the exterior.
Services: Plumbers and electricians prefer to have wall cavities to work in. So, when planning, we allow for stud framed walls built on the inside out of hempcrete in strategic areas.
Heating/cooling: To be efficient, hempcrete needs a radiant heat source; performing best in in-floor hydronic or radiant ceiling panels, or perhaps a modern, double burning wood stove. Heat pump technology has come a long way and there is now Japanese technology that can heat both domestic hot water and house-heat from the same source.
Finishing: When we have to waterproof (for a shower or wet room), we prefer either the Schluter System or Tadelakt plaster on hempcrete directly. Tadelakt experts are hard to find in North America, and the application can be expensive. In lieu of natural options, we tend to default to the best quality (with longest lifespan) mainstream product such as the Schluter system. For trim, we only use quality woods like fir or cedar. Timbers or studs sunk in the hempcrete can be faced with trim or left exposed with a 1-2″ reveal on the inside.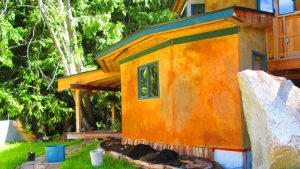 Hempcrete – frequently asked questions
We hope that this article helps you to make an informed decision when considering hempcrete for your building project. Many of the questions we receive are similar, and many of them can also have quite varied and technical answers. Indeed, it is also likely that the same question will be answered differently by those involved in laboratory research compared to those who work in the field, those actually constructing such buildings, or those living in hempcrete houses. Always take any information with a grain of salt; just don't put the salt in the hempcrete.
How much does a hempcrete house cost?
What people are really often asking is "How expensive is it to build the hempcrete part of the house and how much risk is there?"
In our experience, we have found that a single family residential house can be built for close to the same price as a quality custom-built stick frame house in your area. Much will depend on the level of finishing that you want and what area of your country you live in, as well as climate considerations etc.
Consider that a small building may be more expensive per square foot as you still need all of the other things for a house: permits; plans; a kitchen; heating and sand septic systems; solid foundations; roofing; and a bathroom being the most expensive parts.
Please speak with your building professional when pricing and budgeting. Rather than using hard quotes, work with your builder to formulate estimates with best/worst case scenarios.
What is the R-Value of hempcrete? How will hempcrete perform in a colder or warmer climate?
Depending on the ratio of the mix, one can expect R1-R2.5 per inch for various hempcrete mixes. However, there is more to consider in a dynamic, lived-in hempcrete, including thermal inertia, thermal mass, and the fact that the walls are constantly 'working'. There are also new heating models being proposed to help better calculate heating performance such as the 'Living Comfort Model'.
Because they 'breathe', unlike concrete, hemp walls also have a moisture regulating quality.
There have also been many tests with adobe buildings in the USA, and it has been found that the total performance of the building is higher than the perceived static R-value. Hemp may have a similar thermal performance that is still being investigated.
In a nutshell, those living in hemp-concrete houses, from the Viggiano Mountain region in Italy to damp conditions on the West Coast of Canada, have found them more comfortable to live in and less costly to heat/cool than stick/plastic/gypsum houses.
Do you have samples of your material? Can I order hempcrete in small batches?
Basic hemp recipes can be found online; usually in a 20-25% binder mix of lime/cement /sand/ clay to 75-80% by volume of hemp. You can mix it yourself! There are many variations of using hempcrete as a wall -mass or insulation, or a base for breathable tiles.
Can you point me in the direction of, or share info on, how to construct hempcrete from raw materials?
There are a number of great books available now and there are a number of industrial hemp organisations, such as the Canadian Hemp Trade Association and the National Hemp Association.
Can I use hempcrete in below-ground applications?
In our experience, outdoor, and in-contact-with-the-earth applications of hempcrete may not work well. Hemp is very resilient but does need time to dry out between soakings, meaning that unprotected slab applications may not work well in the long term. There are recipes and applications for below-ground hempcrete, but your own application would have to be reviewed by a qualified builder or engineer. For most practical purposes and inexperienced builders, we suggest keeping hempcrete where it can be allowed to breathe freely.
What it's like to live in a hemp house?
In a word: Amazing! How many times during the storms of winter has one member of the family said: "I love our little house!". It is warm in the winter, cool in the summer, and amazingly quiet and cosy – just what a house should be!
What is the most efficient way to insulate a hundred year old house with a hemp?
We have completed a few old house renovations and we feel that hempcrete is the best way to allow a house to breathe. There have been may issues with older house renovations where the modern building code requires layer upon layer of plastic to 'seal; the house. This approach, in our view, is totally erroneous from both environmental (heavy reliance on petrochemicals) and practical reasons; we predict that many of these new, multi-layered-in-plastic airtight buildings will show significant water damage. The long term performance of these airtight models is yet to be proven.
Assuming that we are able to use technology to make something impervious to air and moisture movement is a typical human hubris. Perhaps it can be achieved, but the real questions are for how long and at what cost, both now and in the future? It is far better to build with a mass-wall system with natural materials and achieve better results.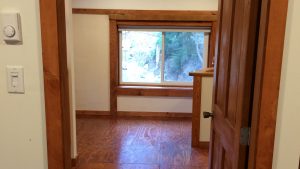 Hempcrete and the future
Hempcrete Natural Building Ltd – our company's plan and vision
'Everyone Needs a Home' has been our motto for 20 years. As more people begin to build using hempcrete, our clients often remark that we have to now deal with 'competition', but nothing could be further from the truth; more hempcrete projects going up worldwide means more awareness of a better way of creating beautiful, safe, and long lasting homes. The real competition we are fighting stems from the entrenched bureaucracy that perpetuates climate change, global conflict, and inequality while using too many non- renewable resources.
What do all of us need and want?
Food;
Shelter;
Security;
Community; and
Economic prosperity.
Doing what we love and receiving something back
If we are fed, then shelter is the next thing; if people have multi-generational homes where they can be safe and eventually become mortgage free this will lead to stronger communities.
We have been involved in single-family buildings and commercial projects for many years, however we need millions of long lasting, carbon neutral hempcrete homes around the world to make a true impact.
Our company is actively pursuing plans to build smaller, 'sensibly-sized' housing in a small geographic area, where local trades can be educated in building with hempcrete and housing issues can be addressed.
There are many exciting options for providing power and heat and for dealing with waste in small subdivisions or communities. What is needed is land that is zoned for higher density and small housing, as well as government bodies that are progressive and willing to work practically to 'get out of the way' of those trying to provide solutions. The track record of large government and large corporations at solving world problems has been anything but a success as humanity teeters from one crisis to the next. We need to nourish and empower people from the ground-up.
The solution to the larger problems is to lessen humanity's impact through our housing and create bases where people are able to be provided for, and then be in a position to give to, their neighbours.
We need to have widespread acceptance of quality and natural building systems, and no compromise on the fact that every house needs not only to be passive, but also carbon neutral and biodegradable or totally re-useable in some way, with a minimum lifespan of hundreds of years.
Show us something besides hempcrete that can fit that bill.
Jayeson Hendyrsan
CTO and Co-Founder
Hempcrete Natural Building Ltd
+1 604 803 8736
info@hempcrete.ca
www.hempcrete.ca
Please note, this article will also appear in the second edition of our new quarterly publication.