Martin Koehring, Head of the World Ocean Initiative at The Economist Group provides insight into the potential of the sustainable ocean economy, from energy to aquaculture.
The ocean makes a significant and growing contribution to the world economy. According to the Organisation for Economic Co-operation and Development (OECD), the size of the ocean economy was an estimated $1.5 trillion (** ~€1.38 trillion) in 2010, equivalent to around 3% of global GDP. By 2030, the ocean's contribution is forecast to double in size to $3tr (from 2010 levels). Innovation is crucial to both harness the opportunities a sustainable ocean economy can offer and address the risks that ocean degradation poses. Areas of particular promise for innovative solutions include ocean energy, the decarbonisation of shipping, aquaculture, ecosystem restoration and 'blue carbon', ocean geoengineering, and blue finance.
Ocean energy innovation
Energy production in the ocean is an area of huge potential. Offshore wind electricity generation increased by 20% in 2018, after record 32% growth in 2017, according to the International Energy Agency (IEA). However, it still makes up only a tiny fraction (0.3%) of total global energy generation. The industry is rapidly maturing though, and growth potential remains significant amid the decarbonisation of global energy production. Technology development makes it possible to access sites with better wind resources, turning offshore wind power into 'an attractive alternative for utility-scale low-carbon electricity', according to the IEA. Innovations include new turbine designs, installation vessels, electrical interconnection equipment and floating foundations, such as recent demonstration projects in Norway and Spain.
In contrast to wind power, however, public and private investment in marine energy generation, for example from wave and tidal renewable energy technologies, has been relatively low. IEA data show that global R&D budgets have only allocated one-tenth the funds that wind power receives. To accelerate these other forms of energy generation from the ocean, policy and investment could focus on smaller projects in a lower-risk environment.
Offshore renewables are among the five most promising ocean-based solutions to climate change identified by the High Level Panel for a Sustainable Ocean Economy, a group of 14 world leaders. The other four include shipping, ecosystem restoration, fisheries and aquaculture, and seabed carbon storage. In total, these solutions could contribute 21% of the reductions needed to close the gap between current levels of greenhouse gas (GHG) emissions and where the world needs to be to limit global heating to 1.5℃ above pre-industrial levels.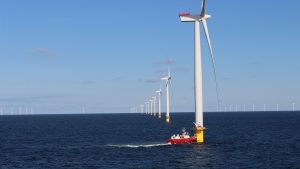 Vital role for technology in shipping decarbonisation
Transport is the second most promising ocean-based solution to climate change identified by the High Level Panel. GHG emissions from shipping currently account for almost 3% of global emissions, the equivalent of Germany's share. The industry's international regulator, the International Maritime Organisation (IMO), has agreed to cut GHG emissions from ships by 50% by 2050 compared with 2008, while pursuing efforts to reduce emissions to net zero by 2050.
Innovation will play a central role in supporting this transition. Improving operational and energy efficiency via for example optimising ship speed, route, design and wind assistance technology could deliver GHG emission reductions of around 50% or more. But the biggest opportunity is the transition from conventional heavy fuel oil to alternative fuels and engines. Ammonia used in internal combustion engines or fuel cells could be a cost-effective zero-carbon fuel for long-haul freight transport in the long run. Meanwhile, electric motors combined with batteries or hydrogen fuel cells could be the most promising option for shorter journeys.
The decarbonisation of ports is also an important part of the transition. Renewable energy can play a crucial role in port electrification, cutting carbon emissions and air pollution from shipping ports. Some ports have started to raise efficiency and reduce GHG emissions by replacing conventional fuels (such as diesel) with more sustainable ones (such as liquefied natural gas, biofuels and hydrogen). They also increasingly use cleaner, energy-efficient vehicles and equipment.
Harnessing the huge potential of aquaculture
Another crucial area in need of innovation is fisheries and aquaculture. The High Level Panel has identified this area as a significant opportunity to reduce emissions, particularly by optimising wild fisheries, replacing fish feed in aquaculture and increasing the share of ocean-based protein in human diets. Moreover, according to the UN's Food and Agriculture Organisation (FAO), aquaculture is the fastest-growing animal-protein production sector in the world, forecasting that it will provide two-thirds of seafood for human consumption by 2030.
A study by scientists across 11 countries found that the ocean could provide over six times more food than it does today. This is equal to more than two-thirds of the animal protein needed to feed the future world population. Health benefits include greater access to essential vitamins, minerals, omega-3 fatty acids and other nutrients not found in plant-based or terrestrial animal proteins. Meanwhile, environmental benefits include a lower carbon footprint and limited other resource requirements (such as access to land and water) compared with land-based animal protein.
Unfed mariculture, i.e. seafood that does not require feed from humans, such as seaweed and mussels, has lots of growth potential. However, research suggests that it is actually fed mariculture (such as fish and crustaceans) that has by far the greatest potential to produce ocean-sourced food. That said, the aquaculture industry relies heavily on wild-caught fish for feed. This practice must come to an end in order for aquaculture to truly fulfil its potential for a thriving and sustainable ocean economy.
New feed technology for mariculture is therefore paramount. Possible replacements for fishmeal include for example microbial ingredients such as microalgae, insect-based feed and genetically modified plants, and innovative companies are looking into harnessing these opportunities. However, there are potential environmental challenges that need to be taken into consideration, such as potential habitat and biodiversity loss, over-harvesting, pollution, social impacts, GHG emissions, water use, and energy consumption.
Innovation in ecosystem restoration
An area of innovation that is often undervalued is supporting nature's own ability to restore itself. Ecosystem restoration through nature-based solutions includes for example restoring mangrove and kelp forests, seagrasses and salt marsh. These ocean-related ecosystems hold great potential to store carbon, so-called 'blue carbon'. The High Level Panel has included blue carbon among its top five ocean-based solutions to climate change because, apart from storing carbon, restoring these ecosystems also protects coastal areas from storms and provides nurseries for fish.  Indeed, seagrass, mangroves and coral reefs are some of the most effective carbon sinks on the planet. Despite their importance, only around half of the world's mangroves remain, for example.
The World Ocean Initiative's The Protectors films series has recently looked at how mangroves can provide a solution to climate change and improve the livelihoods of local people. The film shows an innovative community conservation scheme in Kenya, where local people sell carbon reduction credits, thus giving them a stake in protecting mangroves.
Another innovation is a kelp reforestation system developed by the Climate Foundation, called 'marine permaculture'. It involves a permanent sustainable harvest from an ecosystem by working within the system's ecology. Trials of this technology in places like Tasmania, Indonesia and the Philippines have been promising.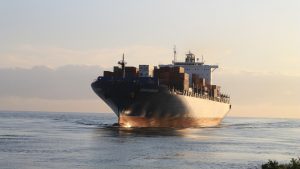 Geoengineering: technologies of the future?
The ocean, with its carbon pump, is Earth's largest carbon sink. It stores 25% of atmospheric carbon dioxide emitted each year. Since the 1970s, the ocean has absorbed around 93% of the excess heat from GHG emissions. Global failure to reverse GHG emissions trends could herald the re-emergence of ideas to carry out ocean geoengineering to address climate change.
Ocean geoengineering techniques include blue carbon solutions such as carbon sequestration in mangroves, salt marshes and seaweed assemblages (as mentioned above). More controversial examples include marine cloud brightening, ocean iron fertilisation and ocean alkalinity enhancement. Advocates of such technologies argue that the ocean conservation agenda must include investment in large-scale ocean-based negative emissions and ocean/cryosphere-based climate hedges. However, because of gaps in our knowledge about the possible risks to ocean ecology, wildlife and the communities that rely on them, robust governance and legal frameworks for ocean geoengineering will be crucial to prevent harm.
Acceleration of innovation requires finance
Blue finance is vital for many of the innovations mentioned in this article to gain traction.  There are investment opportunities in start-ups that are developing innovative technologies to address ocean challenges, such as overfishing, plastic pollution, ecosystem destruction and climate change. Funding is available for start-ups via ocean start-up accelerators such as Katapult Ocean, while finance for scaling up can be accessed through investors such as Mirova Natural Capital.
The development of innovative ideas to advance ocean sustainability requires pioneering innovators such as the three women that won the World Ocean Initiative's inaugural Women and the ocean: Changemakers challenge in early 2020. Their innovations include a cell-based clean meat solution, protecting coral reefs through eco-tourism, and a tool to verify fish catch locations and improve traceability.
Examples of ocean innovation will be showcased at The Economist Events' World Ocean Tech and Innovation Summit that will be held in Halifax, Canada, on October 14th-15th 2020. The inaugural Summit will convene 250 innovators, business leaders, investors, scientists and regulators over two days to showcase the latest innovations and technologies that hold huge potential to contribute to a sustainable ocean economy.
Martin Koehring
Head of the World Ocean Initiative
The Economist Group
Tweet @Economist_WOI
https://www.woi.economist.com/
Please note, this article will also appear in the second edition of our new quarterly publication.