As Norwegian aquaculture continues to grow it is ever more important that we look at ways to minimise the environmental impact of seafood production.
With a long coastline, great areas of sea, and excellent water exchange, Norway has a unique advantage when it comes to the production of seafood. Norway produced around 1.3 million metric tonnes of Atlantic salmon for the market in 2020. Natural conditions combined with innovative and industrial development have contributed to outstanding food production and growth in numerous coastal communities across Norway. The aquaculture industry is built on these advantages and, through technological and biological efforts, begin to produce more seafood with even less environmental impact.
The story of the Norwegian aquaculture industry is also the story of a production model that does not depend on government subsidies but is export-oriented and profitable. This has given the industry the resources to invest in research and development, enabling it to achieve a leading global position. Technological and biological development has contributed, and will continue to contribute, to the sustainable growth of Norway's production of safe and healthy food. From a global perspective, it is also worth noting that this technology and expertise will be used for aquaculture production in other parts of the world, especially regions with fewer opportunities to devote resources to research and development. Norwegian aquaculture investments will therefore make an important contribution to reducing the environmental footprint of aquaculture worldwide and will continue to contribute to increased food production in other parts of the world. It is of significant social benefit to utilise the knowledge gained in the growth of the Norwegian industry in order to maintain the sustainable production of healthy food for a world with a growing need for food supply stability.
Sustainability and the seafood industry's aims for 2030
Sustainability goals connect the environment, economy, and social development. They serve as a joint working plan for global efforts aimed at achieving sustainable development for nations, industry, and civil society. Norway endorses the UN Sustainable Development Goals, a set of 17 goals that outline the road map to a better future for all, with goals including sustainable cities and communities and responsible consumption and production.
The UN's Food and Agriculture Organization (FAO) and the Organization for Economic Co-operation and Development (OECD) explain in the report 'The Ocean Economy in 2030' the significance of the ocean for solving many of the future challenges of the planet. The main prerequisite for the future development and growth of the seafood industry in Norway is that this must take place in an environmentally, socially, and economically sustainable way. As for all other products and services, sustainable development in the seafood industry must be considered from an overall perspective. This also applies to the calculation of the environmental footprint, and a key strategy for achieving environmentally sustainable development is to develop goals and measures that reduce the footprint on the product level. Sustainable development goals must be ensured in all steps of the value chain, i.e., harvesting, food fish production, processing, and transport.
The ambitions of the fishing and aquaculture industries include:
Additional requirements associated with resource utilisation and a reduction in the total environmental impact (footprint) per unit produced;
Additional requirements for increased food production and employment; and
Additional requirements for the proper regulation of the industry and its ability to adapt to these.
A total chain approach requires that we take into consideration all steps of the value chain, including the sustainable development of the seafood industry in Norway. The Norwegian seafood industry aims to be a qualitative leading producer of seafood within global aquaculture, with good maintained profit margins and attractive job prospects.
A competitive and profitable seafood industry is central to achieving the Sustainable Development Goals. The increased processing of seafood in Norway contributes to environmental sustainability through better utilisation of raw materials in a circular economy. Within the aquaculture industry, better resource utilisation and effective production will have the same results. Moreover, the seafood industry contributes to social and economic sustainability through secure jobs, local activity, and value creation.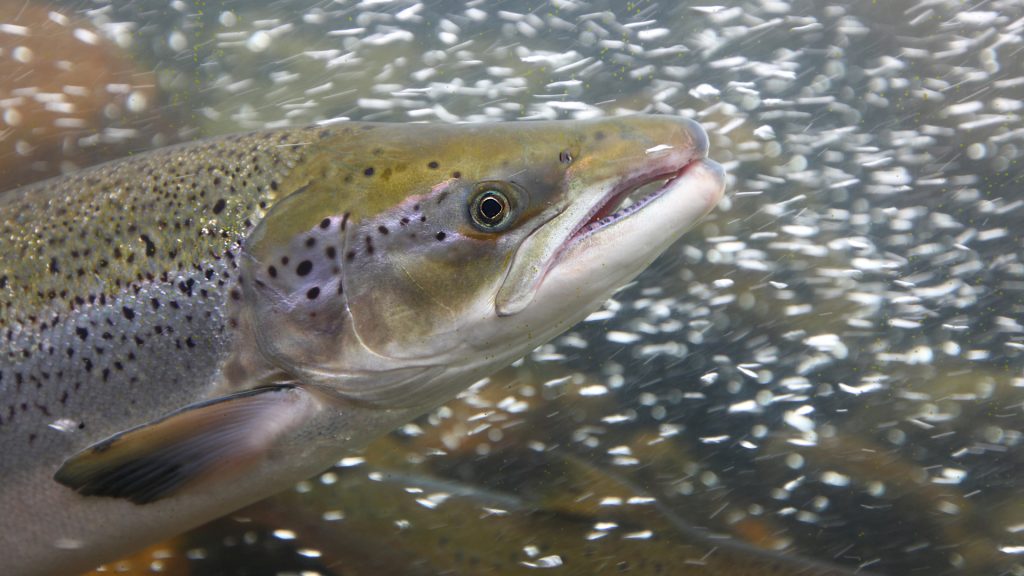 Innovation
The essential prerequisites for innovation within the seafood industry are that it contributes to development and growth in an environmentally friendly, socially positive, and financially sustainable manner. The requirements to be imposed for an acceptable environmental impact in the future must consider the major global challenges such as greenhouse gases, biodiversity, clean oceans, food safety for a growing world population, and responsible management of sites, both on land and at sea.
To achieve this, there must be a focus on innovation and possible improvements on every step of the value chain, but also on management and public regulations. There must be a focus on how to reduce the use of limited resources such as the available space for fish farming and the raw materials required to feed the fish. We must also be aware of the importance of fish welfare and take this into consideration when optimising the production.
Technology
When making choices about the best technologies to implement within aquaculture it is vital to consider how it can be adapted to the conditions of the specific place of use, ensuring that its use will comply with the requirements set by local authorities and that its impact will not risk harming the local ecosystem. Furthermore, technology should be implemented with an awareness of its impact within the life cycle of fish and seafood breeding as well as considering its overall sustainability.
Today's production methods, including the use of traditional cages, has a wide range of advantages in terms of energy consumption, greenhouse gas emissions, and resource use. Given the international expectations set for reducing the contribution to greenhouse gas emissions, it is not appropriate to require the industry to replace this technology with closed facilities at sea or on land, as it currently satisfies expectations. Traditional cage farming is also not a permanent intervention, and normally all traces of operation will be gone six months after operations have ceased, thereby limiting the impact on ecosystems and waterways. There is great potential to improve the technology and the operations to these productions systems, with focusses on areas such as providing more stable environmental conditions for fish and technology to for example to control the impact of the parasitic sea lice.
New technology, such as closed sea-based facilities and land-based facilities, can be a good complement to the already established cage-based technology. These are technologies that may facilitate food production in areas that are currently not suitable for aquaculture. It can also be relevant to run the first part of the production cycle in closed units. This may provide a basis for new operational strategies and be an opportunity for the areas that cannot currently be used for aquaculture production with traditional technology. Because these systems are more complex and entail a greater operational risk, both technologically and biologically, there will be a need for a further technological development of the existing system and research into the effect on the fish bred under these systems.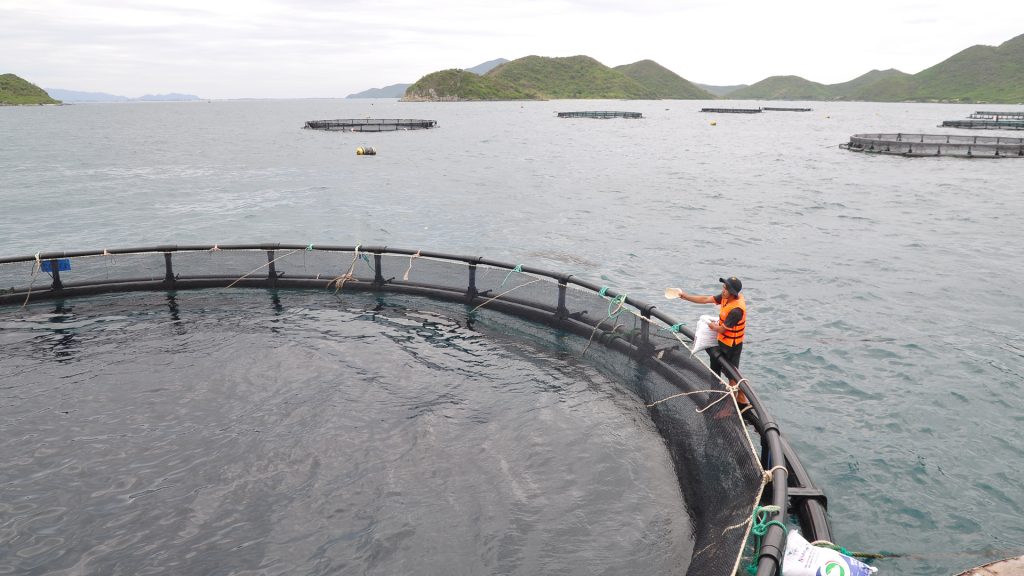 Alternative feed resources
Fish feed is the part of the fish farming value chain that contributes the most to the environmental footprint of farmed salmon (constituting more than two-thirds of the climate footprint), and a reduction in the fish feed's environmental footprint will lead to a direct reduction of the farmed salmon's footprint.
Fish feed producers import about 90% of the raw materials currently used in Norwegian fish feed. There is a need to find new raw materials for Norwegian aquaculture in order to have a better environmental footprint in the future and to achieve a more efficient feed production.
Salmon have unique properties that allow them to take advantage of the food they receive. But access to sustainable feed is a limiting factor. It is difficult to find new raw materials, and it is time-consuming and economically risky to access the volumes that seafood production needs. When searching for other feed raw materials with a smaller environmental footprint, we should avoid competition with resources that are used or which can be used for human food.
Norway has a national ambition of growth in aquaculture production to five million tons in 2050. This will require access to up to six million tons of dry feed. If growth is not to be covered by increased imports of soy, approximately 75% of the protein will have to be produced from other raw materials and through other industrial processes than those we have today.
In a recent report, SINTEF evaluated 23 different raw materials that could be used as fish feed. Their conclusion, based on an evaluation of accessibility, content of protein and EPA/DHA, and cost, was that there are seven key sources that could be used:
Pelagic fish;
Marine residual raw material;
Soy and other protein-rich crops;
Mesopelagic fish;
Protein from grass;
Hetero- and chemoautotrophic micro-organisms; and
Microalgae.
The most critical single factor for obtaining enough feed based on Norwegian raw materials in 2050 is that we succeed in upscaling harvesting and producing feed from mesopelagic fish. Depending on the volume of catches, this raw material can contribute up to 75% of protein demand and 89% of the need for EPA/DHA.
The ocean will be important for solving many of the future challenges of the planet. Marine aquaculture production is an environmentally friendly and resource-effective means of producing food and its continued success will be crucial to feeding the world's ever growing population.
By engaging with innovative technologies and ideas to tackle the problems facing the aquaculture industry, from fish feed to sea lice, we should be able to increase food production whilst simultaneously reducing the industries environmental impact.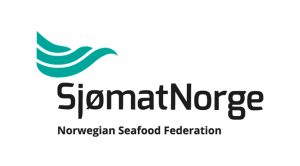 Jon Arne Grøttum
Director of Aquaculture
Norwegian Seafood Federation / Sjømat Norge
jon.arne.grottum@sjomatnorge.no
Sjomatnorge.no Norwegian Seafood Federation – Sjomatnorge.no

Please note, this article will also appear in the seventh edition of our quarterly publication.