Let's take a look under the bonnet of Hydrovolt – Europe's largest electric vehicle battery recycling plant and how it will spark the continent's transition to electrified transport.
The widespread uptake of electric vehicles will be the driving force behind achieving Europe's net zero ambitions. Currently, transport is the most significant source of emissions across Europe, with cars alone responsible for 12% of carbon emissions. Additionally, the transport sector equates to 65% of Europe's use of oil, the majority of which is imported, further exacerbating the scale of emissions during importation.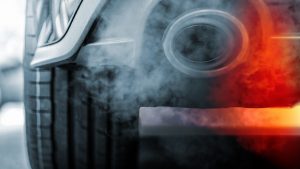 Reducing road transport emissions
The EU has recently announced radical yet essential policy changes that will help to expedite the transition to clean energy and carbon neutrality. The European Commission unveiled the Fit for 55 Package as part of the European Green Deal, with the package outlining a litany of measures to reduce road transport emissions.
Fit for 55 states that new car emissions must be reduced by 55% as of 2030 and 100% by 2035, meaning all new cars registered from 2035 and beyond must be zero emission. Additionally, the package proposed that electric vehicle charging stations should be installed at regular 60km intervals on major highways.
Data from the European Environment Agency suggests that electric vehicle sales in Europe have increased exponentially over the last decade, rising from 700 units in 2010 to around 550,000 units in 2019, with EVs representing 11% of newly registered cars in 2020. Norway is leading the way in EV sales, which made up 54% of car sales in 2020.
However, despite electric vehicles providing an emission-friendly transport alternative, doubts persist about the sustainability of producing EV batteries, the cornerstone of the technology. The materials utilised in battery production are finite, and the batteries themselves will eventually reach end-of-life, meaning electric vehicle battery recycling will be paramount for ensuring the long-term sustainability of EVs.
The Hydrovolt electric vehicle battery recycling plant
Hydrovolt is a joint venture between Northvolt – a European sustainable battery cell supplier, and Hydro, a pioneering aluminium and energy company. Hydrovolt is situated in Fredrikstad, southern Norway, and is the largest electric vehicle battery recycling plant in Europe.
Hydrovolt elevates electric vehicle battery recycling to new frontiers, with the facility able to process around 12,000 tons of battery packs each year – around 25,000 electric vehicle batteries. With the unparalleled adoption of electric vehicles in Norway, Hydrovolt is positioned to provide a sustainable solution for its entire volume of electric vehicle batteries, stopping them from retiring from the market or reaching end-of-life.
The EV battery recycling plant comprises cutting-edge technology proficient in recovering and isolating 95% of a battery's materials, such as copper, plastics, aluminium, and black mass – which is a compound containing manganese, cobalt, nickel, and lithium.
The plant boasts an array of innovative concepts that have been specially designed to maximise the use of all materials found within the facility, including a dust collection system that recovers valuable material that is typically lost during mechanical recycling steps.
The Hydrovolt team is now investigating if they can increase their electric vehicle battery recycling capacity throughout Europe, with future aims of recycling approximately 70,000 tons of battery packs by 2025 and 300,000 tons by 2030. Staggeringly, this is the equivalent of 150,000 electric vehicle batteries by 2025 and 500,000 in 2030.
Peter Qvarfordt, the CEO of Hydrovolt, commented: "Hydrovolt represents a milestone on Norway's trailblazing journey towards widespread electric transportation. Norway has been leading the world in the adoption of electric vehicles for some years, but what has been missing is recycling capacity to ensure a sustainable solution for those batteries as they reach end-of-life.
"Today, Hydrovolt is scaled to handle the entire volume of end-of-life batteries in Norway, but we're now looking towards expanding to ensure we're prepared for the higher flows of batteries we know are coming."
Reutilising black mass
The expert recovery of black mass at the Hydrovolt plant is a significant breakthrough, as it will alleviate the dependence on acquiring primary raw materials through mining, meaning limited resources can be spared.
Additionally, at its Revolt Ett recycling plant in Skellefteå, Sweden, Northvolt is developing a hydrometallurgical treatment that is critical for processing black mass into battery-grade material, with Hydrovolt forecasted to produce more than 2,000 tons of black mass annually by 2025.
Emma Nehrenheim, the Chief Environmental Officer of Northvolt, concluded: "Recycling end-of-life batteries is a cornerstone to ensuring the electric vehicle transition is a true success from an environmental perspective. The metals used in battery production are finite, but by substituting raw materials mined from the Earth with recycled materials, we can not only cut the carbon footprint of batteries but enable the sustainable long-term use of lithium-ion battery technology."