Victor Fedeli, Ontario's Minister of Economic Development, Job Creation and Trade, outlines their extensive initiatives to strengthen Ontario's EV manufacturing and battery supply chain.
Canada's electric vehicle (EV) infrastructure has accelerated significantly in recent years, with investments from some of the world's largest manufacturers signalling a major transition for the country's EV landscape.
In particular, the Canadian province of Ontario is fast becoming the epicentre of Canada's EV manufacturing supply chain. Since the governmental shift in 2018, a lowering of costs for businesses has seen major players in the vehicle and green manufacturing world turn to Ontario to expand their assets.
In April 2022, it was announced that General Motors (GM), a leading American automotive manufacturer, will launch Canada's first commercial electric vehicle hub in Ontario. This announcement follows the March news that LG Energy Solution Ltd. and Stellantis N.V. are constructing Ontario's first large-scale electric vehicle battery manufacturing plant in Windsor, set to be operational by 2025.
To find out more about what these announcements mean for the direction of Ontario's EV supply chain, The Innovation Platform's Editor, Georgie Whitworth, spoke to Victor Fedeli, Minister of Economic Development, Job Creation and Trade of Ontario.
How is Ontario positioned to support the Canadian EV industry and how has its infrastructure evolved?
Canada has a real story to tell here which began more than four years ago, prior to our election in 2018. Sergio Marchione, who was then the Chair of Fiat Chrysler (known as Ford Chrysler at the time) was attending a conference in Windsor, Ontario, with the then Premier of Ontario, Kathleen Wynne. She asked him whether Chrysler would expand in Ontario, and he looked at her rather perplexed because a lot of car companies had been reducing their production in Ontario due to increased costs. His response, which I will paraphrase, was no, as the government had made Ontario the most expensive jurisdiction in North America in which to do business.
In recognition of this belief, when we were elected, Premier Ford expressed that we must do everything we can to reduce trading costs in Ontario. So, we began a multi-pronged approach.
Our first initiative was to assist the Workplace Safety and Insurance Board (WSIB), which provides liability insurance, access to industry-specific health and safety information, loss of earnings benefits, healthcare coverage for workers and support for employees returning to work after an injury or illness covered under the Workplace Safety and Insurance Act. We reduced their premiums by 50% without reducing the benefits for the workers. This decision alone was worth C$2.5bn annually and provided hugely lower costs for businesses.
Our second approach involved accelerating the annual capital cost allowance, resulting in companies buying new equipment that could be written off within a year, much like the US system. This approach resulted in a C$1bn saving.
In addition, over the years that we have been in office, we have passed eight red tape reduction bills, and those pieces of red tape have saved businesses around C$400m annually.
Previous governments had set tax increases to hit in January 2019 worth almost C$1bn, which we chose not to impose, and we also lowered the cost of electricity for industrial and commercial activities by an average of 16%. Finally, we lowered the province's share of local property taxes by C$450m annually.
All our initiatives deliver an annual package of C$7bn a year in savings – an astonishing figure. It is this package that we brought to Toyota, Honda, Ford, Stellantis, and General Motors (GM), resulting in these companies agreeing to reconsider investments in Ontario as a low-cost jurisdiction.
Significant company announcements shortly followed, beginning with Ford who solidified a C$1.8bn commitment to Ontario to build five new EVs. General Motors then announced over C$2bn for two plants to produce a brand-new product called BrightDrop – an electric delivery vehicle that, at its launch, secured FedEx as the first customer. BrightDrop will be manufactured in Ingersoll, and GM's Oshawa plant, now rebuilt, enables it to produce both heavy and light-duty pickups.
The Oshawa plant only took 12 months from its rebuild to the first Silverado truck coming off the production line – the fastest build in their history. Our department visited the site recently and we are delighted to have been informed they are now moving into three shifts at the plant to help produce a lightweight Silverado also. The Oshawa plant will employ around 2,600 people.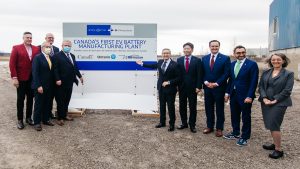 Stellantis also recently announced a C$1.5bn upgrade to the Windsor plant in Ontario to build EVs. In addition, Honda announced a C$2bn plant in Alliston, Ontario, to manufacture hybrid vehicles – their first step toward producing EVs. Then, of course, there has been the announcement from LG Energy Solution and Stellantis who are building a C$5bn 45-gigawatt capacity EV battery manufacturing facility in Windsor.
Not forgetting our steel industry, the ArcelorMittal Dofasco steel plant in Hamilton announced a C$1.8bn conversion from coal-fired manufacturing of steel to an electric arc furnace. This means our EVs will use green steel, the batteries that will be made in Windsor are being made from 94% clean energy, and the cars themselves that are manufactured are made from 94% clean energy.
We estimate that, at this stage, there is around C$13.5bn in investment, but with our ongoing efforts, this will shortly increase to C$15bn investment in Ontario in just over 17 months – an unprecedented figure not only in Ontario's auto history but unprecedented in Canada.
We are not stopping there, however, as we are also investing in the parts manufacturers to help them pivot toward EVs. We are investing around C$56m in the Ontario Vehicle Innovation Network (OVIN) and that will support the connected and autonomous sector who make the screens for cars, for instance.
Of course, we recognise that we cannot ignore the huge significance of the critical minerals involved in our EV transition. Our critical minerals strategy is a detailed five-year roadmap that will help to secure Ontario's position as a world leader and to extract more responsibly-sourced critical minerals quickly.
Canada is the only country in the Western Hemisphere that has all the raw materials to make a lithium-ion battery and it is all here in Northern Ontario. Our critical minerals strategy therefore concentrates on extracting lithium and nickel and processing the cobalt (in the town of Cobalt) to ensure Ontario's place as a global leader in the transition to EVs – looking at the whole well-to-wheel process.
How is Ontario working internationally to strengthen EV manufacturing and battery supply chains?
We believe the key is extracting and processing the materials locally, rather than shipping materials around the world for processing. We have several companies who expect to manufacture the precursor materials here in Northern Ontario, alongside the extraction sites.
It is vital we manufacture the precursor materials to serve our battery manufacturing facilities, such as the C$5bn LG Energy Solution and Stellantis facility in Windsor. However, our intention is to obtain further battery manufacturing facilities in Ontario that will serve our five OEMs producing EVs now.
What will developments such as the Stellantis LG EV battery plant and GM's commercial electric vehicle hub mean for Ontario's economy, and how will they elevate Canada's profile in the EV sector?
We have made enormous strides to develop an electric automotive sector in Ontario during the last 17 months. Our plan, Driving Prosperity: The Future of Ontario's Automotive Sector, outlines all our ambitious proposals which are now coming to fruition. Globally, GM will provide 2,600 new jobs. The build of the battery plant will offer thousands of construction jobs for two years and 2,500 new jobs when fully operational.
In addition, thousands more jobs will be created in the supply chain serving these new plants, such as GM's manufacture of the Silverado. Under the North American Free Trade Agreement, which I refer to as NAFTA 2.0, there is an interesting rule called the Rules of Origin Component. In the first iteration of NAFTA, it stated that 62.5% of all parts needed to be manufactured in North America. Under NAFTA 2.0, that figure will rise to 75%.
Our message on the global scale is, if you were shipping parts to North America, whether it is Canada, the US or Mexico, from outside of North America, that is increasing and will be in effect within a couple of years. It means that businesses would have a greater advantage if they moved here.
We are tirelessly working to encourage businesses to take advantage of our funding and utilise our exceptional talent pool. We have 12 leading universities, 24 colleges with autofocus programmes, and, by being based here, businesses can easily ship globally. Canada is the only G7 country that has free trade deals with every other G7 country. In fact, we have 50 free trade deals around the world. Therefore, if you locate here, not only can you sell to our five OEMs and within North America, but you can also export from here to just about anywhere duty-free.
What are the future goals and objectives of the Ministry of Economic Development, Job Creation & Trade? How does this sit with Ontario's automotive sector as a whole?
Firstly, we want to see more electric vehicles produced here in Ontario. This will be achieved through the billions of Canadian dollars of support we have already invested in green steel, battery production, and OEM EVs. We believe we are due billions of US taxpayer dollars to support the more than 100,000 hardworking men and women we are investing in.
We hope to secure yet another EV battery manufacturing facility with an ambition of more to come to support all OEMs to manufacture more EVs. We are the number two automotive manufacturer in North America, just behind Michigan, but most interestingly, we are also the number two technology cluster in all of North America, just behind Silicon Valley. We will be there to support all our new businesses to make Ontario a world leader in EV and battery manufacturing.
Victor Fedeli
Minister of Economic Development,
Job Creation and Trade
Ontario Ministry of Economic Development,
Job Creation and Trade
www.ontario.ca/page/ministry-economic-development-job-creation-trade
https://www.facebook.com/ontarioinnovation
https://twitter.com/ONeconomy 
Please note, this article will also appear in the tenth edition of our quarterly publication