Matthew Firmston-Williams, Head of Service Development at EVMI Solutions Ltd, discusses the company's solution to overcoming the barriers to an efficient last mile delivery.
The urban high street was once a lively environment, enjoying multi-year growth and bustling crowds. Choice in abundance, with no serious competition for traditional bricks and mortar shop fronts. Throughout the nineties and early noughties, there was often a no more convenient way to acquire food and goods than to go down to the shops and purchase items over the counter. However, this was all soon due to change with the advent of the internet, online shopping, and customer-centric delivery practices.
In recent years, the growth of online shopping (Amazon, eBay, and a plethora of other online delivery facilitators) accelerated substantially with ever-faster promised delivery to our doorstep – it became so that we did not even need to visit the shops or supermarkets for the bulk of our daily needs if we did not wish to. Despite a fight-back by high street stores with sale offers and on-shelf promotions, the transfer of shopping baskets from high street to online was inevitable and so new formats emerged.
The fall of traditional retailers
Multiple retailers weathered the online onslaught, and some even thrived by re-inventing themselves, but boutique high street operators did not prosper in the face of fierce online competition and increased convenience offered to customers. Corner stores did, by and large, survive (with some notable exceptions) so long as they re-invented their offer with ancillary services offering hard-to-replace value to local communities.
Bricks and mortar pivoted to clicks and mortar, click and collect, click and deliver (in ever shorter times), and the whole gamut of multi-channel fulfilment. Many independent shops and indeed chains started to feel the pinch and reduced footfall if they failed to adapt. Of course, there was yet another contemporary event looming on the horizon that would serve to exacerbate the pain of traditional retailers that much further.
The COVID-19 pandemic rapidly changed life as we know it in almost every single area, but the challenges raised to retailers were unfortunately insurmountable to many. With footfall cut to zero for months at a time (whilst business rates and rents were still expected to be paid), only those businesses ready to pivot to a delivery-focused model continued to prosper in any way. This accelerated the demise of the high street further, and any reductions in passenger traffic on the roads were offset by even higher levels of traffic from home delivery activity. All with the attendant environmental cost (aka noise and air pollution) from vehicle tailpipe emissions and traffic congestion from near 24/7 doorstep deliveries.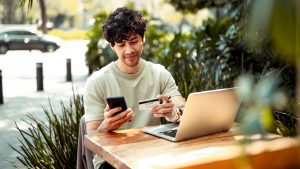 The rise of doorstep deliveries
As such, the volume and frequency of doorstep deliveries have been exponentially increasing, and even in the post-COVID world, customers have come to expect a range of goods and services delivered to their doorsteps on a scale never previously experienced. In the race to acquire a new class of customer base in the grocery sector, enormous amounts were invested during the course of 2020 and 2021 into so-called dark store operations (urban micro-distribution centres) to facilitate ultra-rapid delivery services for a limited range of groceries and household goods in as little as ten or 15 minutes.
While this new type of hyperlocal rapid delivery was significantly based on more sustainable and less congesting micro-mobility formats (cargo bikes, electric mopeds, etc.) the 'land-grab' of these new operators largely came at the expense of conventional metrics for profitable local delivery operations that were already challenged. These operators are now experiencing investor retreat and even backlash in the face of unprofitable delivery models and no clear path to profitability.
In truth, it is tough to deliver a profit from a bag of groceries (maximum 25 kg) on the back of a rapid delivery rider. Whilst it may be able to travel faster, it is also tough to make any return from the small cargo capacity per trip offered by a moped. Vans get stuck in traffic, often with their cargo holds substantially less than full. This is the last mile reality.
Barriers to efficient delivery
With restaurants also shuttered during lockdown, the demand for delivery of meals to home increased substantially, with delivery drivers and riders at one time even being considered key workers. However, despite all this, there is another factor to consider – how the delivery operators themselves are adapting to make sure their business model(s) remain both effective and profitable. This is, of course, the true measure of sustainability which has to cover both economics and environment.
The impact of inflation on operating costs and food costs introduces even more challenges for local delivery services, as consumers who value convenience are nevertheless forced to greater cost-consciousness. Cost of delivery is the obvious major factor to consider, however there are many other factors that act as barriers to efficient delivery that operators struggle with. These include:
Congestion on the road, slow routes, and parking options available for doorstep delivery;
The economics of last mile delivery becoming even more challenging and the prospect of returning profits to investors became even more remote during the dash for growth of customer base;
Increasingly, the burgeoning list of operators in last mile Q-commerce has needed to find ways to increase the value of goods delivered per roundtrip from the depot – losses are large, and investors are demanding a plan towards profitability;
Last mile delivery operators have realised there is no 'one-size-fits-all' and that vehicles for doorstep delivery are needed in several formats, with true sustainability only to be achieved by right-sizing vehicles for individual delivery trip characteristics; and
The rising costs of last mile logistics as a proportion of the total delivery cost, further aggravated as decarbonised transport becomes widely mandated – the adverse health effects from urban air pollution, magnified by intense levels of doorstep deliveries, are increasingly coming into our collective consciousness.
The last mile urban delivery trilemma
Alongside these problems, the last mile urban delivery trilemma has rapidly emerged as delivery operators (whether fleet or individual) have struggled to meet customer expectations of rapid delivery and increased demand without passing this cost to customers.
The first component in this trilemma is the ubiquitous use of petrol mopeds, buzzing through the streets 24/7. These have been seen as non-congestive, able to weave through traffic, and have a low entry cost. However, they also come with a huge collective impact on urban noise and air pollution from thousands of two-stroke engines while their limited cargo capacity multiplies the number of trips that need to be made.
The second component is the increasing use of green transport modes such as e-bikes or cargo bikes. This shift should be applauded but comes with limitations of speed, capacity, and range to serve intensive logistic demands within the last mile. Operators are finding that, whilst these pedal-powered and/or electric-assist vehicles fill the quota for a greener method of transport, the limited speed and capacity means the riders are not operating at an optimal 'drops-per-hour' rate (DPH) as they are continually having to return to the base in between drops.
The third component is the ever-present delivery vans (be they diesel or electric) which get stuck in traffic and impede progress on narrow urban streets. On the one hand, they have the potential for multiple drops per trip, but in practice, they lack the ability to weave through our congested streets and can suffer from cargo holds which are substantially empty as they progress around their scheduled route. With increased congestion, there is also the collateral damage of increased pollution and adverse health effects from many idling engines of the traffic they share the streets with.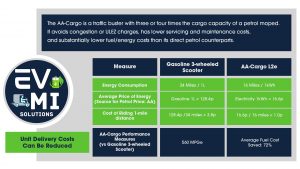 EVMI Solutions' answer
Here at EVMI Solutions, we believe we have a solution for both operators and the environment alike in the form of a dedicated mixed micro-mobility offer that is unique in the market today and focused on fleet operators in the last mile. We aim to provide the best-in-class solutions within all formats of micro-mobility for local delivery services.
Our flagship model, the Aidea AA-cargo Electric three-wheeler has a 420L cargo capacity (three or four times the safe cargo capacity of its two-wheel petrol counterpart by virtue of its three-wheel geometry), but with the same traffic agility as a moped and able to be driven on a moped licence (CBT – Certificate of Basic Training). This means more goods value per trip and therefore fewer trips needed to deliver the goods. Giving delivery speeds up to 28mph (low-speed version) or 43mph (hi-speed version), the AA-cargo also features rider safety and comfort enhanced by the windscreen, wipers, and roof.
For shorter trips where higher speed is not required, we offer a four-wheel e-cycle car with the ability to carry larger loads up to 1m3 over shorter distances at speeds up to 15mph. An advantage of this format is that it is classified as a bicycle, so can operate in cycle lanes and does not require a driving licence or driver insurance – also with rider safety and comfort enhanced by a car-like frame and cabin. From many rider tests, the most frequent feedback is that they feel safer, more visible, and protected versus a two-wheel pedal bike.
Finally, we offer a much larger three-wheel cargo scooter with enhanced rider safety and comfort but with cargo capacity up to 1.6m3 – also drivable on a moped licence. We also have further best-in-class micro-mobility formats under active development, which means that today we can offer mixed fleet solutions of small and nimble vehicles which are geared around the specific mix or requirements of the last mile fleet manager. Our solutions reflect our sustainability mission statement:
Quieter: in everyday life than their petrol or diesel counterparts;
Faster: than the vans which get stuck in traffic and cause congestion;
Greener: by both reducing air pollution which is harmful to health and eliminating tailpipe emissions which contribute to climate change and the harmful effects of this over time; and
Cheaper: than an electric van but able to deliver as much and more if right-sized for the local use-case – no empty cargo space to drive around.
– They are also cheaper to operate, with estimated fuel/energy cost between 1p and 2p per mile, even at today's prices, and representing about a two-thirds saving versus petrol mopeds;
– Cheaper in terms of the value of goods delivered per trip (a key performance measure for last mile delivery operations) with a cargo capacity of three or four times that of its two-wheeled counterpart;
– Cheaper to maintain than petrol and diesel vehicles and with better operational uptime to be expected due to fewer moving parts;
– More value per trip than can possibly be carried by a rider in a back-pack (with 25kg max per bag guided); and
– Cheaper for the planet and future generations.
Within this environment, customer retention and avoiding customer churn is even more challenging and requires complete focus by the delivery operator on their unique value proposition.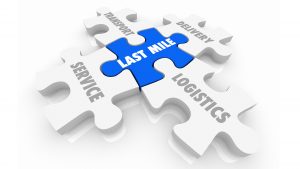 Following an intensive pilot run with Ocado, we are very excited to record that the AA-cargo is now on active duty with Zoom by Ocado, performing about 100 miles of local delivery runs per vehicle per day, and bringing the customer a range of 10,000+ grocery items including Ocado and M&S (five to six times the range of other grocery micro-distribution centres), while holding to cherished values of sustainability.
We feel that both fleet operators and the local environment and communities will benefit from switching to an environmentally-conscious micro-mobility solution in a sustainable business model, and we are delighted to be at the forefront of facilitating this change towards a quieter, faster, greener, and cheaper alternative.
If you would like to find out more about the company and meet with the team, EVMI will be showcasing its decarbonised last mile delivery solutions at several UK events later this year. From 7-8 September, EVMI will be in attendance at the Cenex-LCV event at the UTAC Millbrook test ground in Bedfordshire. The company will also be exhibiting at the Restaurant & Takeaway Innovation Expo at ExCel London from 19-20 October.
Please note, this article will also appear in the eleventh edition of our quarterly publication.