The Chief Executive of the UK's National Institute of Agricultural Botany (NIAB), Tina Barsby OBE, spoke to The Innovation Platform about the history of the institute and crop innovation.
There are many challenges facing crop innovation in the agriculture sector – from food security, to climate change, to sustainable development and arguments around land use. Yet, many of these also present opportunities in terms of agricultural research and innovation.
The National Institute of Agricultural Botany (NIAB) Group is the UK's fastest growing crop science organisation and is at the forefront of the application of genetics, physiology, soil science, precision agronomy and data science to improve the yield, efficiency and resilience of crop production across the arable, forage and horticulture sectors.
In collaboration with The Department of Plant Sciences at the University of Cambridge, NIAB has recently established The Crop Science Centre, which combines skills and develops expertise from both organisations, including cutting-edge and fundamental plant science research underpinning yield enhancement, crop pre-breeding, and the translation of basic research into sustainable agriculture and extension services. This will involve bringing together a range of disciplines from the University to work alongside NIAB's agronomic and breeding expertise, at the new research centre and laboratories.
The Innovation Platform spoke to NIAB's Chief Executive, Tina Barsby OBE, about the work that NIAB undertakes and what it hopes to achieve moving forwards.
What are NIAB's main activities? What role does the organisation play?
NIAB celebrated its 100-year anniversary last year, and HM Queen Elizabeth II, our patron, visited us and planted a tree, just as her grandparents had done in 1919 when NIAB was founded. NIAB was founded to ensure that what the farmer received on the farm was what the plant breeder had produced in the field or lab, which was an important task and is one that we have continued to undertake. This was at a time, just after the First World War, when the UK government was focused on food security and agriculture.
NIAB remained a part of the UK government until 1996, at which time we became a not-for-profit, rather than being privatised like many other institutions at that time, such as the Agricultural Advisory Service, which became a limited company, and the Plant Breeding Institute, which was sold to Unilever. As a non-profit, NIAB continued its work on variety characterisation, evaluation, the certification of seeds, and, of course, policing plant varieties to ensure that what industry receives is correct. This latter aspect has continued to be conducted via a competitively tendered contract with the Department for Environment, Food and Rural Affairs' (DEFRA) Animal and Plant Health Agency (APHA).
In 1996, this constituted almost 100% of our income. Now, however, this has been reduced to only around 10%. That is partly because in that time legislation governing variety control etc. has changed. With NIAB thus required to do less in this area, we began to be active in others, such as experimental tests and trials, and we are now the largest field trials operator in the UK in terms of arable crops, where we have the ability to conduct field trials to test for pathogens, seed germination, and so on. We have also developed commercial services in this space.
By the early 2000s, it had become obvious to the commercial plant breeders that what had been provided by the privatised government institutions had been of benefit and so with their support NIAB became active in pre-breeding activities, researching how the diversity of material going into breeding programmes might be improved. This is something we have continued, and our capacity here has developed to the extent that we are now able to operate at scale.
In addition to this – and alongside our breeding activities – we have also developed the capacity to genetically modify crops, which is just another way of bringing in variability, despite the controversy that often surrounds it. Genetic modification is also an important experimental tool – for instance, when working to develop disease resistance in a new crop, a gene which has been identified as being responsible for the resistance can be inserted into another plant and tested for efficacy before the long search for a natural variant with the same characteristic begins.
I joined NIAB in 2006 before becoming Chief Executive in 2008. It was clear that NIAB's turnover was too dependent on the statutory contract and associated commercial work that it had at that time., We effected a merger with another non-profit organisation, the Arable Group, which existed to support farmers, advising them on agronomic practices and carrying out supporting research, putting varieties into the farming context and advising farmers on how much fertiliser they need, what chemicals they should be using, what their rotation should look like, which varieties of crops they should be working with, and so on. This tied in well to what NIAB had originally been formed to achieve, and so the merger saw us begin to undertake those activities once more, mainly regarding arable crops such as cereals and oilseed rape.
In 2013, we absorbed a potato agronomy unit from Cambridge University and have gone on to develop a major specialisation in potatoes. Then, in 2016, we took over the world famous top and soft fruit breeding station at East Malling in Kent. This has been particularly exciting because it is a completely different area for us. Furthermore, while our activities in Cambridge focus on research and services, from East Malling we actually place products (plant varieties) on the market – our Malling Centenary variety of strawberry is currently the most popular variety in the UK.
This brief overview therefore outlines how NIAB has evolved from being wholly funded by government to being quite unique amongst research institutions in the UK. Indeed, around half of our funding is now from non-government sources due to the fact that we have developed the capabilities to offer numerous services to non-governmental actors whilst, of course, maintaining the services we provide for government, too.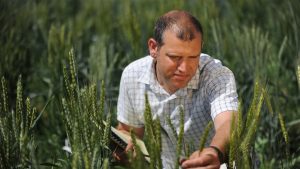 Are NIAB's commercial services available to those outside of the UK?
The research that we conduct can, of course, be applied anywhere in the world. Our flagship project on wheat, for instance, is designed to bring together the three grasses that originally formed wheat 12,000 years ago in the Fertile Crescent in Iraq. This work and the material we have developed is interesting for the UK and Europe, but plant breeders can apply it anywhere in the world.
Regarding the field work, this is conducted with farmers and is therefore quite local. In the UK, we have a farmer membership of about 3,000, whom we help with their agronomy for their membership fee.
With our soft fruit breeding activities, our strawberry, raspberry, and apple varieties can go all over the world, and we are now looking at new markets for them in Spain and South America.
Are you anticipating any particular challenges post-Brexit?
When a plant breeder wants to place a variety on the market, they need to prove that it is distinct, uniform, stable, different to other varieties, and has a value for cultivational use. This underpins the statutory work we do for DEFRA, and this is governed by EU regulations. Post-Brexit, we still don't know exactly what that regulation, and the work we do to support it, is going to look like.
We are in very close dialogue with DEFRA about this and other areas – and in some of those, we do know that the UK will be implementing its own rules. Some of that will be good for NIAB because there will be more work for us. However, being disconnected from what is happening in the rest of Europe will perhaps be quite challenging. That being said, there are also potential benefits. For instance, once the UK is no longer a part of the EU, we will have an opportunity to look again at legislation around genetic modification and gene editing.
Is there an appetite for that in the UK now?
There are two things that need to be taken into consideration. First, the reason that plants and crops are different from each other is because of mutations; the reason one plant is resistant to a disease and another isn't is because of a mutation. Plant breeders and researchers use mutagens to accelerate these changes, but it takes a very long time to sort out the desired mutations from the ones we don't want. One simple form of gene editing is about creating specific mutations without creating others we don't want; it does not involve introducing any foreign DNA.
There is currently a discussion in Parliament about whether there is scope for re-evaluating the UK position on gene editing under the Agriculture Bill because we know that the European position is out of line with that of many other countries. NIAB would like to see the Cartagena protocol definition of genetic modification being used in the UK, because that would mean that gene editing in the way I have just described it would be exempt.
Genetic modification that involves introducing foreign DNA is a completely different thing, of course, and requires a wholly separate discussion. It should nevertheless be highlighted that no harm has ever been reported from either of these practices per se (though how they are applied needs careful management in a farming system). Rather, they are perfectly good ways of achieving required changes in crop plants and, if we want to stop using chemicals, then we have got to find other ways to achieve our goals, and GM and gene editing offer a wealth of opportunities and benefits.
What are your thoughts on the EU's 'farm to fork strategy' – and perhaps a UK alternative post-Brexit?
The Agriculture Bill is going through Parliament at the moment, and this will generate a UK version of the EU's strategy. The COVID-19 pandemic has also made people much more aware of the food they eat – and it has been quite remarkable to see how our supermarkets and supply chains have coped, especially in terms of ensuring the supply of fresh fruit and vegetables, and I hope we can build on that. Indeed, the big question of how reliant we want to be on other countries for our food is being addressed at the moment in the discussion around the Agriculture Bill.
Regarding the EU's strategy, I was recently involved in a webinar where the European Commissioner described the farm to fork strategy, and he repeatedly emphasised the role that small farms can play. While this is good in principle, there is perhaps a need to define what is meant by 'small' – and thus what is also meant by 'large', as many of those who might be classed as having 'large' farms could also be classed as having several 'small' farms with control of a large acreage.
Regardless of such debates, however, it is clear that we need to maximise the yield on the areas we currently have so that we can use other areas for preserving biodiversity – I am a great believer in the land sparing argument.
What role will NIAB's Crop Science Centre play moving forwards?
NIAB and The University of Cambridge are soon to announce an alliance, with Professor Giles Oldroyd being appointed by the university to lead the Crop Science Centre partnership with NIAB. Oldroyd, whose work focuses on plant nutrition, particularly nitrogen fixation, has said that he hopes that nitrogen fertiliser will be a thing of the past by the time he retires.
To achieve that goal, his work involves GM. However, the Crop Science Centre isn't only about that; it is about bringing together the excellent science, and particularly the longer term science, from Cambridge University, with the applied science of NIAB to achieve impact.
There are three pillars to the Crop Science Centre – crop nutrition, photosynthesis, and plant health – all focussed on delivering chemical free genetic solutions to farms globally.
Can you tell me a little about NIAB's recent impact study, which will be published this month?
The economic impact study was designed to explore NIAB's impact on the economy by illustrating the return on investment for both the government and the economy if a pound is spent at NIAB. We selected five examples from our activities, rather than trying to look at the institution as a whole. These included variety classification, our strawberry breeding activities, and our experimental vineyard in East Malling.
The study's results were very positive, revealing that for every pound spent with NIAB, £17.50 is recovered for the economy.
Tina Barsby OBE
Chief Executive
National Institute of Agricultural Botany (NIAB)
+44(0)1223 342200
tina.barsby@niab.com
Tweet @niabgroup
www.niab.com
Please note, this article will also appear in the third edition of our new quarterly publication.