Peter Ehren, Director of Lithium Ark Holding B.V., explains more about the company's innovative process technology for the development of lithium hydroxide.
Founded by experienced lithium consultant Peter Ehren, Lithium Ark Holding B.V. is a process technology company focused on the licensing and process development of lithium hydroxide from lithium chloride, lithium carbonate, lithium sulphate, and recycled battery material (black mass). Since the company's patent was granted in May 2022, the company has worked to 'greenify' the lithium industry and provide benefits to all lithium producers, refiners, and recyclers. Currently, the company is aiming to license its technology and knowledge, alongside providing consultancy services to those in the industry.
To find out more about the business and its key aims and objectives currently, The Innovation Platform spoke to Peter Ehren.
Can you explain more about the background of Lithium Ark and its team?
The company was founded in response to the challenges and negative impacts of existing lithium hydroxide and lithium carbonate production processes. We found that production methods in the industry had a lot of steps and used excess amounts of reagents, water and energy, which has a detrimental impact on the environment.
The idea to simplify the process was something I had thought about for a long time so, when I had the time during the COVID-19 lockdown period, I started to calculate certain parts of the process and what I discovered was even better than first expected. We were able to develop a completely circular process that goes directly from lithium chloride to lithium hydroxide. It also has lower capital and operational expenditure, lower footprint, lower energy consumption, and significantly lower CO2 emissions. It is easier to operate and much better for the environment.
Why 'Lithium Ark'?
We chose to name the company Lithium Ark to reflect its inclusivity. Like its namesake, Noah's Ark, which is available for all animals, the Lithium Ark solution is suitable for many process routes and lithium sources to serve the complete lithium industry.
What is the Lithium Ark process and what makes it different? Why did you choose to develop this process?
Conventional lithium hydroxide production processes require the use of lime and sodium carbonate. First, it is precipitated in carbonate and then the lithium carbonate is transformed into lithium hydroxide. This method involves a large reagent consumption.
In our process, we add potassium hydroxide to lithium chloride solution and, by doing so, precipates lithium hydroxide selectively. After this precipitation, the lithium hydroxide is recovered by filtering. The mother liquor is crystallizing selectively potassium chloride. This potassium chloride goes into standard industrial applied electrolysis, which is highly efficient, to make potassium hydroxide again. This way, we have a green and circular process and energy consumptions are significantly lower than, for example, the processes of lithium chloride electrolysis or electrodialysis.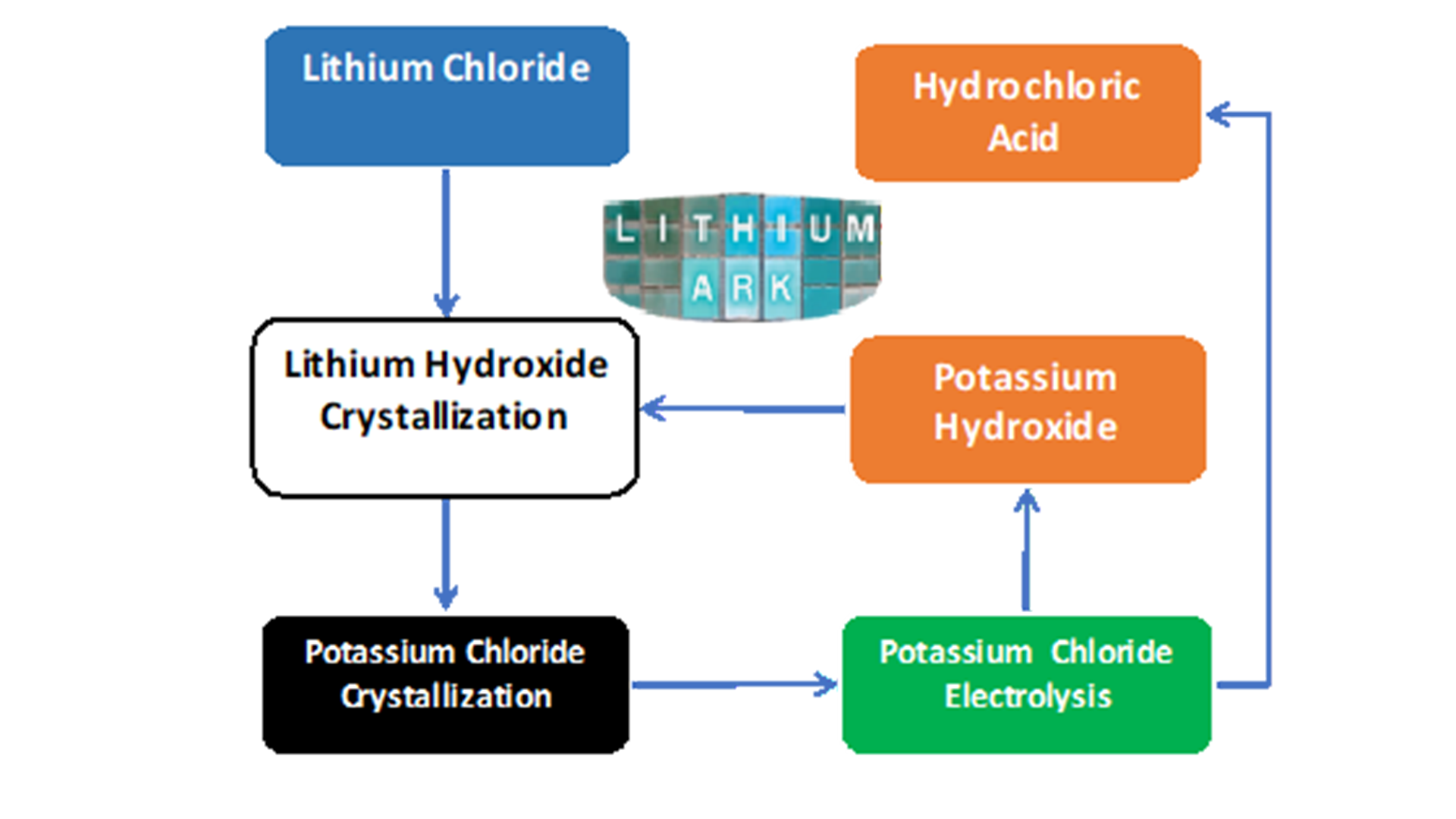 Potassium electrolysis has very high current efficiency of plus 95%. For every tonne of lithium hydroxide, you need 50% less electricity than alternative processes under development.
What are the environmental benefits of the Lithium Ark process?
One of the major environmental benefits is that you do not have any waste, because you re-circulate the reagents. This is also a major positive for its use in the battery recycling industry, which actually has to buy and transport sulfuric acid and makes sodium sulfate as a by-product without any market for it.
In addition, you do not have to ship all the reagents to the site or plant, which is much safer and generates significantly lower CO2 emissions. The process itself also emits significantly lower CO2 emissions as it is very energy efficient.
What are the possible applications for the process and what should end users know?
We are focused on lithium chloride solution coming from Direct Lithium Extraction (DLE) and from solar evaporation processes. Another focus, which is slightly behind this, is the development of the black mass from the battery recycling which we will start in the second quarter of this year.
The process can also be adapted for lithium carbonate or lithium sulphate, which is a great alternative for actual and future lithium refiners.
What's next for your company?
We are working with a team of process development engineers, specialised in the environmental management of lithium projects, circularity, and licensing. We also work closely with equipment providers and engineering companies.
We are testing several brines from our clients at lab and pilot plant scale during Q1 and Q2 of 2023.
Additionally, we are developing the black mass flowsheets using the Lithium Ark process.
Please note, this article will also appear in the thirteenth edition of our quarterly publication.