How AMG Lithium will contribute to securing a sustainable supply of battery-grade lithium hydroxide for the emerging European battery industry.
With the objective of realising green mobility, the global demand for high power energy storage devices is booming. Europe is on its way to becoming the second largest Electric Vehicle (EV) manufacturing region in the world, but it has yet to build its own infrastructure along the entire value chain. Until now, it has been dependent to the largest extent on imports from Asia, predominantly China. At the end of the day, Europe is heavily exposed to this situation, as China currently accounts for >90% of the conversion of hard rock into lithium carbonate equivalents (LCEs). With Europe's ambitious target to quickly transition its highly developed automotive sector from manufacturing internal combustion engines to manufacturing EVs, it needs to build up its own safe and stable regional supply chain, from assembling EVs, passed lithium-ion batteries and cathode manufacturers, all the way upstream to converting lithium sources into LCEs and refining these into battery grade (BG) lithium hydroxide or carbonate. While the downstream element is already building up, the essential upstream part, namely European mining and the conversion of hard rock minerals into LCEs, is years behind.
AMG Lithium is about to begin construction of the first upgrading facility for lithium hydroxide BG in Germany, while supporting the development of regional mining, setting an example and encouraging others to support Europe in becoming less dependent and more resilient in terms of the supply of critical materials.
The Advanced Metallurgical Group
The AMG (Advanced Metallurgical Group) is a well-established global leader in the supply of critical metals (e.g. vanadium, tantalum, niobium, lithium), mineral products (e.g. graphite), highly specialised furnace systems, and related services with approximately 3,000 employees and an annual turnover of around US$ 1bn. Its portfolio for products and solutions enabling CO2-reduction are at the heart of its environmental, social, and governance (ESG) approach, and it therefore created AMG Lithium GmbH, further underlining its commitment to support and push the development of cleaner energy and to enable speeding up the electrification in Europe.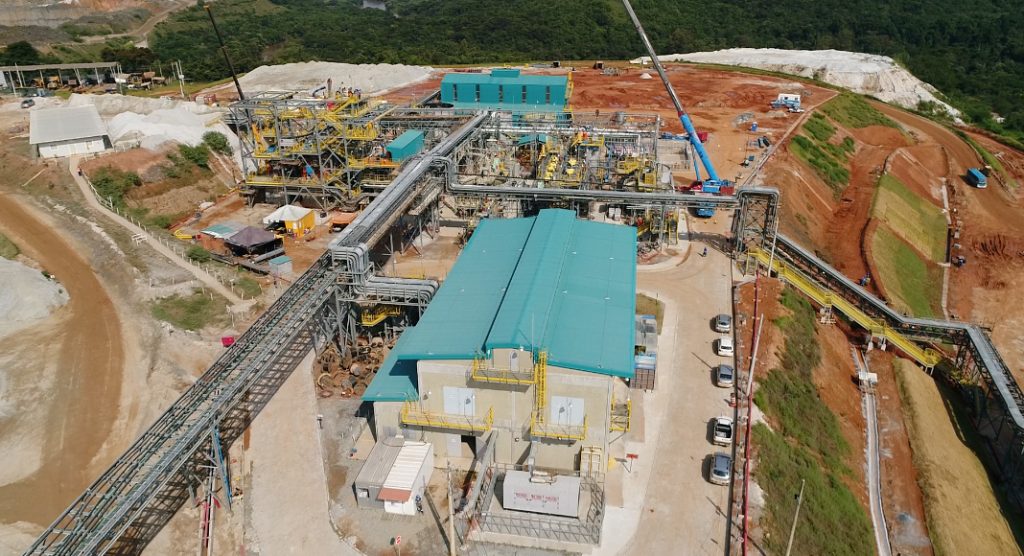 Serving the European battery industry
AMG Lithium GmbH is headquartered in Frankfurt, Germany, where it also runs state-of-the-art laboratories for battery materials focusing on the development and production of high-quality lithium-containing materials for next generation all-solid-state-batteries and the energy storage sector. While AMG Lithium intends to become an important provider for numerous lithium products to serve the emerging European battery industry, its imminent goal is to secure the upcoming demand of the reshoring cathode manufacturers for lithium hydroxide BG, as European customers will prioritise fast charging and long range, supporting the use of high nickel cathodes. Further lithium compounds crucial for the battery industry will follow.
In April 2021, the company acquired 10 hectares of land which it will develop into its manufacturing site for lithium compounds. Supported by a strong team of seasoned experts, the construction of its first module for lithium hydroxide BG is scheduled to begin in Q4-2021; with an annual capacity of 20,000 t and commercial production to commence in late 2023, it will be the first lithium hydroxide refinery of its kind in Europe to convert lower grade lithium hydroxide into BG.
Aligned with the market growth, AMG will build additional modules that will be designed to also use other raw materials as feedstock. The second module could start from lithium carbonate or lithium chloride (e.g. from geothermal brines). AMG is involved in on-going discussions with the best-in-class recyclers to hopefully use recycled lithium compounds and start partially closing the loop. The latter will take some time, though, as the battery industry has so far been extremely fragmented. Indeed, the interest in recycling lithium only kicked in a couple of years ago, before which time nickel and cobalt were the main focus.
AMG Lithium's multi-generation plan foresees five modules and a total capacity of 100.000 t per year of lithium hydroxide BG, enabling the production of more than two million EVs per year.
Raw materials strategy
With its own mine in Brazil, AMG is backwards integrated. The spodumene concentrate from the Mibra mine will be converted into lower grade lithium hydroxide and used as feedstock for the German refinery. However, with the world's seemingly insatiable appetite for lithium and AMG's ambitious capacity expansion target, it will need to access raw materials beyond the mine's capacity, with a strong focus on the carbon footprint of each thinkable scenario, to hopefully include raw materials originating from the EU in the very near future.
Even though Europe will soon start to assess its local resources, the current forecast and the soaring demand clearly show that these activities will not be sufficient. To put this into perspective: even if all of European resources were to come online in, for example, 2026, they could merely cover a third of the demand then and less than a third by 2030, even if recycling were to take off and supply 8-10% of the demand.
Europe will thus always need to source considerable amounts from overseas and so will AMG to feed later modules. It will look at cutting shipment volumes by at least 85% by supporting conversion at the source and importing lower grade lithium materials instead of spodumene concentrate. With the routes currently used for bringing spodumene concentrate from the mines to the converters and lithium hydroxide from the converters to Europe, the shipping itself generates between 2.5 and 5.0 t of CO2 per t of lithium hydroxide. AMG is successfully developing scenarios that will significantly reduce the carbon footprint, and related costs.
It is no secret that there is a hype on lithium raw materials and that accessing these has become difficult for western companies wishing to produce BG lithium compounds and cathode materials. Not only are Chinese companies buying all they can find with no limitations of any kind but due to their recent realisation that lithium is at least as critical as nickel or cobalt on their journey towards massive electrification OEMs have also started securing huge quantities directly at the base, further complicating things and eventually neglecting essential steps within the supply chain.
Strategic customers, partners, alliances
With the demand for BG lithium hydroxide set to grow at an unprecedented pace, far-reaching consequences for the environment and society are inevitable. All stakeholders within the industries and governments should therefore strive for intelligent solutions and synergies.
That being said, AMG is not only interested in long term agreements with its customers; it is inclined to even go so far as designing and finetuning one of the next modules to fulfill all their individual requirements and dedicating it to them.
AMG is open to partner with strategic companies, ideally at an early stage, to enable the discovery of synergies and to follow common interests to not only answer their current demand but also to jointly work on new products to answer their demand of tomorrow.
AMG is also looking at alliances with hard rock mining companies, as many of them currently look at taking their concentrate further downstream – some even all the way down to BG material. It could support them in converting their concentrate into lower grade lithium hydroxide, which would then be shipped to Europe where it would be refined to BG. In terms of footprint, there is hardly any difference between shipping technical grade or BG to Europe.
We have recently seen numerous examples of companies unable to overcome one or more of the three hurdles (mining, converting, refining), so why not have experts concentrate on what they can do best and work together to find the optimum usage of resources? There are more intelligent solutions than having everyone doing everything.
Europe needs to have its own local manufacturers of lithium hydroxide BG. Its chemical industry – with the extensive and excellent track record, world class ESG procedures, and an abundant pool of highly skilled workforce, is best-positioned to take quality standards for BG lithium hydroxide to the next level. This will significantly raise its security of supply, improve communication channels along the supply chain, and reduce reaction times for unforeseen events like the many we have witnessed lately.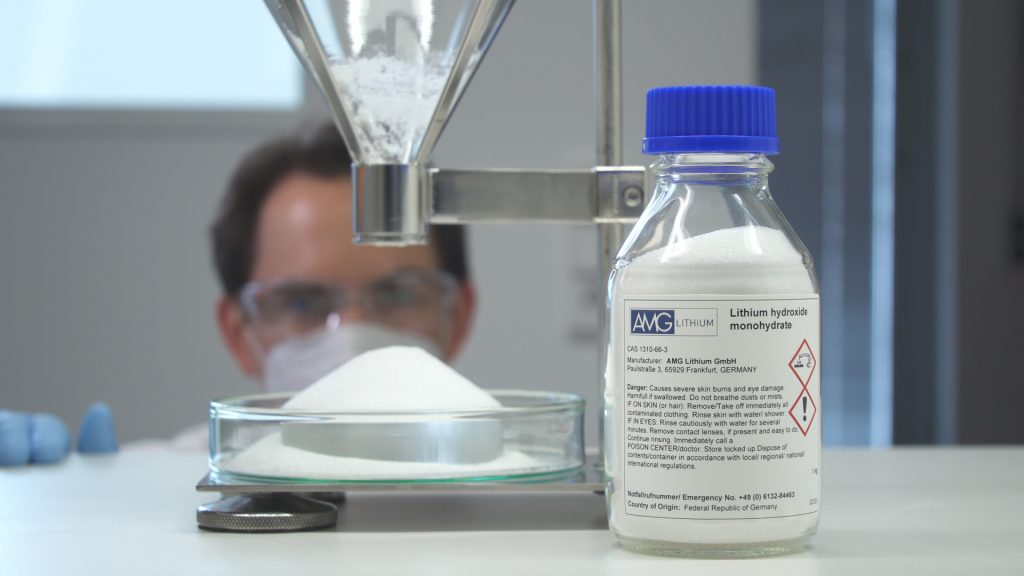 Location
Located in Bitterfeld, 150km southwest of Berlin and in the middle of the fastest growing hub of cathode, cell, battery, and car manufacturers, AMG has short and perfect access to all major motorways and is ideally positioned to serve its nearby customers with highest quality, freshly produced BG lithium hydroxide, just in time. Most of the cathode manufacturing facilities currently under construction in Europe will be less than 500km away from AMG Lithium's production facility, offering them countless advantages. AMG Lithium's competitive advantages are, in a nutshell:
It can rely on a highly experienced team with decades of experience in lithium;
Its technical expertise ranges from mining to producing highest quality BG materials;
The facilities are designed and will operate in accordance with today's highest industrial standards;
The process will generate hardly any wastewater as it will be continuously reprocessed;
There will be almost zero loss of lithium as mother liquors are reprocessed;
It can upgrade out-of-spec BG lithium hydroxide from other producers;
It can rely on its own 'green mine' in Brazil;
It will start using recycled LCEs as soon as they are available in significant quantities; and
Its refining concept will have a major impact on reducing the carbon footprint.
We trust this will convince and encourage other players to join us in paving Europe's way to securing a regional supply chain, reducing its dependency from foreign supplies, and pushing the development of clean energy solutions for a wide range of applications for EVs and beyond.
Conclusion
Hard rock mining is an attractive source of lithium because it is quickly scalable in many parts of the world. Production constraints remain in Europe, as there is very limited conversion capacity. This imbalance in the market leads many producers to China, despite its challenging ESG reputation and the most carbon intense processing.
Carbon emission leakage across borders remains an issue as energy intensive industries seek to flee the EU ETS in search of less regulated countries in which to manufacture their products. OEMs should be concerned about lithium manufactured in China when a European alternative is available.
Please note, this article will also appear in the seventh edition of our quarterly publication.