Argentina Lithium & Energy Corp shares the exciting results from their 64,000 hectares lithium project in Argentina.
The lithium rush is upon us, as the demand for white gold is increasing exponentially and will only continue in the coming years. Lithium is the vital component of rechargeable lithium-ion batteries that power electric vehicles (EVs), causing lithium mining and exploration companies to scramble to identify large, reliable lithium deposits in politically-friendly countries.
Lithium reserves in Argentina can fuel the green transition
Around 60% of the world's known lithium reserves are located in the Lithium Triangle – which comprises arid parts of Chile, Bolivia, and Argentina. However, Chile and Bolivia present legal impediments to lithium mining and production, whereas Argentina is an attractive destination for lithium investment.
Nikolaos Cacos, president and chief executive officer of Argentina Lithium, commented: "Largely undeveloped, Argentina probably represents the best opportunity to discover significant new lithium deposits and over 30 years, our team has built unparalleled experience and relationships in Argentina with significant discoveries of silver, gold and uranium. Our director, Joseph Grosso, is considered one of the pioneers of the modern Argentine mining sector and was named to the Argentina mining hall of fame."
Argentina Lithium grows its lithium project portfolio
Extensive lockdowns in the early stages of the COVID-19 pandemic disrupted travel within Argentina. Due to limited international competition, Argentina Lithium pounced on the opportunity to secure new properties meeting its definition of a lithium sweet spot — undrilled properties adjacent to large, midgrade deposits near key mining and transportation infrastructure.
Lithium in Argentina is predominantly found in underground brine fields beneath salars — salt lakes where lithium has been concentrated by volcanic processes, weathering, and evaporation over millions of years. Beginning with its Rincon West property, Argentina Lithium is now exploring claims on four salars in the pro-lithium mining provinces of Salta and Catamarca. The Rincon West project is situated adjacent to a Rio Tinto lithium project and proximal to an Argosy Minerals property — both with proven lithium reserves.
Argentina Lithium's Antofalla North project is located adjacent to, and north of, the property held by the world's largest lithium producer, Albemarle Corporation, which also holds a large declared resource in the basin. Argentina Lithium views this as another exceptional opportunity to drill out a resource on an established lithium salar. The company has also acquired two very large and strategic properties at the Pocitos and Incahuasi salars, where historical drilling has always yielded intriguing lithium values.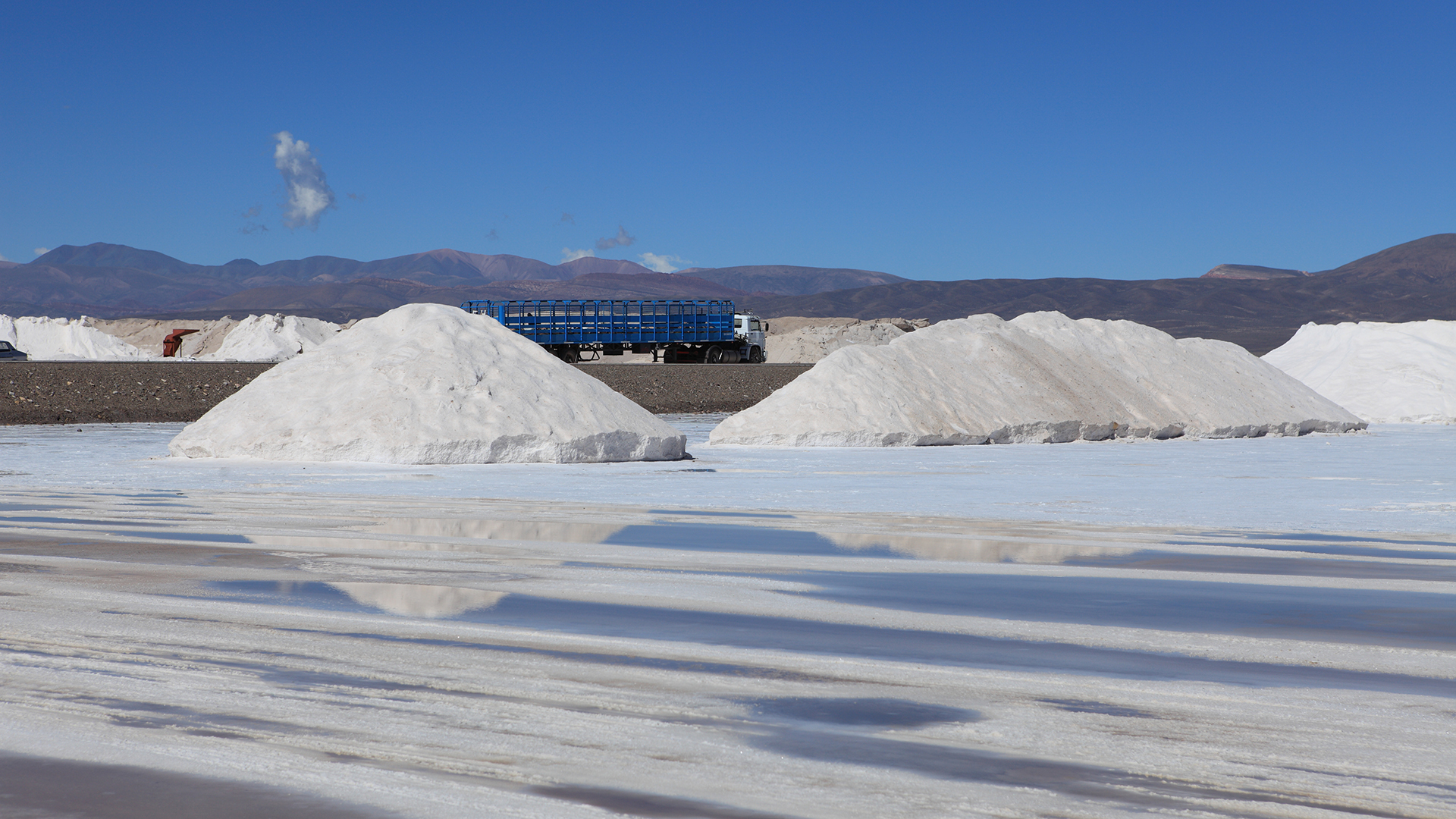 Promising drilling results from Rincon West
Argentina Lithium is currently performing extensive drilling at Rincon West, with geologists extracting brine samples from porous host materials, including fractured rock, sediments, and salts, from depths as great as 300 metres within the extensive subterranean basin. Novel exploration of the project is being completed every month, with early results illuminating an economically attractive mid-grade brine ranging from 300 mg to 380 mg of lithium per litre.
Miles Rideout, vice president of exploration at Argentina Lithium, has more than 33 years of mining exploration experience in South America, ranging from property acquisition and early-stage exploration to pre-production mining operations. Rideout is applying his expertise in the salars to identify prospective brine aquifers for drill targeting using sophisticated deep-imaging technologies.
Rideout said: "The brines that we're recovering have very similar lithium concentrations to those reported on the adjacent Rio Tinto project, which is estimated at 5 million tonnes of lithium carbonate equivalent, and to the brines reported nearby by Argosy.
"We're building out this resource to the best of our ability, and if we continue to get the results we anticipate, we're hoping to deliver updated resource calculations over the following year as we drill out into the open salar at Rincon.
"We are also planning to initiate drilling at Antofalla North in 2023, with a view to announcing future resources. I believe that news of a significant resource in our first resource report will have institutional investors taking notice."
The company is championing sustainable lithium mining technologies
Traditional lithium brine mining employs time-consuming natural evaporation of brine in large salt evaporation ponds that use considerable resources. To combat this, Argentina Lithium is utilising direct lithium extraction. This newer technology uses an adsorbent or an ion-exchange resin to extract lithium ions directly from the brine for processing and returns the depleted brine into the basin at selected injection points.
Rideout concluded: "This process requires perhaps one-quarter to one-fifth of the freshwater required for the evaporation processes. The technology is so efficient that it improves the extraction from lower-grade brines that would not have been economically viable just a few years ago. There's also a strong potential to use an extractive process to recover fresh water from the brine, which offers the possibility that the processing could be freshwater neutral."

Go to this partner's profile page to learn more about them