Tim Harrison, Managing Director and CEO of Ionic Rare Earths Limited, discusses the Makuutu Rare Earth Project and its magnet rare earths potential.
Ionic Rare Earths Limited (IonicRE) is currently focused on developing its flagship Makuutu Rare Earths Project in Uganda, which has significant rare earths potential. IonicRE's Tim Harrison discusses this project and the role it can play in developing renewable energy, electric vehicles, and the defence industry.
As Ionic RE is focused on developing its Makuutu Rare Earths project, please can you outline the role of rare earth elements (REEs) in the transition to clean energy?
Rare earths play a number of roles in technology today, from renewable energy, electric vehicles, military and defence, and communication, medical and optics. Of these REEs, the most highly sought after are magnet rare earths.
With regards to the move to clean energy, magnet rare earths and the permanent magnet products they form are critical to power the energy transition. Permanent magnets (PMs) internally create persistent magnetic fields in normal conditions. In the context of the energy transition, PMs are crucial inputs in offshore wind turbines; they are the most dependable and durable and thus are dominant in offshore wind turbines. They are also unparalleled in overall performance, as they convert wind energy to electrical energy. Rare earth magnets (NdFeB PMs) deliver undisputedly best-in-class EV performance and dominate market share; in this application, the PMs convert electrical energy to mechanical energy proving the torque that moves the EVs.
Two key magnet rare earths, neodymium and praseodymium (NdPr) are critical inputs for NdFeB permanent magnets (PM) and are the products driving many REE project developments. Smaller levels of dysprosium (Dy) and terbium (Tb) are also needed for high-end applications, and it's these heavy REE elements that are now the most heavily sought after.
NdPr are light rare earths, and commonly produced from hard rock rare earth mines. There are numerous development opportunities for production of NdPr globally.
On the other hand, DyTb are heavy rare earths, and typically come from ionic adsorption clay (IAC) mines in southern China and Myanmar. Currently, there are very few options for long term supply of these magnet rare earths outside of China.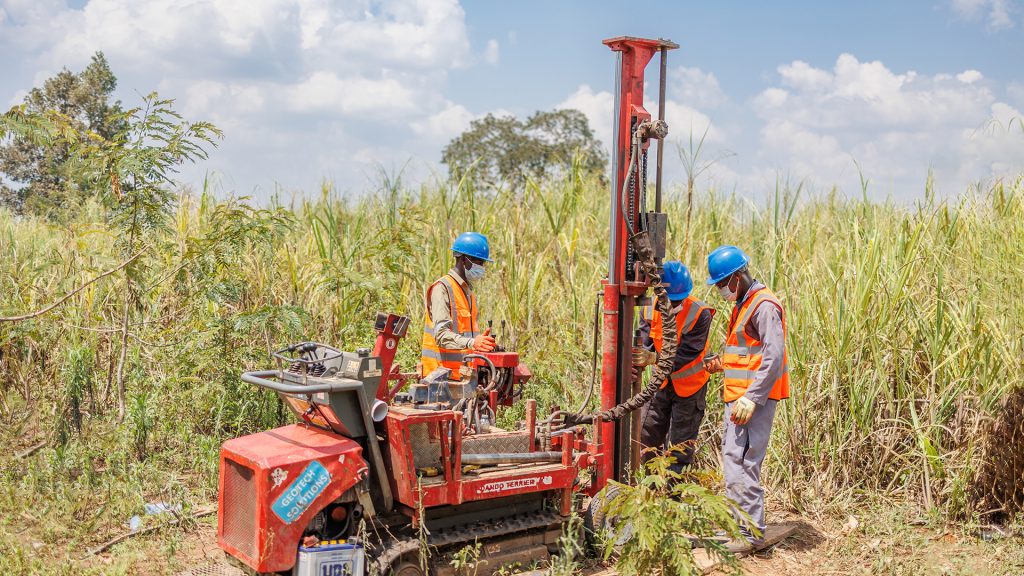 What makes the deposit at the Makuutu Rare Earth Project unique? How will the deposit help fill a void in supply shortages?
It is expected that rare earth magnets will maintain dominant market share as key inputs powering EVs and wind turbines this decade. Significant demand growth is therefore anticipated, but supply availability is less certain, especially regarding DyTb. China dominates the supply chain with 100% of the world's refined supply of DyTb currently coming from China.
Makuutu is a very unique type of rare earth project, an ionic adsorption clay (IAC) deposit, which is very rare outside of southern China and Myanmar. It is these IAC deposits which are amongst the most strategically important mines globally, accounting for between 95% to 98% of the world's production of DyTb, and only two development ready deposits identified outside of south east China and Myanmar, available for near term development in the next two to five years not controlled by China.
IAC deposits are very highly sought after for their low capital development costs, simple mining and processing requirements, favourable metallurgy and high value, high margin product free of radionuclides. Makuutu is aiming to produce a mixed rare earth carbonate (MREC) product and has interest from global strategic partners looking to get access to this unique, magnet and heavy rare earth product.
At the Makuutu Rare Earth Project, the content of magnet rare earths – Nd, Pr, Dy and Tb – in the product basket of 15 rare earths represents approximately 33% of the product content. However, this 33% of content volume represents 85% of the rare earth basket value. It is expected that Makuutu can produce enough magnet rare earths to develop up to two million EVs annually once in production, hence the global importance to EV manufactures now. Western EV manufacturers are now looking at being able to produce EVs from 2025 onwards.
As a result, it is anticipated that the already tight market and elevated price levels for the key magnet rare earths will continue this decade. Lastly, it should also be noted that these magnet rare earths also have competing demands in high-end defence applications, further elevating the geopolitical importance of this supply chain of magnet rare earths.
What are your ambitions regarding Ionic RE's rare earth separation and refining capabilities, and can you explain the technology you will utilise?
IonicRE is exploring opportunities to separate and refine the magnet rare earths, as well as the other heavy rare earths in the Makuutu basket, to unlock value and form key supply chain partnerships with manufacturers across numerous applications – EVs, offshore wind turbines and military and defence.
Currently, all heavy rare earths separation and refining capacity exists in China. What IonicRE is looking to deliver is a non-Chinese heavy rare earths separation and refining capability which has the potential for longer-term aggregation of other medium and heavy rare earth feed stocks that do not have the economies of scale to warrant capital investment for separation. IonicRE has a long-life source of magnet and heavy rare earths from its Makuutu deposit so has additional incentive in developing this unique capability.
IonicRE is exploring hyperlink solvent extraction technology, and in parallel, is evaluating the application of ionic liquids for heavy rare earths separation. IonicRE recently acquired UK company Seren Technologies Ltd, a spin out from Queens University Belfast (QUB), which is a global leader in the development of ionic liquid technologies applied to industry. With the acquisition, IonicRE has greatly added capability to accelerate the refinery programme.
Additionally, IonicRE, with the acquisition of Seren Technologies, is adding magnet recycling capability, in an effort to apply its cutting-edge technology to an area of the current supply chain which is, again, completely dominated by China.
Presently, magnet recycling accounts for an approximated 20% of the magnet rare earths being produced in China. IonicRE plans to explore low cost, modular recycling initiatives globally with key supply chain partners, to enable localised production capability of magnet rare earths. The technology developed by Seren Technologies uses hydrometallurgical processing to chemically extract the rare earth elements in the waste magnets which can then be refined back to high purity rare earth oxides. The value of this is substantial in providing alternative supply chain participants and provides an entry for IonicRE to play a key role in the circular economy of rare earths.
How is Ionic RE responsibly developing the project whilst ensuring environmental commitments are being met?
IonicRE has completed an Environmental and Social Impact Assessment (ESIA) in December 2021 and submitted this to Ugandan authorities. Currently, a series of public hearings are underway in Uganda, which has received very strong endorsement from local stakeholder and politicians in Uganda as being a transformational project to help Uganda establish a mining industry and attract international investment. Land access agreement are nearing finalisation and a mining licence application is expected to be submitted in Uganda in October 2022.
As a mining company, with ambitions to be an actor for improved services and prosperity in Uganda, IonicRE has set its sights on developing the Makuutu Rare Earths Project as a positive example of the mining and processing of rare earth products. IonicRE aims to achieve this while maintaining the highest environmental standards and rehabilitating the mined areas back to new agricultural initiatives, including agroforestry and improved farming practices aimed at increasing the food security of the local Uganda community. Additionally, IonicRE is working to establish key relationships with the Busoga Kingdom, prioritising employment opportunities and access for locally run businesses.
IonicRE has adopted the potential for integrating magnet recycling into its supply chain, thereby providing a life cycle solution to magnet rare earths both today and tomorrow across the new supply chains that will form over coming years.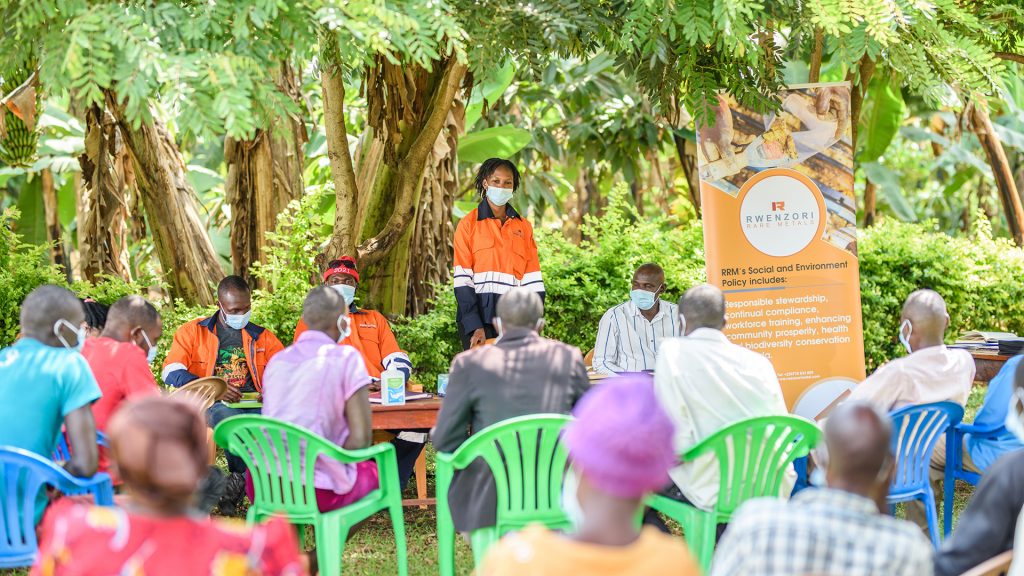 Please can you tell us about the updated exploration target at the Makuutu Rare Earth Project and explain what this means about the potential of the deposit?
The updated Mineral Resource Estimate (MRE), reported at Makuutu in May 2022, provides the Project with an indicated resource that is over 500% greater than that used on the 2021 scoping study, providing a very strong platform for a very robust Feasibility Study due to be completed and reported to the market later in 2022. The large, near surface resource, which is typically under shallow cover of approximately 3m, has clay zone of thickness between 5 and 30m thick and is expected to provide a very long-life project with near term potential for more to come.
The updated Exploration Target, announced in June 2022, highlights the potential of the overall Makuutu Project to increase further, with the potential to provide on overall mineralised system stretching over 37km long end to end, and a total size in excess of 1 billion tonnes.
The scale over the overall system, and development approach provides the capability for Makuutu to rapidly ramp up, and longer term, produce much more magnet and heavy rare earth product than is forecast today.
With the updated exploration target paving the way for the fifth phase of exploration, what are the company's goals for 2022 and beyond?
In order to further add to the already large MRE of 532 million tonnes at 640 parts per million (ppm) Total Rare Earth Oxide (TREO) grade, IonicRE will look at a longer phase 5 drill programme to better define the full potential of the Makuutu deposit.
Makuutu already has a substantial resource base to define a very robust project, and additional resource is likely to provide an organic growth pipeline to ramp up production longer term.
The Feasibility Study due in October 2022 is shaping up as a defining landmark for IonicRE and a signal to the market of the longer-term strategic value of Makuutu in a global manufacturing context, where its product will have an increased value beyond the next few years, as demand far exceeds the ability to supply in a global context.
The Makuutu Rare Earth Project is expected to be in construction mid-2023, and in operation by 2024.

Go to this partner's profile page to learn more about them