MLK Gold Ltd is actively exploring for gold and lithium at major project sites in central and southern Newfoundland, Canada.
MLK Gold Ltd was formed in 2018 and registered on the Canadian Securities Exchange under the trading symbol 'MLK' on 28 October 2021. MLK is a discovery-oriented company with projects in Newfoundland and Nova Scotia. Since its formation, the company has acquired six projects with lithium and gold opportunities.
Exploration programmes have consisted of several phases of prospecting – soil-till-rock geochemistry, airborne geophysics, and diamond drilling – where it has conducted exploration on each of its projects and diamond drilling on two projects.
The company was in the process of diversifying its business model to include a lithium and critical metals property to its portfolio when the discovery of a spodumene-bearing pegmatite system was made by the alliance between Sokoman Minerals and Benton Resources at the Kraken occurrence.  This motivated MLK Gold to examine the central mobile belt of Newfoundland more closely for highly prospective lithium-bearing assets. This resulted in map staking two properties, one in the southeast, where elevated background lithium values in the bedrock were noted, and the other in the southwestern part of the belt in closer proximity to the new lithium-caesium-tantalum (LCT) pegmatite discovery.
Lithium and critical metals
MLK Gold Ltd staked two exploration licences in southern Newfoundland in 2022 and is continuing to acquire high-value lithium and critical metal properties in Atlantic Canada. The company's first lithium property (360 Lithium) consists of 104 mineral claims immediately north of the Head of Hermitage Bay adjacent to Highway 360. Although historical records suggest only minor pegmatite development in this area, field exploration by MLK Gold recognised the property to be cut by numerous sheeted pegmatites having multiple orientations and variable morphology. In addition, the 360 Lithium Property has numerous tourmaline ± pyrite-bearing quartz veins that closely resemble the Valentine Lake gold deposit of Marathon Gold located further north in the Dunnage Zone. The initial zone of en echelon veins in granite covers an area around 200m wide and over 500m long. Initial observations suggest quartz veins are slightly younger than pegmatite dikes.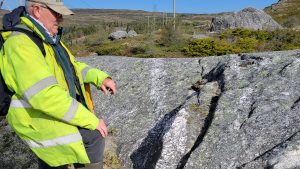 The company's second lithium property is located approximately 30km north of the town of Burgeo and approximately 7km east of the Burgeo highway. The development of pegmatite dikes appears to increase or decrease depending on the intrusive phases.
MLK discovered beryl in a swarm of thin (<1m), coarse-grained pegmatites composed of both potassium and sodium feldspar, beryl, and tourmaline hosted in a fine grained, biotite-rich monzogranite. This pegmatite swarm is located further south and adjacent to the Burgeo Highway.  The regional background geochemistry of plutonic rocks from across the province show strongly anomalous lithium values at the 360 Lithium property and may reflect a source enrichment capable of producing economic, spodumene-bearing pegmatite dikes.
In addition to pegmatites, there are numerous en echelon and banded quartz-tourmaline veins that have never been assayed. The project work plan is to complete Phase I exploration of these properties during Q2-Q3, 2023, with follow-up diamond drilling.
The southwesterly lithium asset is located approximately 30km north of Burgeo, 6km east of Highway 480 (Burgeo Highway) and 10km east of the Hydra caesium discovery by Sokoman-Benton Alliance. The company plans to target the marginal zone of the Burgeo intrusive suite where it believes potential for lithium-bearing pegmatites is enhanced.
Gold and precious metals
MLK Gold Ltd's flagship gold asset is the Caledonia Brook gold property, located approximately 20km south of Grand Falls – Windsor, and which lies approximately midway between Marathon Gold's (Measured & Indicated: 3.96 Moz. from 64.62 Mt at 1.90 g/t Au and Inferred: 1.10 Moz. from 20.75 Mt at 1.65 g/t Au) Valentine Lake gold deposit that is now undergoing development to the south, and the high-grade Moosehead gold prospect of Sokoman Minerals to the north and closer to Grand Falls – Windsor.  The Caledonia Brook property is underlain by the Crippleback Lake Intrusive Suite in the south of the property and mixed turbiditic metasediments and felsic and mafic volcanics. The Crippleback Lake Intrusive suite shares the identical intrusive age as the Valentine Lake deposit and lies along the same northeast-trending structural fault system.
The company has completed soil, glacial till, and rock geochemistry over much of the property. A helicopter borne VTEM survey was flown over the northern part of the property, which shows significant detail to previous information. Soil anomalies up to 192 ppb, rocks up to 8.9 g/t Au, till up to 17 visible grains of gold, and till geochemistry up to 500 ppb Au.
MLK Gold Ltd is currently planning a 1,500m diamond drill programme.
Please note, this article will also appear in the thirteenth edition of our quarterly publication.