Dr Mark D Powell, CEO and General Manager at Marineholmen RASLab AS, explains how the innovative solutions being developed by his company stand to shape the future of aquaculture technology.
The sector is growing rapidly in terms of aquaculture technology and an ever-increasing thirst and investment into the land-based farming of many species. Land-based aquaculture requires unique technology and an approach whereby the maximum yield can be achieved from a small footprint and minimal water consumption. To this end, Recirculating Aquaculture Systems (RAS) technology provides the answer for the next generation of aquafarming.
RAS technology is not new; the concepts have been around for many years, although the recent explosion in interest and adoption of this approach to aquaculture has been driven by extensive investment and a desire to produce under controlled conditions, be they for post-smolt salmon production or to harvest fish close to the markets and so reduce logistic transport costs.
RASLab
The aquaculture industry is innovative, although demanding, in terms of the validation of new technologies and approaches. It is often a challenge for new innovations to get a foothold and to become exposed to the industry and therefore develop. Marineholmen RASLab AS was established to help with this. RASLab is able to use its extensive knowledge base and competence as well as state-of-the-art facilities to offer the best opportunities for research involving Europe's top institutions, aquaculture companies, and innovators to contract space and facilities to develop and refine new products and approaches.
Located in Bergen, at the heart of the aquaculture industry in Norway, RASLab offers state-of-the-art research facilities for research into sustainable land-based fish farming. By re-using water in a closed loop RAS system, fish can be grown intensively, using less water resources, and producing a virtually zero environmental impact with a smaller footprint. The technology for providing the life support systems, cleaning the water, and supplying the fish with clean, oxygenated water allows us to use technology to advance and transform the future of fish farming.
Marineholmen RASLab AS is owned by a consortium of the University of Bergen, ILAB (Stiftelsen Industrialaboriet), NORCE Innovation AS, and Marineholmen Forskningspark, all of which are world leaders in research innovation. At RASLab, therefore, we have ambitions to provide the best research and innovation at the best price for the future of aquaculture.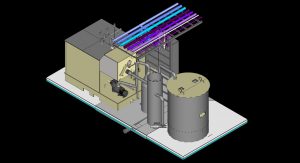 The Ocean Innovation Norwegian Catapult centre
Marineholmen RASLab AS is a cornerstone of the Ocean Innovation Norwegian Catapult centre, an innovation catapult designed to enhance innovation and the development of technologies in ocean sciences, including innovations in aquaculture. Here, RASLab is central in facilitating innovation. By linking with innovation incubators such as Hatch Blue, as well as with SMEs and start-up companies, RASLab is able to use its expertise in RAS technology and aquaculture to provide guidance for large and small companies alike in developing R&D strategies; prototyping and validating novel and innovative technologies; and providing a test laboratory to develop and refine innovations. As a concept, there are few facilities that can offer this kind of opportunity for commercial R&D.
In partnership with education providers such as the University of Bergen, and using an extensive background in RAS and aquaculture technology, RASLab provides up-to-date and unique educational opportunities through university and life-long-learning courses – providing knowledge for future generations.
A new facility
Marineholmen RASLab has a newly constructed facility consisting of 12, 2,000L+ identical RAS modules. These modules have been deliberately designed for their flexibility, and they consist of a tank environment, cyclone feed and solids collector, a drum screen filter, fixed or moving bed biofilter, CO2 degassing, UV disinfection, heating, cooling, and oxygenation. The modules can be operated under a variety of conditions depending on the research needs, including marine or freshwater conditions (0-34 ppt) at a temperature range of 6-30°C. Oxygen, temperature, salinity, and pH are all monitored and controlled online. This provides an ideal opportunity for conducting a range of investigations and tests in cold water species.
So far, projects have investigated different RAS diets, particle counting, sensor development, and sludge waste processing, with an ever-growing list of project partners. RASLab is also an active partner in several competitive grant applications to Horizon 2020, EEA programmes, the Norwegian Research Council, and the Norwegian Fisheries and Aquaculture Research fund (FHF), as well as our staff being involved in projects in the UK, Australia, and elsewhere around the globe.
RASLab already has intentions to move forward, with plans underway for a further expansion with Step 2. This state-of-the-art facility will include RAS technology to enable the testing of exotic (non-native) species of fish, crustaceans, and molluscs, as well as opportunities for disease challenge studies and product development by the vaccine and the pharmaceutical industries.
As we say at RASLab, we are 'innovating the future of aquaculture'.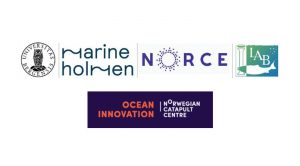 The RASLab staff includes:
Dr Mark Powell – CEO of Marineholmen RASLab AS with an extensive background in fish physiology, fish health research with a specific focus on gill and cardiac health in aquaculture systems, and RAS systems design, management, operation, and research.
Dr Irene Roalkvam – the Research Co-ordinator with an extensive background in microbiology and microbial ecology, in combination with modern omics techniques and next generation sequencing.
Dr Erna Heggland – an operations technician experienced in working with fish health biology using a range of molecular techniques, as well as persistent organic pollutants, cell biology, salmon louse biology, gene editing, immunology, vaccine development, and bioinformatics.
Dennis Bjørheim – an apprentice with experience from studying aquaculture at high school and a keen interest in hands-on operations of RAS systems and working with aquaculture species.
Fredrik Løland – the technical manager with a background as an electrician and experience in systems installation and the technical management of plant and network and control infrastructure.
Ola Frøvik – the operations manager with an extensive background working with commercial fish production of salmonids and the production of research fish using RAS technologies.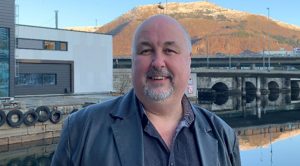 Dr Mark D Powell
CEO and General Manager
Marineholmen RASLab AS
+47 982 94 087
Mark.Powell@ilab.no
https://raslab.no/
www.linkedin.com/company/marineholmen-raslab-as

Go to this partner's profile page to learn more about them