Supported by the 'Battery Coast' in Southern Norway, Morrow Batteries AS is positioning itself as a world-leader in the development of sustainable and cost-effective eco battery technologies.
The demand for eco battery technologies is growing exponentially. While this is due in part to the growth in electric vehicles (EVs), it is also a result of growth in other emerging segments, such as energy storage, maritime, and others.
Nevertheless, as the International Energy Agency (IEA) has highlighted in its Global EV Outlook 2021: 'Electric cars had a record year in 2020, with Europe overtaking China as the biggest market.'1
The report goes on to state that 'about three million new electric cars were registered in 2020. For the first time, Europe led with 1.4 million new registrations. China followed with 1.2 million registrations and the United States registered 295,000 new electric cars.'
For the European Automotive industry, it is crucial that a European value chain for eco batteries be established. Indeed, the IEA report demonstrates the importance of such a value chain in order to succeed with the green energy transition. As such, the timing is perfect for the establishment of Morrow and its planned facilities, given how Morrow envisions the development of the market (including different segments), both in terms of the expected demand for electric cars as well as the development of new technology.
Morrow Batteries was founded in 2020 by strong and committed owners. The two leading investors are Agder Energi Venture, a wholly-owned subsidiary of Agder Energi, and NOAH, a wholly-owned subsidiary of Gjelsten Holding.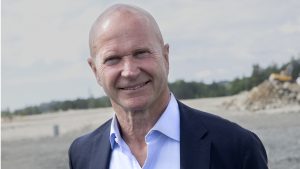 Norwegian advantages
Norway has far more electric cars on the roads as a share of total vehicles than anywhere else in the world, and Morrow wants to capitalise on the expected growth in the electric car market globally, based on Norwegian advantages.
One of the key tenets of Morrow's strategy is to significantly improve the environmental impact of batteries. The company's mission is thus to develop and manufacture the most cost effective and sustainable eco batteries in the world. By doing so, it will contribute to the acceleration of the green energy transition.
A holistic approach to sustainable batteries
Morrow Batteries has a holistic approach to the battery value chain (the so-called 'Battery Coast') and pursues sustainability at every step. This approach will enable the company, together with its partners, to reduce time to market and develop and manufacture cost-effective and sustainable eco batteries. In addition, Morrow is continuously pursuing the development of new battery technologies. A key element of this is the work now taking place to establish the Morrow Industrialization Center (MIC), which will accelerate the industrialisation of battery technologies and cell production.
The Morrow Industrialization Center will consist of a pilot plant with real production capacity, as well as several industrial resource centres, including the Battery Innovation Center, the Material Pilot Center, and a Recycling Pilot Center. This will help Morrow Batteries to position itself at the forefront of battery technology development. The Morrow Industrialization Center, moreover, will be important for customer qualification.
Later this year, Morrow will start building its innovation centre and pilot factory.
A range of facilities for sustainable batteries
The Battery Innovation Centre
This will be a competence centre of excellence and will also be responsible for the development and industrialisation of new technology. Construction will begin later this year in the Norwegian town Grimstad (which is situated approximately 20 minutes by car from the planned gigafactory).
Material Park
This will be used to develop and test active materials used in cathodes in order to reduce material costs. Sustainable materials are essential to manufacturing sustainable eco batteries. Therefore, Morrow has begun dialogues with numerous partners to establish the Material Park and has already secured areas and access to electricity.
Pilot factory (approx. 600 MW)
This will be used to manufacture battery cells on a smaller scale prior to scaling towards the gigafactory. The pilot factory is also suited for both customer qualification and niche markets. The pilot factory will be co-located with the gigafactory in Southern Norway.
The Morrow Recycling Centre
This is still in the early planning stage, but it will be an important part of the company's efforts to reduce its carbon footprint by enabling a closed loop.
The Morrow Industrialization Center
Discussing the Morrow Industrialization Center (MIC), Terje Andersen, CEO of Morrow Batteries, has said: "With this world leading infrastructure, we will be able to conduct costumer qualification testing and accelerate the development and industrialisation of new battery technology. With the Morrow Industrialization Centre we are bridging the gap between component development, cell design, and large volume manufacturing."
The Morrow Industrialization Centre will be one of the first battery industrialisation centres in the world, covering all aspects of the current Li-ion technology platform, and at the same time capable of incorporating and accelerating the industrialisation of next generation technologies. MIC is driven out of a strong customer centric focus and a need for proven scalable approaches.
Progress towards the gigafactory
Immediately following the establishment of Morrow Batteries and given the company's ambition to build a battery cell factory in Southern Norway, 19 different plots of land were evaluated before Eyde Energi Park (in Arendal Municipaly) was selected as an ideal location for the battery cell production.
Morrow signed a letter of intent just before Christmas (2020) with Arendal Municipality (the land owner), and by May this year this had been formalised in the form of a binding agreement – something that was unanimously supported by Arendal City Council.
Morrow will start building the first module of the factory in 2023, with the production of battery cells starting in late 2024. All modules, four in total, will be completed by end of 2026 and will demand a minimum of 315 MW of electricity.
The evaluation process created an enormous amount of engagement throughout the region, from suppliers, the process industry, academic institutions, and politicians. Quite quickly, Morrow had become a national example of a new, green industry based on the competitive advantages in Norway.
Andersen, said: "The agreement with Arendal comes as a result of good co-operation and solid political support. Eyde Energy Park provides an ideal setup for us and meets all the fundamental requirements for a large-scale battery cell factory, such as access to green energy, infrastructure, a skilled labour force, and raw materials. We look forward to continuing our collaboration with Arendal municipality to establish the world's most sustainable Gigafactory."
Once complete, this set up will constitute the 'Battery Coast' and will build on Morrow's unique selling points: carbon neutrality, cost effectiveness, and a customer centric focus.
Why Southern Norway?
Norway has several competitive advantages for sustainable industries such as battery production. These include:
It has the largest density of the process industry in Norway, meaning good access to raw materials such as aluminium, sulphur, and nickel;
Norway is already an important supplier of parts to the European automotive industry;
There is a large surplus of competitively priced renewable power from local hydro production (Morrow Batteries has already secured 315 MW for its gigafactory);
There is robust and secure infrastructure; and
Optimal logistics link directly to major European logistical hubs.
The features listed above make Southern Norway in particular ideal for sustainable battery production. The location, which Andersen has named 'the Battery Coast', offers a compact solution with infrastructure in place that supports a local circular value chain based on sustainable materials and renewable energy.
Together with its partners, Morrow is in the process of realising the Battery Coast. This means that Morrow, together with his partners, has a vertical integration that enables a closed loop in the value chain. Recycling and circularity throughout the process are crucial to our success.
The keys to success
The market potential is indisputable. Investors are increasingly focusing on green companies and projects, and we meet all the criteria. Furthermore, together with our partners, we are on track to developing our second (LMNO) and third (solid state, based on sulphur) battery technologies.
The right set of competencies and experience along with a well-established network are other aspects that are crucial for success and which Morrow has. Furthermore, we have already hired several personnel in key positions, and in the coming years will expand this to include employees with a diverse set of expertise within the battery industry.
The key persons recently hired are:
CTO: Dr Rahul Fotedar, who joined us from Hilti Corporation, where he worked as a battery expert;
EVP Manufacturing: Dr Andreas Maier, former VP at Samsung SDI, who will relocate to Arendal from Seoul;
EVP Sales: Matthias Gänsslen comes from Samsung SDI and will also lead Morrow Batteries GmbH from Hannover;
EVP Industrialization and Business Development: Juergen Lind, former Head of Battery Development at Audi, will be responsible for realising the MIC; and
Head of R&D: Jon Fold von Bülow joined us from Haldor Topsoe and will relocate to the Arendal-region from Copenhagen.
Our vision for the future
Based on sustainable materials and cutting edge eco battery technology, we want to help accelerate the energy transition by manufacturing cost-effective and sustainable batteries for various segments. We will do this by being supported by a local battery value chain in Southern Norway, the Battery Coast.
In addition to simply manufacturing world-leading eco batteries that are both sustainable and cost-effective, we are also creating 'green' jobs that support the EU's focus on sustainable economic growth.
References
Please note, this article will also appear in the seventh edition of our quarterly publication.