Professor Marion Subklewe outlines 'My T-cell': a smartphone application for the management of CAR T-cell and BiTE related toxicities
Bispecific T-cell engager (BiTE) and Chimeric Antigen Receptor (CAR) T-cells are T-cell recruiting immunotherapies, promoting T helper cells to kill tumour cells. The BiTE Blinatumomab and the CAR T-cell products Axicabtagene-Ciloleucel and Tisagenlecleucel are approved for patients with specific types of leukaemia and lymphoma, who have run out of other options.
Even though they have shown promising initial response rates, however, CARs and BiTEs are accompanied by potentially severe adverse events. It is likely that they are related to an overactivation of T-cells and other mediators of the immune system and significantly differ from toxicities known from chemotherapy or other immunotherapy approaches such as checkpoint blockade. Biomarker predicting onset or severity of toxicity are not known so far. Thus, patients require comprehensive monitoring
by a well-educated interdisciplinary team of healthcare professionals in the clinic as well as in an outpatient setting.
In addition, T-cell recruiting immunotherapies are associated with a complex logistic workflow involving many different specialities and physicians.
'MyTcell'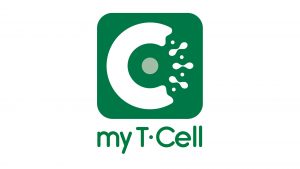 To support the optimal management of these patients, we have developed an interactive smartphone application. 'MyTcell' guides physicians and nursing staff with disease- and product-specific information in a step-by-step process through the long path of T-cell recruiting immunotherapies and educates them in the assessment and treatment of CAR and BiTE related toxicities.
International guidelines consented by the ASTCT, EBMT and NCCN as well as officially released prescribing information were translated into an information platform with diagnostic and therapeutic recommendations. Further, upon entering relevant clinical criteria interactive bedside tools display severity of toxicity and recommend management for the most frequently observed immunotoxicities as well as so far underreported adverse events such as pancytopenia and Hemophagocytic lymphohistiocytosis.
MyTcell has the potential to become a highly useable smartphone application which can increase patient safety and enhance the broader and safer application of T-cell recruiting immunotherapies.
A prototype will be validated at three treatment centres before becoming available worldwide. App development has been funded through educational grants by Novartis, Gilead Sciences, and Celgene (Blumenberg et al. DGHO abstract 2020 No. 645).
Authors
Viktoria Blumenberg (1, 2)
Lisa Sigmund (1, 2)
Lisa Frölich (1)
Dr Veit Bücklein (1, 2)
Professor Dr Marion Subklewe (1, 2, 3)
1) Department of Medicine III, University Hospital, LMU Munich, Germany
2) Translational Cancer Immunology, Gene Center, LMU Munich, Germany
3) German Cancer Consortium (DKTK), Partner Site Munich and German Cancer Research Center (DKFZ), Heidelberg, Germany**
Professor Marion Subklewe
Head, CAR and BiTE program
Ludwig Maximilians Universität München
CART@med.uni-muenchen.de
www.klinikum.uni-muenchen.de/Medizinische-Klinik-und-Poliklinik-III/de/startseite/meldungen/ImmunoTaskForce/ImmunoTaskForce.html
Please note, this article will also appear in the fourth edition of our new quarterly publication.