NASA has announced that it is awarding a small business grant to the University of Cincinnati and software company VISIMO to enhance navigation systems for autonomous drones.
The University of Cincinnati and VISIMO are among 257 small businesses and 41 public institutions across the United States that will utilise a share of $50 million in Small Business Innovation Research grants from NASA. The collaboration will see the development of advanced navigation technologies for autonomous drones.
Pam Melroy, the Deputy Administrator of NASA, commented: "NASA is working on ambitious, groundbreaking missions that require innovative solutions from a variety of sources, especially our small businesses."
How are they planning to improve autonomous drones?
Professor Kelly Cohen of the University of Cincinnati College of Engineering and Applied Science aerospace engineering will lead the project with VISIMO, which is based in Carnegie, Pennsylvania. The partnership will develop a cutting-edge testing environment that will enable to team to assess the safety and stability of Artificial Intelligence (AI) models used in autonomous drones.
The team will use a 3D simulation to evaluate the complex sensor fusion and decision-making routines required for the real-time navigation of autonomous drones. The grant application states that the simulations will ensure that the AI is tested in situations with cascading failures in emergency situations, such as a sudden storm that disables a drone's sensor or cameras.
Moreover, the project will create a testing environment that can verify the algorithms employed in autonomous drones are safe to use in the national airspace. The team will also design tools to validate the algorithms used in autonomous flight for vehicle health, sensor fusion, prognostics, decision-making, and cooperative planning.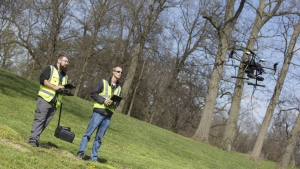 Where will the drones be used?
VISIMO explained that autonomous drones would have an array of potential uses, most notably in telehealth, search and rescue, delivery, and agriculture.
Alex Moskowitz, the principal investigator for the grant and a data scientist at VISIMO, said: "Certification of autonomous aircraft is the first step towards operating beyond line of sight, which will revolutionise the use of these vehicles."
Moskowitz added that the drones are being deployed in emergencies and delivering vital supplies to people in need, such as when roads and bridges become inaccessible.
Alex Heit, vice president of partnerships and strategy at VISIMO, concluded: "Kelly Cohen and his team are world-class experts in the field of autonomy. Their partnership brings a wealth of knowledge to VISIMO's artificial intelligence and autonomy portfolio. We've seen historic success through partnering with Dr Cohen on Air Force autonomy projects. Our NASA win marks the next stage in what we see as a rich, long-term partnership."