From its critical and heavy rare earths dominant Makuutu Project, Ionic Rare Earths is intent on being a significant player with a long-life, low-cost supply.
Around the world, governments are setting bold targets to cut emissions and increase renewable energy installations. To achieve such ambitious targets, the supply of critical raw materials crucial for technologies such as wind turbines and electric vehicles will have to be ramped up over the next decade. Simply put, it is the magnet rare earths that will drive the revolution and the magnet rare earth content that provides Ionic Rare Earths with a significant advantage over its peers.
Ionic Rare Earths (ASX:IXR, 'IonicRE') is an exploration and mining development company that aims to rapidly bring online secure and traceable critical and heavy rare earth supply from its Makuutu Project in Uganda. It is the uniquely strategic Makuutu basket that contains an astonishing 43% of magnet rare earths, in the near-perfect split of main magnet rare earths neodymium (Nd), praseodymium (Pr), dysprosium (Dy) and terbium (Tb), which will be required in both EVs and offshore wind turbines by the end of the decade.
IonicRE has defined a substantial ionic adsorption clay (IAC) deposit, the most favourable of rare earth deposits and very difficult to find. IonicRE's Managing Director Tim Harrison said: "You have rare earth projects, then you have Makuutu. It's a massive mineralised system, 37km end to end, with a basket of all the rare earth elements the world needs, which is rare, so it stands out when compared against the other projects that have been trying to get developed for the past ten years."
IonicRE's flagship Makuutu Rare Earths Project in Uganda is on an accelerated track to production. Makuutu has several advantages that help it stand out from the crowd of REE projects globally, demonstrating potentially best in class attributes, such as:
Makuutu has a long-life asset potential of 27 years already defined, with additional exploration upside scope to increase to a multi-generational producer of critical and heavy REEs;
A high-value rare earth basket, or product, which has the high content of critical and heavy rare earths (73%) required to enable the transition to carbon neutrality – more than double that of any western market producers today;
A low capital development of $89m for one module, or $129m for two, enables a scalable modular approach, meaning the operation can be expanded using sizeable free cash flows generated from the project;
High payability mixed rare earth carbonate (MREC) product with no radionuclides; and
IonicRE is progressing development at Makuutu to have a minimal carbon footprint.
A Feasibility Study is presently underway on the Makuutu Rare Earths Project and is expected to be completed in Q3 2022. The Environmental and Social Impact Assessment (ESIA) will be submitted to the Ugandan authorities in November 2021. It is expected that the company will submit a Mining Licence Application (MLA) before October 31 2022. The timeline supports the plans of IonicRE that Makuutu is in construction through 2023, with the first production in the first half of 2024.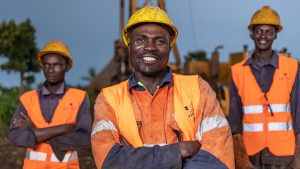 Ionic adsorption clays – the place to be
For a long time, the Chinese rare earth industry has been dominant due to its ability to balance the production of both light and heavy rare earths by ensuring the development of both the light rare earth dominant hard rock projects and the medium and heavy rare earth rich IAC deposits.
There are, however, several advantages with the IAC over the more readily available hard rock rare earth projects, which include the following;
IAC deposit mineralisation is highly desirable given it produces a balanced REO basket dominant in CREO & HREO with higher value and broader market appeal;
IAC mineralisation is near the surface, which translates to lower strip ratios with lower cost mining methods;
IAC ores require much lower CAPEX investment to produce mixed rare earth carbonate at a higher grade and higher basket value;
IAC product achieves nearly double the payability;
IACs experience none of the radionuclide issues that plague hard rock LREO Projects and can impact their social licence to operate; and
IAC separation and refining reflects a much lower CAPEX.
Of course, IAC deposits are rare outside Southern China and South East Asia, with less than a handful of global IACs identified with the scale and grade to compare with Makuutu.
Sustainable rare earths
IonicRE, via their Ugandan subsidiary Rwenzori Rare Metals Limited, is focused on the development of Makuutu to be a positive contributor to Uganda. The company intends to develop Makuutu in a modular, scalable strategy that allows the development of the workforce to provide employment opportunities for local stakeholders, and to support local businesses to grow to support the project. The intent is to be a predominantly Ugandan workforce, operating a residential mining operation from the outset.
Capacity building is a vital pillar of the initiative, which outlines a vision from the project of working together with key local stakeholders to build a future where everyone has a pathway to health and opportunity. This will be achieved by strategically investing in institutional capacity building and collaborating with Non-Government Organisations (NGOs). The specific focus will be on community health, education and sustainable livelihoods.
The company has outlined plans with government groups to minimise the environmental burden of Makuutu via minimising water consumption and using progressive rehabilitation of mined areas backfilled with heap each residues post-processing. The rehabilitated land will then be developed to support various agricultural initiatives aligned with the National Development Plan, aiming to further provide ongoing industry and livelihood for stakeholders across the project area. Agroforestry, aquaculture and improved farming practices have been previously flagged, along with the establishment of additional support infrastructure, and markets will also be explored.
Given bulk mining methods and low strip ratio, coupled with very simple heap leaching, the primary source of carbon consumed by the project is diesel used in mining operations. The company has identified several options in the Makuutu Feasibility Study to reduce diesel consumption. Where potential exists, use of conveyors powered by renewable hydroelectricity to reduce significantly the overall carbon consumed at Makuutu. The expectation is that the long-term benefits achieved from the products developed from the ore mined and processed at Makuutu, for example, the high-intensity permanent magnets used in an offshore wind turbine which will operate for a life of 25 years, will result in the project providing significant carbon offset appeal. When factoring in the potential for the magnet rare earths to be recycled, the long-term carbon benefits of rare earths are also compelling.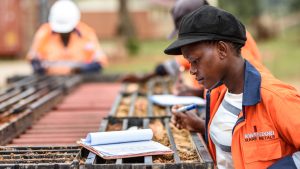 Rare earth demand to escalate
Earlier this year, the International Energy Agency published a report which clearly outlined the role that rare earth elements, along with a selection of battery metals, will play in the clean energy transitions underway globally. In a statement accompanying the report's release, the IEA outlined how much the need for these materials could increase in the future.
'Demand outlooks and supply vulnerabilities vary widely by mineral,' it said, 'but the energy sector's overall needs for critical minerals could increase by as much as six times by 2040, depending on how rapidly governments act to reduce emissions.'
When examining the rare earth requirements specifically, the magnet rare earth demand for EVs and offshore wind turbines is immense. According to Argus, EV growth is accelerating as the cost of the batteries comes down, with estimates forecasting EV demand growth of approximately eight-fold to the end of the decade. The forecasts for offshore wind demand is even more compelling, with Argus estimating the offshore wind sector to grow at approximately 25% compound annual growth rate (CAGR) to 2030.
However, beyond 2030 and out to 2050, predictions on rare earth supply, specifically heavy rare supply, are non-existent. This is due to the rarity of such deposits, which can produce appreciable amounts of heavy rare earths such as Dy and Tb, which are critical for the previously mentioned applications, plus the other magnet rare earths samarium (Sm), gadolinium (Gd) and holmium (Ho).
Beyond EVs and wind turbines, rare earths are used in strategic sectors such as defence (jets, drones, missiles and submarines, for instance) and digital technologies such as 5G internet and mobile phones. The continual development of new applications of digital technologies could make the world economy even more dependent on these rare earths.
"Each 10% increase in rare earth prices has the potential to add 30% of post-tax net present value," stated Harrison as he discussed the long-term upside for the company with escalating rare earth prices. "With demand set to far exceed supply, I think the long-term prices for critical and heavy rare earths are likely to be higher than any of the forecasts out there. It simply is implausible to suggest that the required new rare earth supply, and specifically the heavy rare earth supply, is out there."
According to Adamas Intelligence, "when peering into the outlook for the next decade to come, it becomes quickly apparent that the rapid demand growth of the 2020s will soon be dwarfed by the astronomical demand growth of the 2030s – and therein lies the real defining challenge and opportunity facing the global rare earth industry today.
If the global industry continues to operate myopically – preparing, anticipating and investing only for a three to five-year outlook – the rate of demand growth for magnet rare earths will soon reach 'escape velocity'; a point at which annual demand growth becomes so great (i.e.>6,000 tonnes per annum) that it is simply implausible for the already-lagging supply-side to catch up and keep up."1
Moving downstream to a rare earth refinery
IonicRE has announced plans to develop their refinery to separate the individual rare earths from within the Makuutu MREC, focusing on greater integration with the rare earth supply chain of the future.
Currently, the rare earth refining sector is dominated by China, with 85% of all rare earths refined in the Middle Kingdom. When examining the heavy rare earth capacity alone, this is approximately 95-98% of global production with all dedicated plants in China and one facility in Vietnam.
Other Western companies have examined the potential to develop a heavy rare earth refinery. However, they are all missing one major factor: the heavy rare earth feed.
This presents IonicRE with a clear advantage and one that the company is keen to explore. The Scoping Study initiated by IonicRE on the standalone, cutting-edge heavy rare earth refinery will provide an alternative; a secure and traceable supply chain from Uganda to IonicRE's refinery, where rare earth refined products will be produced for marketing to global end users. As part of the study, IonicRE has initiated a location analysis to examine various global locations, aligned with multiple strategic partners and investor groups interested in developing such a geo-politically strategic asset.
IonicRE expects that the refinery study, which is expected in Q3 2022, will provide a compelling investment opportunity and is also looking at other initiatives which improve the overall life cycle ownership and opportunity for IonicRE over the long-life potential supply at Makuutu.
The potential for scandium
The other string to the bow of Makuutu is the latent potential of scandium (Sc) at the project. Makuutu is the world's third-largest Sc resource, and with greenfield exploration remaining high at Makuutu, likely to become materially more significant in the fullness of time.
Sc has several key functional benefits across the all-alloy series, making it the most potent alloying element, especially with aluminium (Al). A little Sc does go a very long way, as typical Al-Sc contain between 0.05 to 0.1%. Compared to Al alone, adding small Sc content provides several benefits;
1)         It makes it a stronger product;
2)         Is corrosion resistant;
3)         Has enhanced service life with greater fatigue resistance;
4)         Can be extruded to form components whilst maintaining properties; and
5)         Can be weldable producing high strength, fatigue-resistant welds.
scandium is a metal of the future, and IonicRE sees key demand potential from the transportation sector – automotive, aerospace, space, marine and rail – where the adoption of Al-Sc alloys can significantly move the needle on weight reduction and enhanced fuel consumption.
Where to next for IonicRE?
With an accelerated program underway at Makuutu and plans announced on the development of a standalone refinery to separate and produce saleable products from the critical and heavy rare earth carbonate product from Uganda, the momentum at IonicRE is building.
The appetite for an alternative, secure and traceable supply chain of critical and heavy rare earths, notably the magnet rare earths and some select heavy rare earths used in essential defence and communications applications, continues to create interest in access to the basket from Makuutu. The wider market is also becoming more aware of the advantages of the IACs over the hard rock REE projects, which is also driving material interest in the market.
IonicRE is focused on getting Makuutu to production in the shortest time frame possible whilst meeting their requirements and forming a lasting collaborative relationship with stakeholders in Uganda. IonicRE is also focused on providing a new source of critical and heavy rare earths into global markets, who are becoming increasingly aware of the unique value opportunity at Makuutu as a potential long-life, low-cost supplier of critical and heavy rare earths well beyond 2050.
References
1 Adamas Intelligence, Sept 28, 2020 – www.adamasintel.com/unfathomable-rare-earth-demand-growth
Please note, this article will also appear in the eighth edition of our quarterly publication.

Go to this partner's profile page to learn more about them