Monta is a new layer of technology that brings together EV charge point owners. Here they describe how their solutions provide an end-to-end operation.
Born out of frustration with the electric vehicle (EV) market, Monta was founded in 2020. One problem at the forefront of our minds was based around the fact that EV cars are packed with cutting-edge technology, yet the charging experience was, in essence, a start and stop function.
Our digital minds grappled with this problem, resulting in our decision that charging an EV should be as simple as driving one. With investment from the Danish State's investment fund, among others, we were on a mission to alter the market with technology.
We are passionate about accelerating the adoption of EVs, and we believe that one way this can be achieved is through elevating the charging experience.
The Monta solution provides a new layer of technology that brings together EV charge point (CP) owners, i.e. installers, operators, service providers, businesses and EV drivers with charge points.
At our core, we make EV charging simple, accessible and reliable. Through user-focused solutions and future-proof technology, we have created one single partner platform (a back-office CP management system) for CP owners to manage end-to-end EV operations with payment collection, Load Balancing, smart queue, fleet management, company sponsorship chargepoint, and a roaming feature all built in the single back office.
Monta is hardware agnostic, allowing EV owners flexibility to have different hardware and the option to manage everything via the Monta back office. Monta also offers a dedicated app for EV drivers to use at home or charge on the road from our roaming network, along with advanced features such as smart charging, smart queue, peer to peer lending, and Google/Apple Pay integration. The app is free to download from app stores and free to use with no subscription fee.
The UK obstacle to transition to EVs
We believe that interoperability and the lack of CP infrastructure are the top issues the UK is facing. Unlike other European countries, the UK has a very fragmented roaming network. EV drivers need to carry different RFID cards, download multiple apps and pay multiple subscription fees to manage simple EV charging. Even after doing all this, it is not guaranteed that you have the right app to charge your car when you arrive at a charge point.
Monta has built an app that can charge at home or on the road from roaming networks. We are trying to bring different roaming networks together and consolidate them on one single app. We have also enabled Google Pay/Apple Pay integration on the app so EV drivers can start the charge without carrying multiple RFID cards/charge keys.. There is no subscription fee or download fee to use the Monta app, and it is free for everyone. This allows the EV drivers to have a seamless charging experience without worrying about RFID cards, subscription fees or multiple apps.
With our back office, we allow CP owners to manage their EV operation end to end and support the push towards CP infrastructure.
A smart charging future
Smart charging will become a mandatory requirement in a few years and will replace the instant charging habit. Given the insurmountable pressure on the grid and high energy tariff demands, EV drivers have to adopt this feature as soon as possible. When EV drivers instant charge their car during peak hours, it puts a heavy load on the grid, and this could result in causing a blackout in a worst-case scenario.
Smart charging allows a car to charge during off-peak hours and when the energy tariff is low or with renewable energy or low CO2 emissions.  It enables you not to burden the grid during peak hours and safely charge your car without causing a blackout. You are also saving energy costs and charging your car with renewable energy, so that is an added benefit.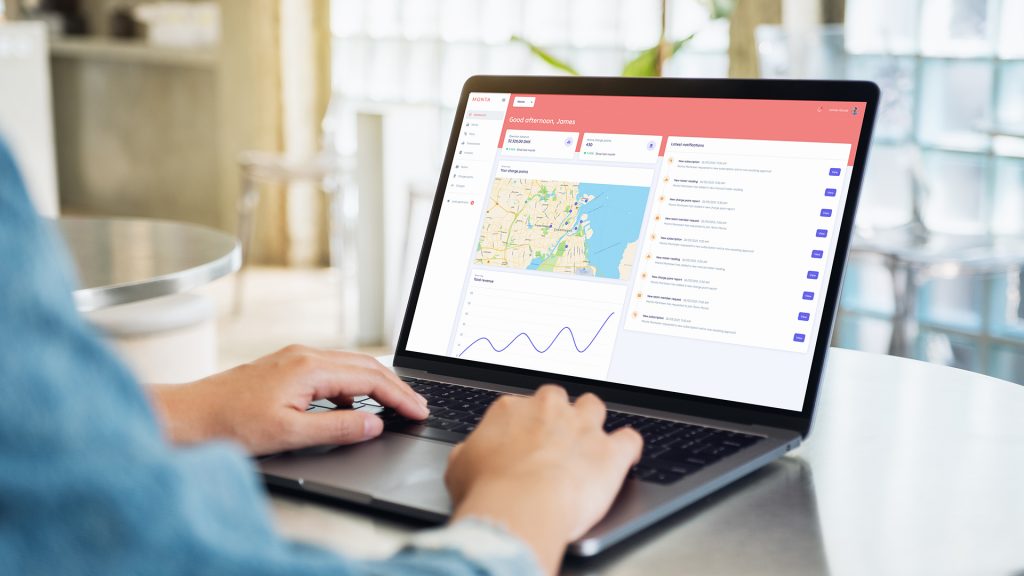 Monta – providing an easy EV charging experience
The Monta app has consolidated all essential features on a single app, so the same app can be used to charge at home or on the road from the roaming network. This roaming network is available all over Europe to travel from the UK to France without range anxiety.  It also has Google Pay/Apple Pay integration, allowing safe transactions and taking away the pain of topping up a virtual wallet to charge your car or carry multiple RFID cards.  It also has a co-charging feature built in the app, which allows you to share your charger with your neighbours or family if you wish to. Co-charging also helps us not to clutter the environment with CP's worldwide and install the necessary number of charge points to support the community.
Consolidation of all these features is key to providing a seamless charging experience to consumers. We also provide 24/7 intercom support to our EV users, so they can always contact our customer service if they run into any issue.
Monta – continually developing to benefit the electric revolution
As a software company, we constantly innovate and make sure our software/technology is market relevant.  We are already working on releasing plug and charge, vehicle to grid (V2G) and other new innovations on the app, which are the most talked-about features in the EV world.
Plug and charge will take away the pain of using the phone to start the charge. Plug and charge is the simplest, most secure way for drivers to charge their electric vehicles. All drivers need to do is connect their EV's charging cable to the charge point, and the vehicle is automatically charged.
The V2G system is also beneficial. As EV's are powered by batteries, these could be used to let electricity flow from the car to the electric distribution network and back.
As more people transition to the EV market, much more sophisticated features will be required to provide a seamless charging experience. We envision software is vital in pushing the evolution in the right direction, and if you make the app/back-office user friendly and intuitive, it will help and support the EV transition.
Please note, this article will also appear in the eighth edition of our quarterly publication.