The AquaDuctus green hydrogen pipeline project spearheaded by GASCADE and Fluxys has applied to the European Commission for Project of Common Interest (PCI) status.
The planned 400km offshore green hydrogen pipeline will potentially revolutionise Europe's energy mix, which has been cast into turmoil due to recent geopolitical issues and environmental concerns. Applying for PCI status signifies the importance of the AquaDuctus project in advancing the European hydrogen economy.
An in-depth feasibility study for the AquaDuctus project has already been performed, examining and confirming the technical and planning feasibility of all the project's phases, as well as commercial aspects, marketing potential, pricing, and regulatory design options.
Christoph von dem Bussche, the GASCADE Managing Director, said: "The offshore pipeline, which will be over 400 km long when completed, will become a linchpin of Germany's and Europe's future offshore hydrogen infrastructure."
How will the green hydrogen pipeline work?
Previous research has highlighted that the German and European North Sea has a potential for up to 100 GW of hydrogen production, with an integrated European green hydrogen pipeline providing the optimal transport solution.
The offshore green hydrogen pipeline will effectively collect hydrogen from various production sites whilst simultaneously offering the potential to link up with other international hydrogen flows via the North Sea.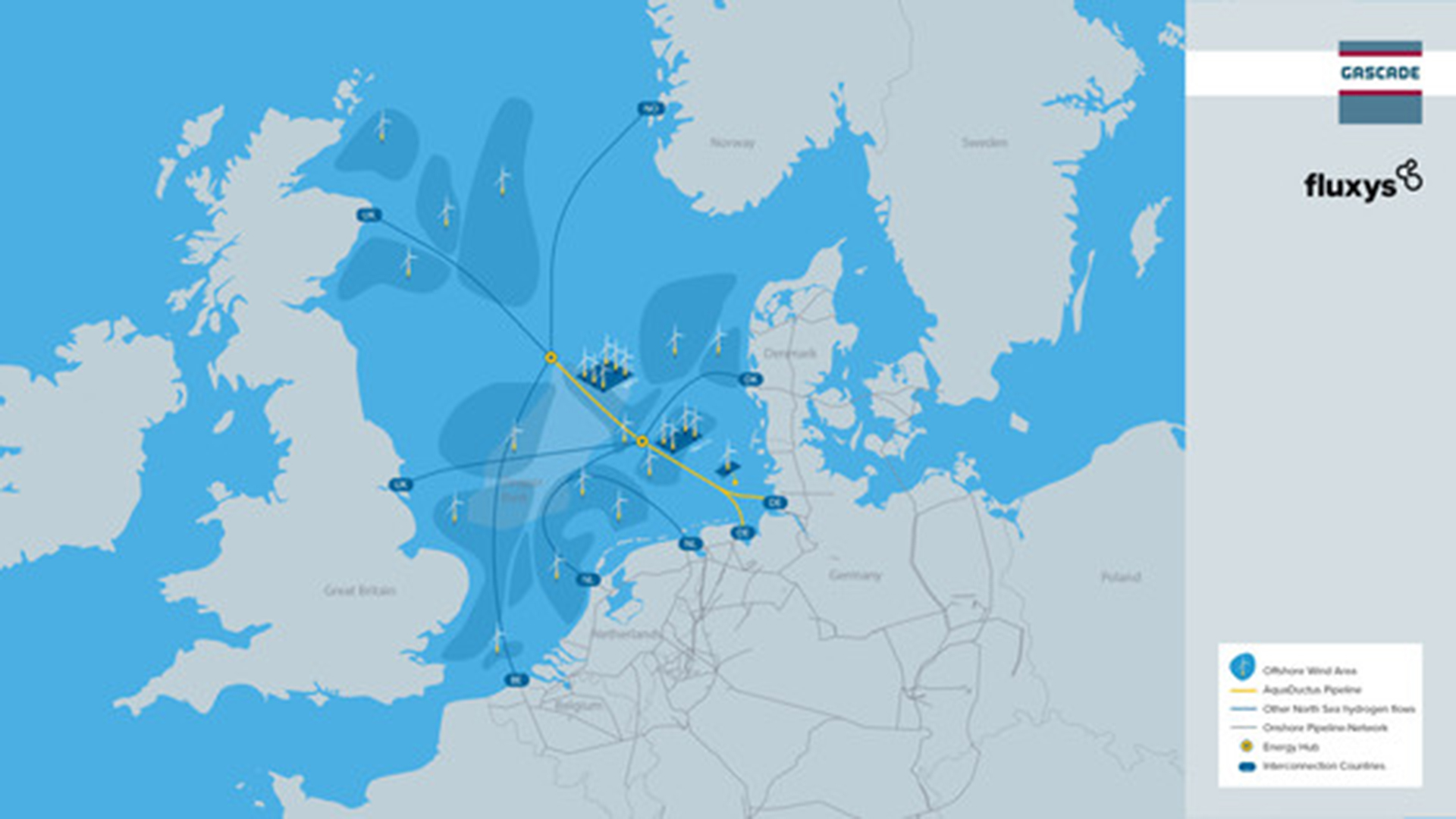 The hydrogen will then be transported to Germany's coast through the pipeline and fed into the onshore hydrogen network. AquaDuctus will ensure large-scale offshore hydrogen production to be imported to Germany, boosting the country's energy security.
Pascal De Buck, the Managing Director and CEO of Fluxys, commented: "We firmly believe that the AquaDuctus offshore pipeline will be a key element of Europe's future energy supply picture and a major advance in the drive towards climate neutrality."
The next steps for the AquaDuctus project
The project's first stage will see the SEN-1 hydrogen wind farm connected to AquaDuctus, with flows scheduled to start in 2030. Moving forward, there is the potential to connect wind farms further offshore in Germany's exclusive economic zone and as hydrogen infrastructure operated by other North Sea countries.
The green hydrogen pipeline is forecasted to become Germany's main hydrogen corridor by 2035, bringing in up to one million tonnes of hydrogen annually. Due to the gas and hydrogen package currently being negotiated at the European level, GASCADE and Fluxys plan for AquaDuctus to be a regulated open-access infrastructure available to all future hydrogen wind warm operators.
The green hydrogen pipeline will significantly contribute to securing and diversifying Europe's hydrogen resources.
von dem Bussche concluded: "Our specific plans for AquaDuctus will allow Germany's federal government to put in place concrete actions following up the efforts it has made on hydrogen with European partners such as, for example, Norway or within the framework of the Esbjerg Declaration. With our AquaDuctus offshore pipeline, we want to enable this potential to be leveraged jointly."