A new centre for science in the North East – which will be ran by Northumbria and Newcastle Universities – represents a significant boost for the region.
Big data is the special application of data science, in which the large volume of data sets require overcoming logistical challenges, due to traditional data software programming being unable to manage them. Big data science however is transforming the way researchers, scientist and companies operate worldwide. Big data science techniques and tools allow us to manage and utilise the large quantities of data that is continuously generated by organisations, individuals and devices for value.
To train big data science experts however is not simple. As a result, with the North East of England maintaining a reputation as a major hub for space, data science and the digital industries, they have been selected to receive funding for a novel £1.3m Centre for Doctoral Training in the field of data intensive science.
The Centre – which is to be called NUdata – will be run by Northumbria and Newcastle Universities. It will be given support by approximately 40 industrial partners across a variety of sectors in the region, as well as more widely in UK and across the globe. 
The Government is eager to ensure that the UK becomes a global leader in Artificial Intelligence (AI) and data science. Currently, it is imperative that more data scientists are trained and qualified at a PhD level across all sectors. The Department of Business, Energy and Industrial Strategy asked research councils to facilitate the advancement of these essential roles. 
The Science and Technology Facilities Council (STFC) has announced the financing of five novel centres for doctoral training in data intensive science across the UK at a cost of £6.5m – including almost £1.3m to NUdata to train 21 PhD students over the next six years. 
The North East Universities have involved over 40 industrial partners in the centre, such as Amazon's Alexa, the BBC, Britishvolt, GSK GlaxoSmithKline, Marks and Spencer, the Met Office, the National Audit Office, Northumbrian Water, Ordnance Survey, Procter & Gamble, Tesco and the World Food Programme – all of which depend on big data in order to provide their services.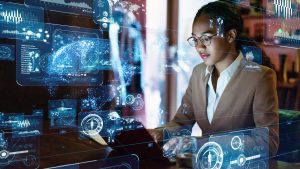 From PhD to industry
Professor James McLaughlin, Head of Northumbria University's Solar, and Space Physics research group led the bid to create the NUdata centre. Discussing the objectives for the Centre, he explained: "Our vision is to train students in STFC science and data science in a city renowned for both. We will train a new generation of PhD students to address the data challenges presented by STFC frontier research, as well as applying those skills to different sectors of the broader economy. 
"Businesses are absolutely reliant on big data to succeed, and so industrial involvement is at the heart of this new centre for doctoral training. 
"In designing these new PhDs, we have made a deliberate effort to work with a range of companies from household names, large multinationals, government-type organisations, and local SMEs. Given the city's reputation for the data and digital sectors, we hope that this Centre for Doctoral Training will provide a key contribution to the levelling up agenda and put the UK at the forefront of artificial intelligence and the data revolution." 
Ensuring a highly skilled workforce
Professor Tamara Rogers, Professor of Computational Astrophysics at Newcastle University and Newcastle University's NUdata lead, added: "The UK faces a shortage of skills in managing, visualising, analysing, and interpreting large, complex datasets and high rates of data flow. These skills are increasingly needed across a wide range of sectors as complex data analysis underpins many aspects of society. 
"Driven by the need to handle the ever-increasing data rates and high-performance computing generally, our new Centre for Doctoral Training is in a strong position to contribute to developing these skills by training the next generation of PhD-qualified data specialists." 
Big data for big science
Professor Grahame Blair, Executive Director of Programmes at the Science and Technology Facilities Council, concluded: "Big data is the linchpin of big science. This funding will bring on the next generation of data science experts, to ensure the UK research and innovation sector continues to thrive. 
"When processing and analysing huge quantities of data, a vital step on the road to scientific discoveries, scientists gain invaluable skills which could also help with industrial and societal challenges. 
"These exciting research projects take the expertise gained during frontier research in astronomy and particle physics, to find solutions and techniques which can also be applied in industry and society."