In the hopes of developing a rare earth elements mine, new Australian company OD6 Metals has started exploration work in the South West of the continent.
OD6 Metals is an Australian public company pursuing exploration and development opportunities within the critical minerals sector. The company has successfully identified clay-hosted rare earth elements at its 100% owned Splinter Rock and Grass Patch Projects and aims to delineate and define economic resources and reserves of rare earth elements (REE), in particular neodymium (Nd) and praseodymium (Pr), which can be developed into a future revenue-generating mine.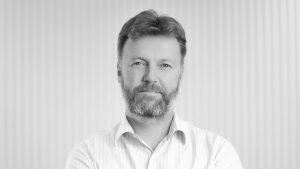 As the world experiences a rapid change of momentum towards renewable energy, heralding the 'Clean-Energy Revolution' and a transition away from a carbon-based economic structure, the requirement for long-term, secure sources of REE is recognised at every level. Currently, clay-based REE deposits are economically extracted in China, which is the dominant world producer.
Rising demand for rare earth elements
Rare earth elements are becoming increasingly important in the global economy, with uses including advanced electronics, permanent magnets in electric motors and electricity generators (such as wind turbines) and battery technologies.
As an example, a neodymium magnet used in a wind turbine or electric motor is 18 times stronger than a standard ferrite magnet. The use of these new economy metals has the potential to preserve this planet for future generations.
OD6 Metals
OD6 Metals has secured more than 4,000 square kilometres of mineral exploration licenses in one of Australia's emergent large-scale clay-hosted REE provinces – the southern Esperance-Goldfields region of Western Australia – about 30-150km north of the major port and town of Esperance.
The 100% owned Splinter Rock and Grass Patch Projects include a total area equivalent to that covered by the country of Luxembourg in Western Europe.
Drilling and geological analysis at its flagship Splinter Rock has shown widespread, thick, high-grade clay-hosted rare earth elements deposits that extend over hundreds of square kilometres. Metallurgical testing using hydrochloric acid to leach the rare earth elements has resulted in positive REE recoveries with optimisation ongoing.
As part of the exploration process, the company has entered into heritage agreements with Esperance Tjaltrjraak Native Title Aboriginal Corporation and the Ngadju Native Title Aboriginal Corporation, which serve to both enable exploration and protect important cultural sites 'on country'.
OD6 Metal's vision is not only to discover mineral resources which lead to producing mines, but to utilise renewable energy sources in its operations and contribute to the advance of new industries that are planning to rely on clean energy.
The Esperance region is well-placed to support the projects, as it boasts excellent renewable energy prospects across both solar and wind potential, with a number of installations already in place.
Recent achievements
In April this year, the company announced that results from the second phase, 83-hole drill programme at Splinter Rock had returned bumper assay results and clay thicknesses, with higher grades and larger thicknesses than those observed in the initial first phase.
Grades of up to 6,605ppm (parts per million) total rare earth oxides (TREO) returned, with extensive clay thickness of between 20-80m at consistently high grades. The continuity of grade and thickness extends over multiple kilometres of drill lines, with the high-value magnet rare earth oxides (MREO) representing an average of 22% of TREO grade.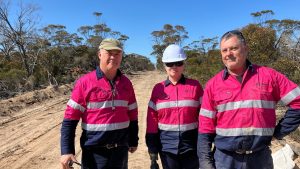 Brett Hazelden, OD6 Metals Managing Director, believes that the company has the potential to become a globally significant player in the REE space. He said: "These exceptional drill results represent some of the highest rare earth grades, over some of the thickest intersections seen in an Australian clay-hosted rare earth project.
"With the clay thicknesses up to 80m, grades in excess of 1,000ppm total rare earth elements and consistency across several kilometres of width, the Splinter Rock project has emerged as a globally significant discovery.
"To have one prospect achieve these results is impressive. For all four of our main prospect areas to return these results is remarkable."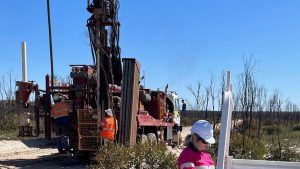 Later that month, the company received confirmation that it was a successful applicant for the Western Australian Governments Exploration Incentive Scheme (EIS) co-funded drilling programme. The EIS is a State Government initiative that aims to encourage exploration in Western Australia for the long-term sustainability of the State's resources sector.
The co-funded exploration drilling programme is a flagship programme of the EIS. It is a competitive programme, open for applications twice a year, which offers up to a 50% refund for innovative exploration drilling projects, capped at specific amounts.
OD6 Metals has been offered (subject to signing the Funding Agreement) the maximum of A$180,000 under the co-founded drilling programme for both diamond core and aircore drilling, which will be used at Splinter Rock.
OD6 Metals has engaged a specialist team from the Australian Nuclear Science Organisation (ANSTO), to undertake initial metallurgical testing, given their extensive experience in rare earth elements process development. The results have been impressive, with very high metallurgical recoveries being achieved from a simple acid leach process.
The areas targeted in this second phase drilling programme align with the strong metallurgical recoveries recently reported, providing validation and further endorsement of the OD6 Metals exploration approach.
Prior to the most recent drilling, OD6 Metals undertook an Airborne Electromagnetic Survey (AEM) over the Splinter Rock and Grass Patch Projects during October 2022. The completed survey covered more than 4,600 square kilometres, with 11,500 kilometres flown at 400-800m line spacing. The survey mapped clay locations, expanse, depth, and thickness to enable targeted drilling of high priority exploration areas during the next 18 months.
In another significant initiative, the Commonwealth Scientific and Industrial Research Organisation (CSIRO) and OD6 have agreed to collaborate on techniques to improve rare earth elements exploration. This will combine traditional and cutting-edge tools in a multidisciplinary approach using geophysical, remote sensing, geochemical, mineralogical, and spectral analysis.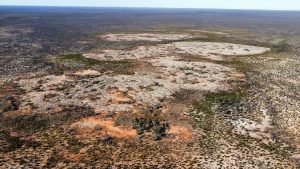 The collaboration is supported through CSIRO's Kick-Start Program and will provide improved geochemical and geophysical understanding to increase confidence in rare earth elements exploration at the company's Splinter Rock and Grass Patch Projects.
CSIRO's reprocessing of the existing wide spaced airborne electromagnetic geophysical survey data provided validation of the techniques employed. The process enabled the mapping of regolith (clay) thicknesses and deep target channels and identified areas of sub-cropping fresh rock or thick sand dunes to be avoided.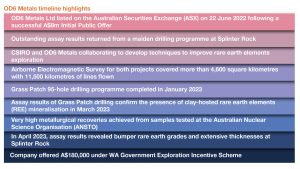 "OD6 is pleased to be working with ANSTO and CSIRO to help generate new knowledge and develop new technologies to increase confidence in clay-based rare earth exploration and mineral processing.
"We, as a company, are committed to working with some of the more innovative and collaborative organisations so we can minimise discovery risk and unlock the full value of our rare earth projects," Hazelden said.
OD6 Metals is preparing for a number of company building events during the coming months and is well-placed to continue the exciting story that has been gaining momentum with investors during the past eight months.
"Having identified such an extensive area of potentially billions of tonnes of clay rare earth elements mineralisation, our next round of drilling will focus on further defining the extent of the different prospects.
"What sets OD6 Metals apart from our peers is that our flagship project at Splinter Rocker has grades more than 50% higher than the industry average and, to date, we can achieve higher recoveries too.
"This, in turn, will enable us to produce more metal per tonne treated. The focus now is determining where the inflection point is on metal recovered, revenue, profit, recovery, and acid requirements, to enable the best cost structure for the project moving forward.
"It will take a bit of time to optimise, but importantly there still might be better areas out there that we have not drilled yet.
"Our strategy prioritises the 'best of the best' in terms of grade, magnetic rare earth elements content, thickness, and metallurgical recovery, as we sharpen our focus towards the goal of delivering a high-quality maiden JORC Mineral Resource Estimate," Hazelden said.
Please note, this article will also appear in the fourteenth edition of our quarterly publication.