Dr Michael Rohde, Director Global Marketing Batteries at Orion Engineered Carbons GmbH, outlines the company's activities and ethos and discusses the role that carbon black will continue to play in the battery industry of the future.
Orion Engineered Carbons (OEC) is a leading global manufacturer of carbon black, with more than 150 years of experience in the carbon black industry. Using five different production processes, Orion produces high-performance specialty gas blacks, acetylene blacks, furnace blacks, lamp blacks, and thermal blacks, comprising the broadest portfolio of carbon black products for standard and high-performance applications.
Orion carbon blacks tint, colorise, and enhance the performance of batteries, polymers, plastics, paints and coatings, inks and toners, textile fibres, adhesives and sealants, tires, and mechanical rubber goods, such as automotive belts and hoses. Approximately 1,425 employees strong, Orion develops customised solutions from a network of 14 production sites and four Applied Technology Centers worldwide. The company's focus on innovative customer solutions makes Orion one of the leading development partners in the industry.
A proud history of carbon black
The history of Orion Engineered Carbon starts in 1862, when August Wegelin, a German entrepreneur, founded a carbon black plant in the centre of Cologne. In 1895, the plant was relocated to Kalscheuren, its current site. In 1930s, Degussa acquired August Wegelin AG and significantly expanded the company by purchasing carbon black production facilities around the world. In 2007, Evonik obtained full ownership of Degussa Engineered Carbons LLC. In 2011, Evonik sold its carbon black unit and Orion Engineered Carbons was established. Since 2014, common shares of Orion Engineered Carbons have been traded on the New York Stock Exchange under the symbol OEC.
In 2018, Orion Engineered Carbons acquired SN2A, an acetylene black manufacturer located in France. The investment further strengthened Orion's technological drive into the battery market and other premium segments. OEC-France is focused on the production of acetylene black, a specialty carbon black characterised by its ultra-high purity and high thermal and electrical conductivity. The two main applications for this material are high-end electrical cables and lithium-ion batteries. This acquisition ensures Orion a leading position for the transition to new technologies and it consolidates its commitment to the production of the highest quality carbon black and the collaborative partnerships with customers.
Ethos: vision and values
As a premium supplier of carbon black, Orion generates long-term benefits for stakeholders while remaining committed to responsible business practices that emphasise reliability, innovation, sustainability, and team culture.
Orion employees are simply passionate about carbon black and guided by commitment to a set of values:
Safety and sustainability;
Integrity;
Customer focus;
Accountability;
Valuing people (trust, respect, and development); and
Innovation;
These values express Orion's commitment to excellence. They include commitment to compliance with applicable environmental, labour, trade, fair business practice, and other laws and regulations, and with ethical business practices; to training and developing our employees; to fair dealings with our suppliers; and to the development and production of carbon blacks that not only meet health standards, but also enable enhanced environmental performance across the value chain.
Further, Orion is committed to 'living our values' by promoting basic human rights and equal opportunity for all, encompassing gender, nationality, race, sexual orientation, etc.
Lead-acid and lithium-ion batteries
Orion's portfolio for the energy storage system is focused on two main applications: lead-acid batteries, and lithium-ion batteries. The company also offers materials for fuel cells or super capacitors.
Orion has contributed high quality specialty carbon blacks to the lead-acid battery industry since 1970. Carbon black increases the electrical conductivity, improves the formation efficiency, and reduces the residual sulphate level in the negative active mass electrode.
The advanced lead-acid battery advantage
The emergence of new technologies such as start-stop systems, hybrid vehicles, and stationary energy-storage systems has engendered a new generation of batteries called 'advanced lead-acid batteries' (aLAB). Carbon blacks play a fundamental role in aLAB by increasing the conductivity of the negative electrode and contributing to the power capability of the battery with their supercapacitor properties. Advanced lead-acid batteries must be operated at a partially charged state. They must always be ready to be dynamically charged due to quick recuperation during car braking. They must also support the cranking and power supply for ignition.
Orion has developed a new family of carbon blacks called PRINTEX® kappa 210, PRINTEX kappa 220 and PRINTEX kappa 240 for the aLAB technology. This family of products is specially designed to enable the batteries to increase dynamic charge acceptance by up to 60% and cycle life while maintaining low levels of water loss.
Most conductive carbon blacks increase hydrogen evolution at the battery's negative electrode side, resulting in high water loss during battery charging. The modified surface of the PRINTEX kappa grades maintain conductivity and surface area while suppressing the hydrogen evolution reaction, lowering water loss to acceptable levels. This surface modification gives battery manufacturers the freedom to use higher loading to achieve higher charge acceptance.
The lithium-ion innovation
Lithium-ion batteries are positioned to be a fundamental technology now and in the future. The versatility and fast development of the lithium-ion battery technology enable its use in multiple applications such as portable electronics, electro-mobility, and stationary battery energy storage systems, amongst others. In the lithium-ion battery, carbon black is an important component of the cathode and anode electrodes. It forms a three-dimensional percolation network that allows the transfer of electrons from the electrode to the current collector and creates an ionic pathway to transfer lithium ions between the anode and cathode electrodes. This network enables high power and energy densities as well as a long cycle life.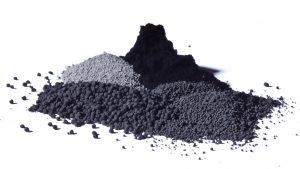 Orion's PRINTEX kappa 100 is the first high-performance carbon black grade based on acetylene gas. It offers conductive functionalities that improve lithium-ion battery performance. Acetylene black aggregates form the three-dimensional network to lower the internal resistance of battery cells by enhancing conductivity, ensuring that charge and discharge processes are performed effectively and Ohmic losses are minimised. Its high intrinsic electronic conductivity and purity compared to other carbon blacks leads to significantly higher power densities and longer battery lifecycle. These advantages result from acetylene as pure feedstock and its thermal decomposition at very high temperature.
The acetylene black functional structure produces synergistic benefits with other additives, such as carbon nanotubes, in lithium-ion battery systems. The acetylene blacks' high graphitisation levels assure the chemical stability of the carbon at high voltage conditions and very low moisture content during handling and processing.
Acetylene black offers a sustainability advantage as well. The acetylene black production yield is very high, leading to a remarkably low CO2 emission of only 100kg per ton of acetylene black. This result is the lowest for a carbon black grade, making PRINTEX kappa 100 particularly environmentally friendly. By contrast, comparable furnace blacks show 14 times higher CO2 emissions. What is more, Orion's internal research shows further savings and reductions are possible, making the process an even more attractive alternative.
Conductive carbon additives are essential for the function of the lithium ion battery. In addition to the benefits carbon black imparts to lithium ion production, it is important for the industry to have local and reliable sources of premium, high- quality conductive carbons. EU companies need European sources. Orion is the sole supplier of acetylene carbon black in Europe, and thus a key contributor to the industry.
The HiQ-CARB consortium
Orion has joined the HiQ-CARB consortium to provide the lithium-ion battery industry with sustainable and high-performance carbon additives.
Seven leading European industry players, research institutes, and universities are collaborating on the European Union-funded HiQ-CARB project to design and scale up innovative battery materials – including Orion's high-purity, conductive acetylene black – with very low carbon footprints to meet rapidly expanding market demands.
Orion is pleased to actively contribute to further development of sustainable, high-performing lithium-ion batteries, as its acetylene black has the lowest carbon footprint on the market.
Consistently ensuring the highest quality
Orion strictly follows high-quality protocols during production of the PRINTEX kappa grades and controls each batch in agreement with international standard test methods or internal test procedures. The Orion plant has purchased the latest generation ICP-MS and HybridXRF devices to detect metal impurities of PRINTEX kappa 100 in order to offer the highest carbon black quality to lithium-ion battery customers.
All Orion production facilities are ISO 9001 certified and strive for continuous improvements, e.g. by implementing and following IATF 16949 requirements when specific automotive requirements are requested for battery grades and following other ISO standards such as ISO 14001. Orion is also a member of the ISO working and ASTM steering group, contributing to testing standards.
Orion maintains two state-of-the-art laboratories in its innovation and applied technology centres in Germany and China for batteries. Staffed with highly educated and experienced scientists, each battery lab focuses on two tasks. The first is testing new carbon grades for battery applications. The second is studying the synergistic effects of i.e. PRINTEX kappa 100 when combined with active materials and binders used in the battery industry. These approaches aim to further increase Orion's portfolio and to offer customers the best advice on material handling, processing and testing.
Environmental sustainability
Orion intends to become an industry leader in addressing the climate change challenges and exploring alternative, eco-friendly technology options in:
Feedstocks (use of renewable and recovered oils from end-of-life tyres);
Production process (yield improvement, low CO2 emitting production technologies and recovery of used carbon black in ELTs); and
Production of carbon additives that enable our customers to advance sustainability (e.g., high performance tires that reduce fuel consumption, tires fit for electric vehicles, conductive additives for various kind of batteries, etc.).
Orion continually improves its efforts to produce carbon black with minimal environmental impact. Various projects are underway to increase the conversion efficiency from carbon to carbon black and decrease the CO2 emission.
Orion's acetylene black production is considered environmentally friendly due to the low CO2 emissions. While the manufacture of a very high conductive, high surface area furnace black generates approximately 5000kg CO2 per ton, PRINTEX kappa 100 production emits only 100kg CO2 per ton. An added bonus, the hydrogen produced as a main by-product can be used energetically in other processes and is returned to the environment as steam. As part of the HiQ-CARB project, Orion will investigate using the hydrogen by-product for drying its wet-beading line. This repurposing is expected to improve process efficiency and reduce production costs.
The Black Cycle consortium
Orion realises that contributing to the circular economy, where materials are recycled and reused, in the tyre industry will be a major advance for the carbon black industry. To that end, Orion is pleased to be part of the European Union-funded Black Cycle consortium to test the viability of using recovered oil carbon black production for tire manufacturing.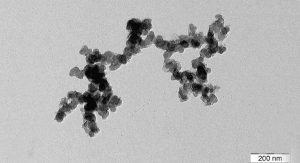 As the consortium's sole carbon black producer, Orion will evaluate the feasibility of using pyrolysis oil in carbon black production. The company will evaluate the chemical properties of pyrolysis oil and the oil's usability as carbon black feedstock. Orion will also consider the applicability of pyrolysis oil-based carbon black as an additive in tire and other production processes. Positive results will bring the carbon black industry a step closer to a circular economy.
The future of carbon black
Carbon black has played and continues to play an important role in societal development by enabling the implementation of technologies that have improved people's lives. Carbon black will continue to be an important component for future technologies. In Orion's applied technology centres, interdisciplinary groups work together to develop new carbon grades to fulfil current and future market demands. The interdisciplinary teams are composed of scientists specialising in carbon black and various applications; process engineers, responsible for scaling up and producing new carbon grades; and the marketing team, responsible for analysing market trends and continually communicating with customers.
The current use of non-renewable feedstock and production processes contributing to CO2 emissions are no longer sustainable. The industry can assure a sustainable future for carbon black by using renewable feedstocks, adopting environmentally friendly production processes, and recycling carbon black. These measures are necessary to contribute to the world transition from fossil to renewable energies.
Please note, this article will also appear in the seventh edition of our quarterly publication.