As requirements for managing Naturally Occurring Radioactive Material (NORM) become stricter, GeoEnergy Consult supports affected mining and processing projects to achieve permits and operate efficiently.
Practically speaking, Naturally Occurring Radioactive Material (NORM) are naturally radioactive residues, which accumulate during certain industrial activities, including mining and processing of rare earth elements, or further commodities. Uranium and non-radioactive commodities like phosphates, tantalum, gold, copper, aluminium etc., are (potentially) affected if associated with NORM mineralisation.
The key to the success of affected projects is to get permitted and efficiently operate. To achieve this, specific challenges must be overcome, which result from contained uranium and thorium as well as from their decay products like radium and radon, most notably:
•    Radiological safety of staff and public
•    Prevention of site/facility contamination; and
•    Prevention of liability risks etc.
Regulations for the safe management of Naturally Occurring Radioactive Material can vary from country to country, e.g. applicable limit values, specific requirements for disposal etc. However, national regulations are based on universal standards of international bodies.
Naturally Occurring Radioactive Material support 
Throughout the life-cycle of NORM affected projects and operations, specific advice is critical for:
•    Operators. The key challenge is employing capable solutions; only then responsible
regulators can be convinced of permitting the proposed realisation;
•    Investors. Through analysis of the feasibility of planned solutions for managing NORM, we assess the projects' worthiness to invest in (hidden technical risks, permitting likely, modification indicated?); and
•    Regulators. The importance of mining and processing, e.g. for national economies, cannot be overestimated. Benefits might be only temporary, and projects could turn into legacies if NORM is managed inappropriately.
Two pillars of solutions
Strategy consulting
We assess the feasibility of planned NORM solutions, e.g. by professional review of project documents. We support the permitting process by managing the required documents for the project while maintaining communication with responsible regulators.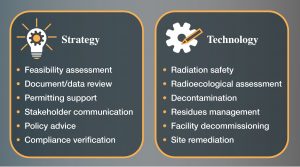 Moreover, beyond the analysis of countries' specific policies, pursuing adequate stakeholder involvement can be essential to overcome any objections and gain valuable support, e.g., from the concerned public. Should a country have less exposure to NORM, we can help government and authorities to develop a modern policy. Regulators can be supported also by compliance verification and/or onsite inspection.
Over the past years, certain NORM affected projects did not receive the necessary permits because they failed to demonstrate the capability for encountering the requirements of future project phases. For instance, regulators may require a preliminary closure plan as a precondition for permitting a project even ahead of its operation.
Technology consulting
An overarching cross-cutting issue for all our solutions is strict radiation safety, whether the aim is to establish an occupational safety programme or to conduct a radiological survey. We provide support from the pre-operational phase on like radioecological assessments to determine the environmental baseline and support later operations.
GeoEnergy Consult provides solutions for managing any arising NORM residues, including radiological characterisation and, if indicated, treatment and disposal. This may include decontamination of facilities and equipment to improve operational efficiency or prepare for ultimate decommissioning in the closure phase. Should site contamination have occurred, we plan and perform indicated remediation.
While fundamentally we provide consultancy advice, e.g. by assessing the feasibility of technical options or developing their conceptual design, optionally we can support with engineering and realisation of developed solutions. NORM management is seldomly available 'off-the-shelf', so we customise developed solutions according to specific needs.
Sustainable compliance
The general trend towards stricter NORM requirements might be driven by the insistent request of the public, states and institutions for improved sustainability and ESG. Moreover, sustainably mined and processed raw materials might be preferred by regulators as many adverse side-effects can be avoided and legacies prevented. Also the public may find this more acceptable.
In the end, the sustainability pressure turns into a competitive advantage (BDO). That means that solutions that reflect sustainability expectations become more crucial – and projects that contribute to that might be more successful than those that do not. Therefore, the overall request for sustainability should be regarded not as burden but as chance.
Please note, this article will also appear in the ninth edition of our quarterly publication

Go to this partner's profile page to learn more about them