Advanced Energy Minerals (AEM) is focused on manufacturing high purity alumina for use in fast-growing global markets including the light emitting diode (LED), semiconductor and lithium-ion battery (LIB) markets.
Headquartered in Australia, AEM operates through three principal subsidiaries, two incorporated in Canada, the other in the United Kingdom.
AEM Canada owns and operates a process plant in Cap-Chat, Quebec that uses AEM's patented and proprietary Chlorine Leach – Crystalline Purification (CLCP) process technology to produces ultra-high purity alumina under the SupALOX™ brand.
Powered by hydroelectricity and utilising a locally sourced feedstock, the Cap-Chat plant has an industry-leading low carbon footprint, produces close to zero waste, and can deliver up to 99.999% pure alumina (5N HPA) at globally competitive prices.
AEM Technologies operates a state-of-the-art Technology Development Centre in Laval, Quebec, which is focused on developing new processing technologies for industrial minerals and supporting the implementation of those technologies both by AEM's own operations and by licensees of the company's extensive portfolio of patented intellectual property.
AEM UK is developing plans for a second SupALOX™ manufacturing plant. Currently at the feasibility study stage, this plant will be based on a "next generation" design derived from the design of the Cap-Chat plant. AEM UK conducted the feasibility study with financial support from the UK government's Automotive Transformation Fund.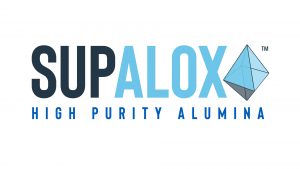 SupALOX™ high purity alumina is α-phase, typically 5N pure (99.999%) aluminium oxide (Al2O3), tailored to a customer's specific requirements for particle size, densification, and doping. Its 5N purity, which is measured across all significant impurities, is amongst the highest purity currently available in the market and is unmatched by all but very few existing suppliers.
AEM's CLCP process route for manufacturing HPA is very different from the conventional alkoxide process route, which relies on expensive and carbon intensive aluminium metal as its feedstock. In contrast, the feedstock and energy supply used by AEM at Cap-Chat are both competitively priced and have extremely low carbon footprints. AEM's in-house calculations indicate that the resulting carbon footprint of SupALOX™ HPA is less than 12% of the carbon footprint of HPA manufactured by the alkoxide process route.
Hydrochloric acid, another important input to CLCP process, is recycled many times within the process before being discharged, predominantly in the form of aluminium chloride, which is sold as a by-product for use in the water treatment industry.
SupALOX™ HPA therefore offers compelling benefits to users seeking alumina with leading edge purity and environmental credentials.
AREAS OF EXPERTISE
High purity alumina production
Alumina for the micro-LED industry
Alumina for ceramic coated separators to be used in the electric vehicle lithium-ion battery industry