Edison Lithium Corp outlines its favourable prospects for mining electric vehicle battery metals in Argentina.
Edison Lithium Corp. (TSXV:EDDY | OTCQB: EDDYF | FSE:VV00) sets its sights on a maiden exploration programme at its lithium brine projects in Argentina.
South American Lithium Triangle
The Lithium Triangle in South America is a geographic triangular area that covers parts of North-Western Argentina, Southern Bolivia, and central Chile over lithium-rich brine resources underneath salt flats.
According to the 2021 USGS Mineral Commodity Summary, South America contains the world's largest amount of lithium, with over 60% of the world's lithium resources concentrated in Argentina, Bolivia, and Chile. However, mining in the region only accounted for 32% of world production.
Although Australia, Chile, and China are the largest producers of lithium, the government of Argentina has created a favourable regulatory environment to help drive more lithium production.
Argentinian brine is fine
The Antofalla Salar (Salar de Antofalla) is over 130 kilometres long and hosts one of the largest lithium-bearing basins in the region. Edison Lithium's Antofalla Salar claims are located less than 20kilometres west of a lithium production site owned by Livent Corporation (NYSE:LTHM), Argentina's largest lithium producer in Northern Catamarca Province. Livent had an impressive market cap of $3.82bn (C$4.79bn) and generated revenue of $420.4m in 2021.
Edison Lithium's properties are also offset on either side of Albermarle Corporation's (NYSE:ALB) holdings in the centre of the Antofalla Salar. Albemarle achieved a market cap of $24.71bn (C$30.97bn) and generated revenue of $3.12bn in 2021.
Other companies operating in the Antofalla Salar include Allkem Limited (ASX:AKE; MC: A$8.14bn; Revenue: US$241.2m), Galan Lithium Limited (ASX:GLN; MC: A$585.9m; pre-revenue), Lake Resources NL (ASX:LKE; MC: A$2.66bn; pre-revenue), and Posco Chemical Co. (KOSE:A003670; MC: $7.94bn; Revenue: US$1.60bn).
Less than 50 kilometres away from Catamarca city is the Pipanaco Salar project, which is in the very early stages of exploration. At present, only a few surface samples have been collected from the property. This salar is located at a much lower altitude than Antofalla Salar and was first drilled by the federal government of Argentina to identify new sources of fresh water.
Based on the previous drilling reports, the Pipanaco Salar holdings, located 700-750 metres above sea level, could be a favourable site to create a regional lithium extraction and processing facility.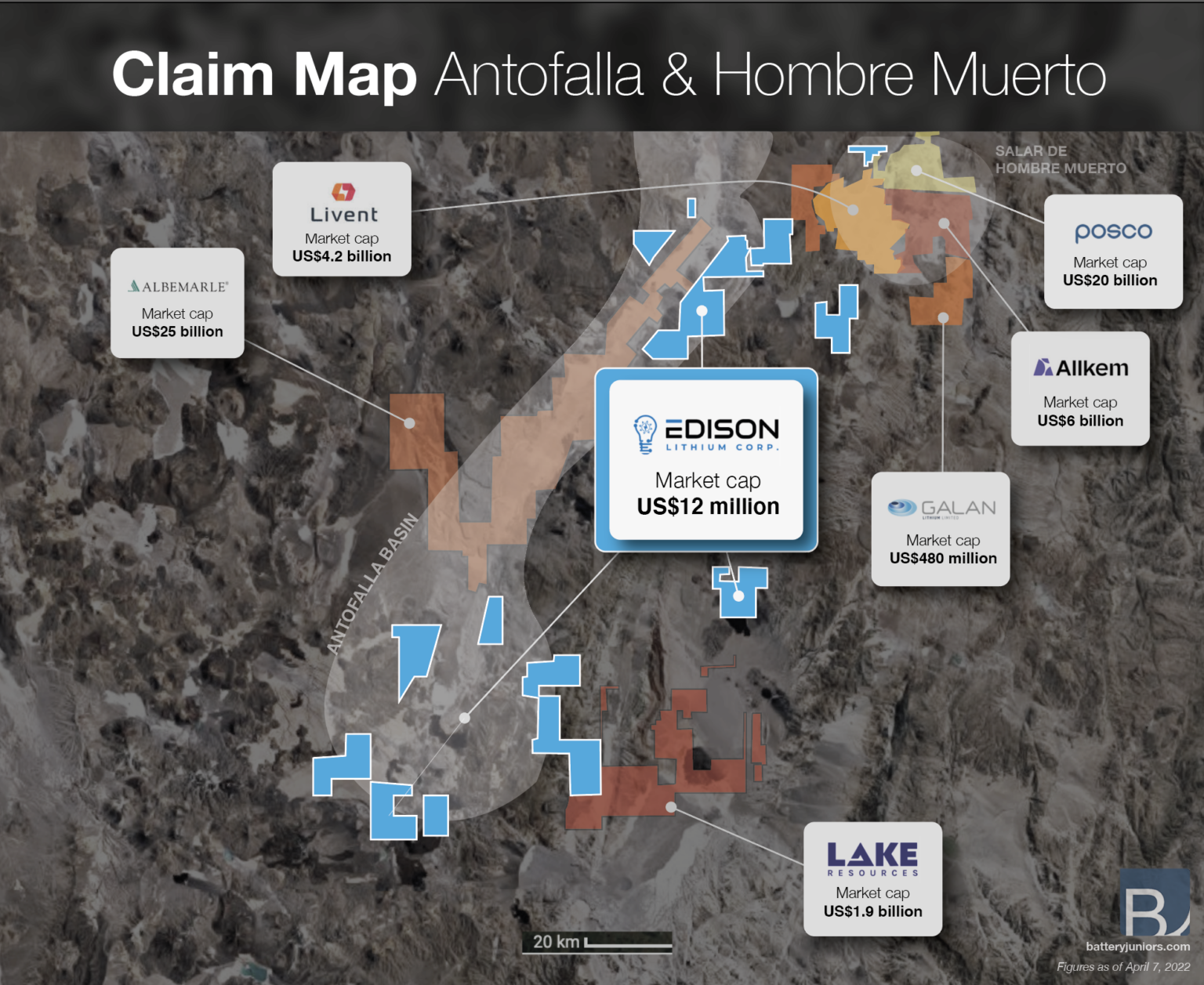 Cobalt's potential as a battery metal
Another key battery metal is cobalt; Edison Lithium was an early mover as it acquired a 100% interest in the Kittson Cobalt Property in January 2017.
The Kittson Cobalt property comprises approximately 1,090 hectares (over 2,690 acres) and is located near the town of Cobalt in Northeast Ontario, Canada. It is home to the historic Thomas Edison, Shakt-Davis, and Cobalt-Kittson mines.
Historic reports from the Shakt-Davis mine indicated values of 1.5% cobalt over 1.37 metres, and select grab samples returned up to 4% cobalt and 93.3 grams of gold per tonne.
A 21-hole drill programme in 2018 at the Kittson cobalt project validated historical information with results that included 0.34% cobalt over 2.65 metres, 0.98% cobalt over 0.35 metres, and 0.46% cobalt over 2.05 metres.
The project also benefits from numerous historic workings and over 2,500 feet of lateral workings, with the deepest extending down to 628 feet.
AREAS OF EXPERTISE:
Mineral exploration and mining;
Mining for EV battery metals;
Battery metal prospects in Argentina;
The lithium industry;
Lithium processing;
Lithium applications; and
Lithium sustainability and ESG.