Nordic Radar Solutions focuses on developing next-generation advanced radar-based systems dedicated to civil aviation, wind energy installations and target scoring applications requiring cost effective high accuracy detection and tracking against air and surface targets.
Nordic Radar Solutions are experts in ensuring the safety of wind farms, airports, and aircrafts, their innovative radar-based systems can help users prevent bird strike and impact with foreign debris.
Nordic Radar Solutions' founders, Per Schmock (CEO) and Torsten Haber Leth Elmkjær (CTO), offer a unique perspective to the development of radar technology. Schmock's work as an F-16 fighter pilot twinned with Elmkjær's radar expertise allows Nordic Radar Solutions to develop state-of-the-art instruments.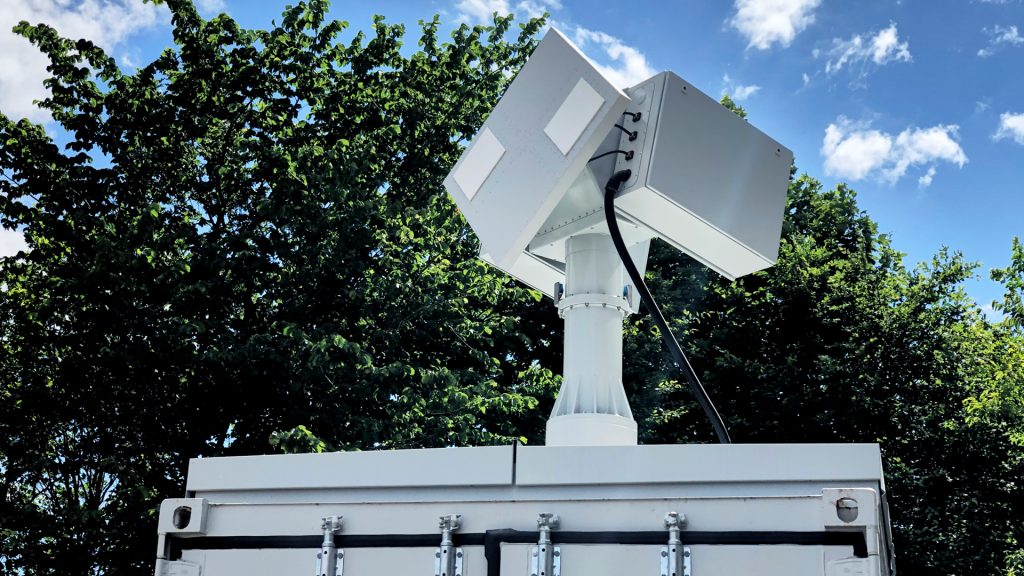 Airport Safety
Globally, airport safety is a growing concern as airport authorities and airlines are increasingly facing safety threats to passengers, crews and aircraft caused by a wide-range of foreign object debris (FOD) on runways and taxiways; by birds-aircraft strikes (BAS) and not the least, the growing number of drones in the airport and surrounding areas. It is important to detect these threats in real time to maximise the time airports are operational.
Nordic Radar Solutions is developing an independent long-range system for multiple object detection and real-time threat alerts within the airport and its surroundings. The system is based upon one or more radar sensors with high-resolution cameras and is marketed under the brand name Foreign Object Debris, Drone and Bird-Aircraft Strike Avoidance (FODBASA)
Wind Energy
With the growing focus on sustainability and a global green agenda wind farms are naturally on the increase. But wind turbines are also proven to kill birds and bats along with having a negative impact on neighbours. These are among the most common reasons for rejection of wind farm projects or frequent cause to operational restrictions through shut-down requirements.
Nordic Radar Solutions is together with our partners Chalmers University, Sweden, GEOsat (Germany), DHI (Denmark) and Circle Consult (Denmark), developing a cost-effective multi sensor system for automated bird detection and species recognition in wind farms.
Our Wind Turbine Bird Strike Avoidance system (WITURBISA) will through integration with the wind farms' Supervisory Control and Data Acquisition (SCADA) systems perform automated sensor-assisted shutdown of wind turbines based on the prediction of harmful interactions with endangered birdlife, representing an enabler for wind energy in locations where birdlife is an obstacle.
Target Scoring
With restrained military budgets and increasing complexity effective and fast target scoring is essential. There is a need for a valid feedback almost in real time.
Nordic Radar Solutions has developed an Advanced Battlefield Integrated Scoring System (ABISS) that is a world unique, remote, advanced, stand-alone, commercial off the shelf (COTS) based radar system that delivers high quality, near real-time weapons scoring data to military customers when operating in extremely demanding environments. ABISS significantly reduces overall operating cost when performing sophisticated weapons testing and training events by reducing the amount of ammunition, range time, assets, support, and events needed.
With the Danish Armed Forces as partner and sponsor, Nordic Radar Solutions has currently developed its first target scoring system for the Royal Danish Air Force shooting range at Rømø.
AREAS OF EXPERTISE:
Airport safety
Drone detection
Bird-aircraft strikes
FOD Foreign Object Debris
Wind Turbine Bird Strike Avoidance
Realtime birdlife monitoring
Bird species recognition
Target scoring
RESEARCH INTERESTS:
Radar signal processing
Target detection, recognition and classification
Sensor Fusion
Advanced Radar signal processing
Radar platform design