EIRES researchers have developed a way to utilise heat storage in a safe, sustainable, and loss-free way.
Efficient storage and transport of heat is one of the major challenges in the energy transition. EIRES researchers have developed a way to do this in a safe, sustainable, and loss-free way.
Research leaders Olaf Adan and Henk Huinink are convinced their technology will have a great impact, stating that: "Our system can store the often wasted but abundantly available low-temperature residual heat from data centres and industry and use it to heat homes and offices."
To pioneer the energy transition, energy companies are primarily focused on developing heat networks as a means to disconnect districts from the natural gas grid. Adan and Huinink said: "The problem with these networks is that they are far from flexible and suffer from heat losses that reduce efficiency."
Over the past decade, together with TNO, Eindhoven University of Technology's research group Transport in Permeable Media (TPM), EIRES has developed a flexible and loss-free alternative heat storage system based on salt hydrates. The basic idea is simple: you take a chunk of hydrated salt and add some heat to it. The heat is used to evaporate the water, leaving you with dry salt. As soon as you expose the salt to water again, the heat will be re-released. As long as the salt is kept somewhere dry, the heat is stored in a loss-free way, if necessary for weeks or months on end.
Huinink explained: "Our solution is not only loss-free but it can also be used to harvest the heat where it is produced and bring it to the place where it is needed. There is no need for the two locations to be physically connected. It is this type of flexibility we desperately need in this phase of the energy transition."
After all, it makes little sense to build an extensive and expensive heat network connected to a coal-fired power station, which is bound to be phased out at any time soon.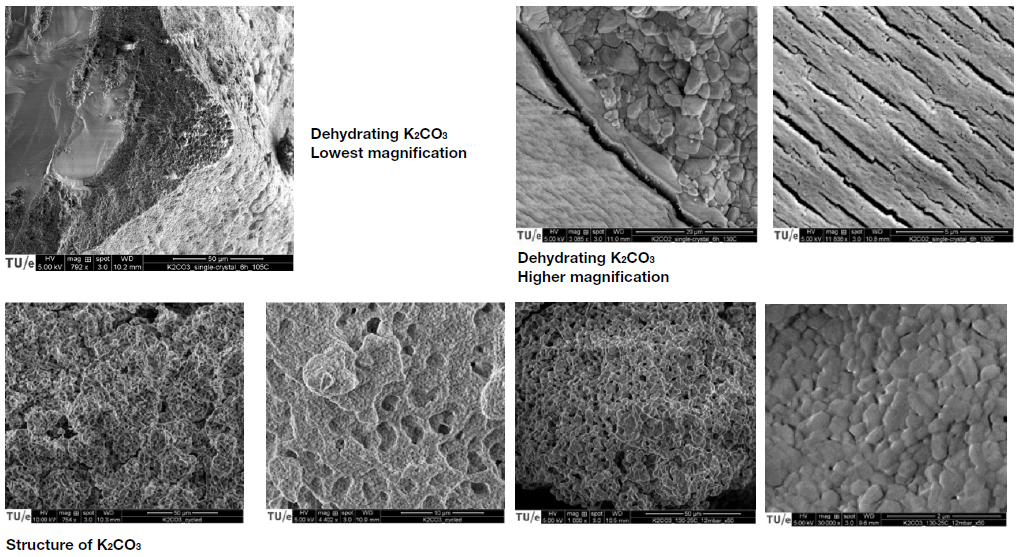 Facilitating the energy transition with unused potential
The salt-based system can operate under relatively low-temperature conditions, unlocking heat sources that are now often discarded.
Adan added: "Take the residual heat produced by a data centre. This is often regarded to be too low a temperature to be of use. With our technology, we can use this energy to warm up tap water to the required level of around 60°C."
In the Netherlands alone, low temperature (i.e. below 150°C) residual heat from industry accounts for some 150 petajoules of energy – enough to heat six million homes. As salt has a very high energy density, this heat can be stored in relatively small volumes.
For TU/e and TNO, the joint research on so-called thermochemical materials started around ten years ago. Adan said: "In 2008, we recognised heat storage and transport to be a potential barrier in the energy transition. In 2010, we hired our first PhD student to start exploring the possibilities of using thermochemical materials to this end."
Huinink continued: "The concept of using salt and water for heat storage is quite old. People have been working on this since the 1970s, at the time of the oil crisis. But all of their attempts to turn this idea into a usable technology failed. In hindsight, the problem was that none of them ever covered the entire chain from fundamental research to the end user."

The Eindhoven researchers decided to take a different turn in aiding the energy transition, by keeping the final application in mind during the development process. They aimed to develop a heat battery for households that stores excess renewable energy, for example, energy generated by solar panels on sunny days, and use it to heat the tap water later on.
Huinink explained: "Having defined the most important questions and most suitable material candidates, in 2015, we started a project to delve into the materials science and find out how the properties of the different salt hydrates we could use would map out on the envisioned operating conditions."
Potassium carbonate (K2CO3) was identified as the most suitable base material to do the job. This salt has such a high energy density that a refrigerator-sized battery should be sufficient to supply a medium household with warm tap water for about two weeks. Furthermore, salt is neither too expensive nor toxic, and it is made from abundantly available resources.
Building the first demonstrator
The researchers built the first heat storage demonstrator to convince external parties of the merits of their idea. This concept is currently being tested in Eindhoven, France, and Poland, to assess how different configurations – combining the heat battery with heat pumps, solar panels, or solar collectors – work in different climates and how this will work for the energy transition. On top of that, the researchers also experiment with heat transport, together with the industrial complex Chemelot, which is based in the Netherlands.
To further assist the energy transition and further accelerate the time to market this innovation, start-up company Cellcius is translating the findings from academic research into products and services. This does not mean the fundamental science part of the work is over.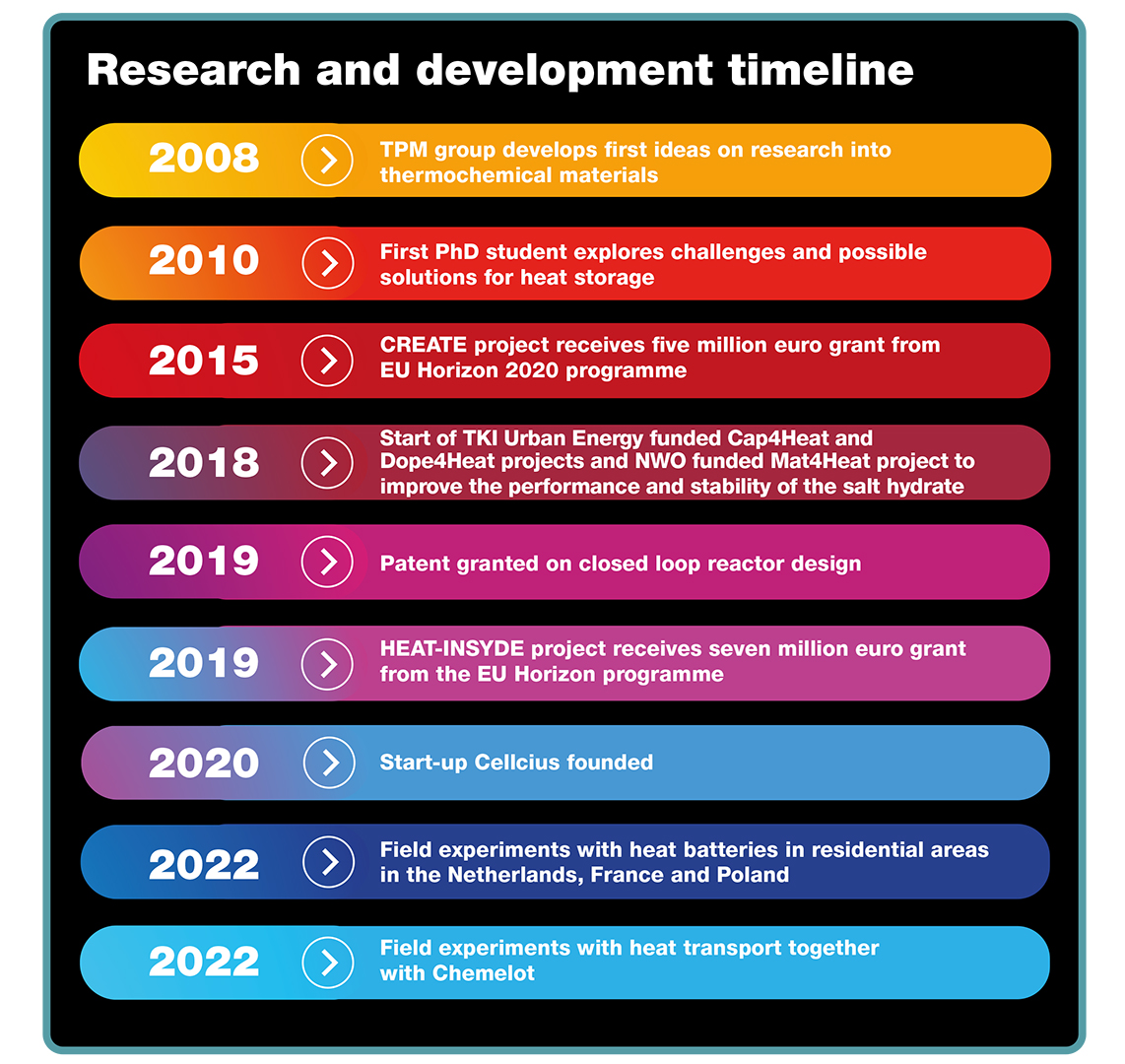 Huinink stressed: "On the material side, we are working on further improvements of the salt's performance. To that end, we are delving into the fundamentals of the hydration and dehydration process, and into the flow dynamics of the water vapour that we use to hydrate the salt. At the same time, we are still working on the material composition to further improve its stability and increase its lifetime."
Solving major problems associated with heat storage
"Looking back, we managed to solve two major problems associated with heat storage in a remarkably short period," Adan stated.
"First, we developed a potassium-carbonate-based salt composite that does not disintegrate nor coagulate during hydration and dehydration, enabling it to maintain its stability over multiple charging and de-charging cycles. Secondly, we came up with a patented system design that makes optimal use of the properties of the selected material."
The fact that EIRES made significant contributions to the energy transition in only ten years is also largely due to their systematic approach, Adan and Huinink agreed, stating: "We took a car and drove around Europe to visit groups working on similar concepts to assess upfront what would and would not work.
On the side, we have been setting national and European agendas for heat-related research. As a result, we were able to secure funding from large-scale, energy-related programmes we partly shaped ourselves. Finally, the fact that our group is a part of a thriving ecosystem of collaborating academia, knowledge institutes, and industry has surely enabled us to move fast."
To find out more about the research collaboration, visit: www.cellcius.com
Cellcius wins Breakthrough Energy Explorer Grant
Breakthrough Energy, a private investment coalition founded by Bill Gates, has awarded an Explorer Grant to Cellcius. Through this coalition, Gates aims to accelerate innovation in renewable energy to reduce greenhouse gas emissions. Cellcius is one of the first companies from the Netherlands to receive support from this fund.
Explorer Grants support ideas from young companies and provide funding for one year of research and development. If concrete steps are made in the development of the technology during this year, it may qualify for Breakthrough Energy's Fellows programme. The Fellows programme is a two-year mentoring programme that helps develop and commercialise promising technologies and is designed to bridge the gap between laboratory and market.
Olaf Adan, CSO of Cellcius, said: "I am enormously pleased with this award and proud that our work is also receiving international recognition. This is a fantastic confirmation of the potential our Dutch innovation has to rapidly contribute to global CO2 reduction. The award greatly accelerates the steps towards a market-ready product and towards opening up sustainable heat and cold for all."

Go to this partner's profile page to learn more about them