Matt Bull, Technical and Executive Director of Armadale Capital, outlines the objectives and progress made on the Mahenge Liandu Graphite Project in Tanzania.
Graphite is a crystalline form of the carbon element, with its atoms arranged in a hexagonal structure. Graphite is an excellent conductor of heat and electricity, making it ideal for uses in electronic products such as electrodes, batteries, and solar panels. The high thermal stability and thermal conductivity of graphite facilitates its use in refractories in high temperature material processing applications. It also makes an ideal form of lubricant due to its weakly bonded hexagonal structure, allowing graphite layers to be easily separated and slide past each other.
There are two forms of graphite used in the world today, synthetic and natural. Synthetic graphite is manufactured by high-temperature treatment to graphitise carbon materials such as petroleum coke and coal tar pitch. The main area of consumption is as electrodes for electronic arc furnaces but, due to the high temperatures of 2500-3000°C and the long heating times for production of synthetic graphite, it is a high-cost product.
Natural graphite comes in three forms: amorphous, vein, and flake. Amorphous, due to its tendency to strongly adhere to the surrounding minerals, is difficult to recover to purities above 85% total graphitic carbon (TGC) using conventional mineral processing methods and is therefore not used in high-tech applications due to additional processing costs.
Flake graphite is used for refractories, batteries, powder metallurgy, gaskets and seals, and thermal management. Future graphite demand is expected to be driven by application with high growth rates, specifically for:
Lithium-ion (Li-ion) batteries – spherical graphite;
Expandable graphite – flame retardants; and
Expanded graphite – foils for thermal management.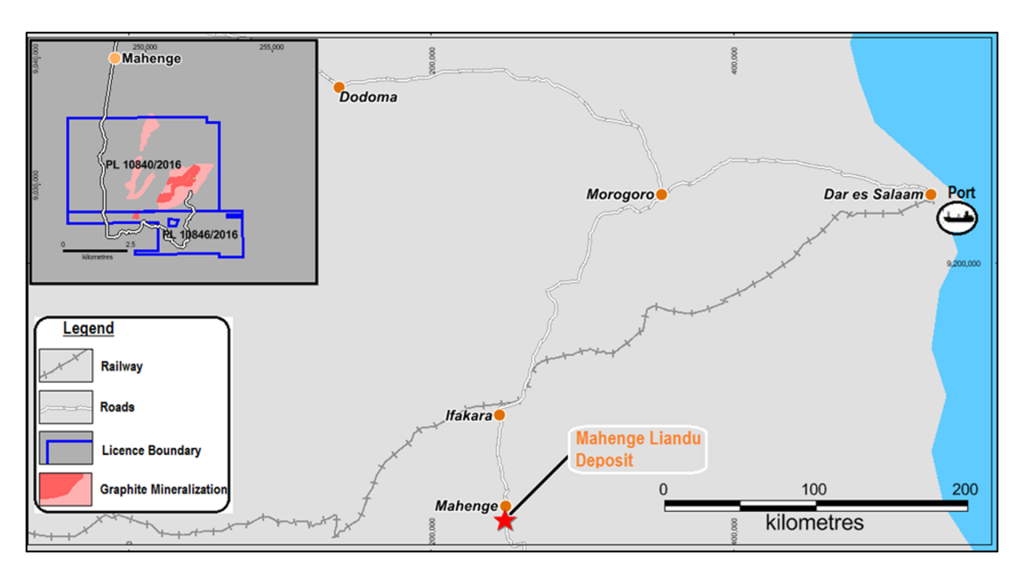 What is the The Mahenge Liandu Graphite Project?
The Mahenge Liandu Graphite Project is located in the Morogoro region, Ulanga district, Tanzania, close to existing transport infrastructure. It is 10km south of the Mahenge township and about 480km by road from Dar-es-Salaam.
The project is 100% owned by Armadale Capital PLC and the management of the Mahenge Project is, in turn, 100% owned by Armadale Capital PLC, a London AIM listed company.
In December 2016, Armadale/GAT announced a mineral resource estimate (MRE) for MLGP of 40.9 Mt at 9.4% total graphitic carbon (TGC). Following additional drilling, a JORC-compliant mineral resource estimate update was announced in February 2018 for the project of 51.1Mt at 9.3% TGC. Metallurgical test-work was completed on bulk surface samples aimed at providing initial process design information, as well as graphite flake size, concentrate grades, and recoveries.
During 2018, additional drilling was undertaken to upgrade the resource and to produce additional metallurgical samples. The Mahenge Liandu resource, as of October 2019, comprised a total mineral resource estimate of 59.5 Mt grading 9.8% TGC.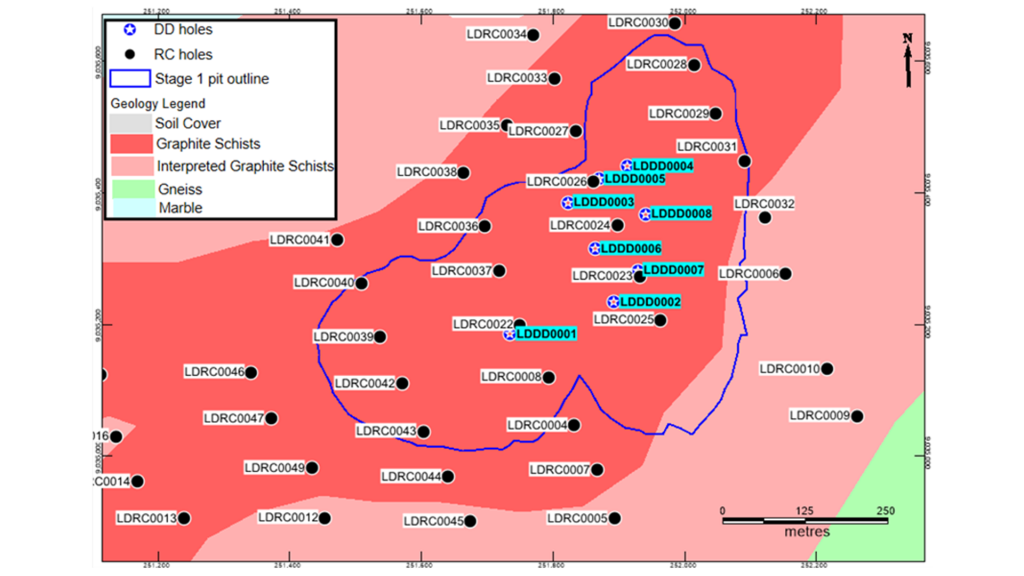 Future mining potential
Regionally, the Mahenge Liandu Project area is within the Usagaran (Mozambique belt) Neoproterozoic system, which principally comprises high-grade (amphibolite-grade) metamorphic rocks of both sedimentary and igneous origin ranging from schists to gneisses, including marbles, amphibolites, graphitic schist, mica and kyanite schist, acid gneisses, hornblende, biotite and garnet gneisses, quartzite and granulites which are overlain by Cretaceous sedimentary rocks in the East and Karoo in the South West. Structural trends of the Usagaran are mainly North South (Rose & Arnstein, 2015).
Rocks in the Usagaran system are well-known for hosting gold, nickel, copper, and different gemstones such as tourmaline, red garnet, tanzanite, and high-grade coarse graphite flakes. High-grade graphitic gneisses at the Epanko deposit (Kibaran Resources, 2015) has been reported as containing zones or bands with over 20% graphite. Several other graphite-bearing gneisses are reported within or near the Mahenge Crystalline Limestone Group.
In December 2016, a JORC-compliant inferred resource estimation for the project of 40.9 Mt at 9.41% TGC which was a maiden resource estimate announced on 8 October 2016.
Following further drilling, the resource was upgraded with a new MRE that was completed and released in February 2018, with a JORC-compliant MRE update for the project of 51.1 Mt at 9.3% TGC.
Mining is planned to be conducted utilising a competent and experienced mining contractor. Mine operations will utilise conventional truck and shovel open-pit mining methods, drill and blast using light charging, and technologies proven at other locations throughout the country.
Mine operations are expected to be a dayshift-only operation, with the flexibility to operate on a 24-hour basis as required.
Metallurgical samples were selected from several diamond drilling programmes. Material was selected in interval samples of half-cut drill core which were used to create two main composite samples, one of oxide/transitional material and one of fresh material.
Comminution and floatation test work was undertaken to determine the appropriate process flow for the ore to be liberated.
The project processing plant is designed to treat 0.4-0.5 Mt/y of high-grade ore. The ROM ore will be two-stage crushed, followed by grinding in a rod mill, with graphite recovered by flotation. The process includes multi-stage regrind milling and cleaner flotation to improve liberation and product purity. The flotation concentrate is then dewatered by filtration and drying. The product is screened and bagged as a final product in five different size fractions.
The power requirements for the main process plant have been calculated at a total connected load of 3.2 MW including all duty and standby equipment with an estimated average running load of 1.8 MW. A 4 MW power station comprising 4 x 1 MW diesel generator sets (gensets) rating with an N+1 strategy (number of sets required plus one for maintenance/standby) will supply power to the plant at 400V. The largest motors in the plant are the rod mills at 250 kW.
Tailings from the rougher-scavenger and cleaner flotation circuits report to a tailings thickener where flocculant will be added to the thickener feed. The tailings will be thickened to 50-55% solids and pumped to the tailings storage facility (TSF) for discharge using sub-aerial deposition from multiple spigots.
Thickener overflow will gravitate to a process water 'needle' tank and be pumped back to the milling and flotation circuits.
Water for the operation is expected to be available from a combination of bores, pit dewatering and surface catchment. Supernatant water will be recovered from the TSF via a submersible pump and reused in the process water system.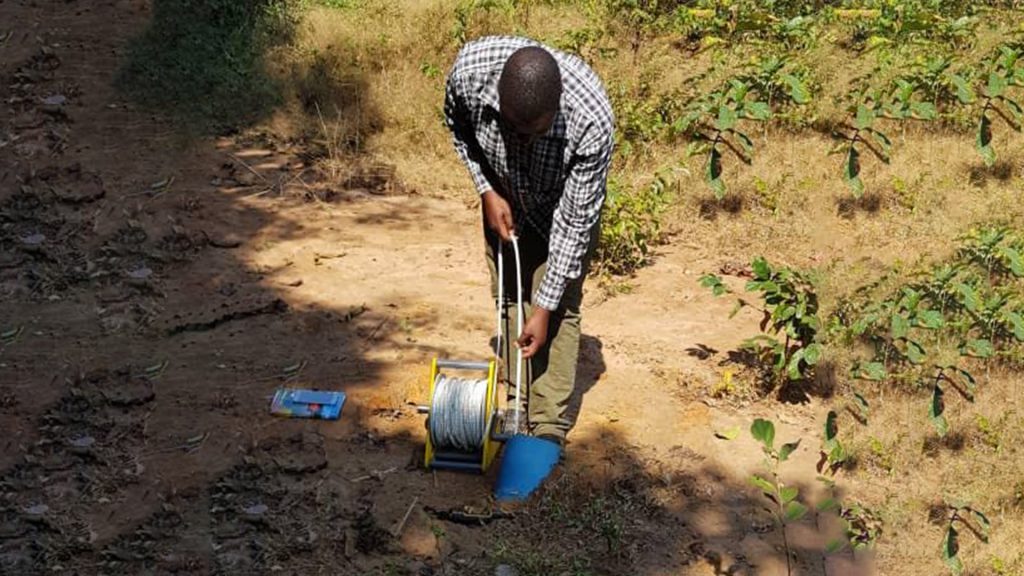 Fostering community support
Community engagement is critical to developing and maintaining effective relationships with local communities. It is the primary opportunity to empathise, to listen, learn and share, and it sets the tone for the company's relationship with local communities.
Community engagement does not occur in isolation and forms part of the company's overall engagement programme. The communities are a part of the hierarchy of relationships that includes the central government and several levels of local government.
The primary purpose of community engagement is to:
Ensure that the local communities understand what the company is doing with respect to the development of the project and what this means for the local communities;
Promote the concept of shared value, rather than company handouts and community dependency;
Provide a platform for communication with the company; and
Working with the community, in particular during the construction phase, where there is a great deal of activity and the reduced activity under the operations phase, employment opportunities and the potential for the company to procure goods and services form the local communities.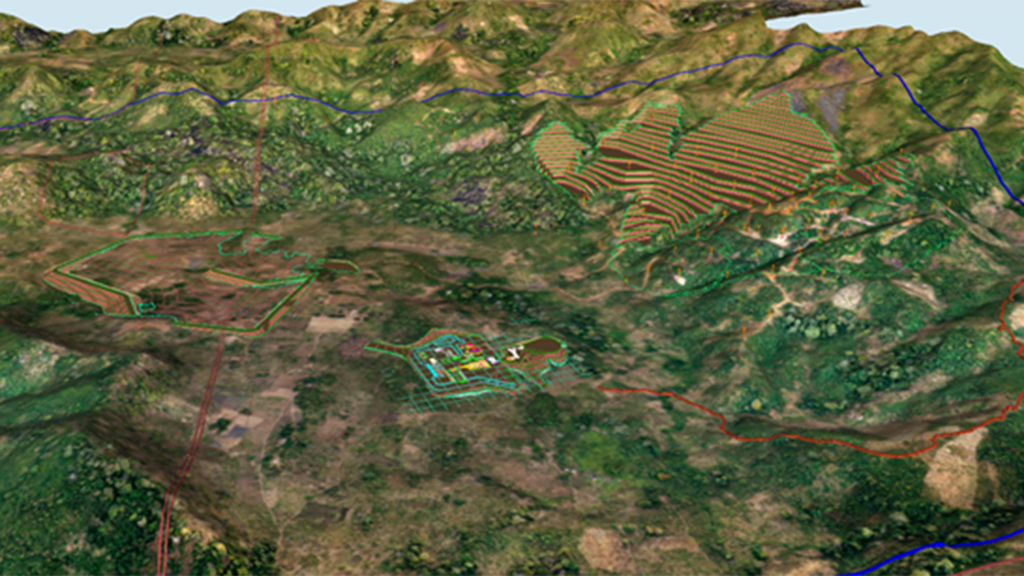 In addition to structured engagement, it is important to visit the local communities, walk around and talk with a cross-section of people, such as elders, business owners and young people. This form of engagement shows that the company is focused on sustaining a strong relationship between the communities and the project team.
Community development is the one tangible, broadly distributed benefit the locals might see from a project. Armadale has an existing programme for implementing community development initiatives. The programme is supported by a process that covers the steps from submission of applications through to programme funding and delivery.
Purchasing goods and services from local businesses provides benefits to the local community by creating business opportunities with local enterprises and, in doing so, promotes a more engaged and supportive local community. In time, it can also result in reduced operating costs as locally provided goods and services can be less expensive.
Tanzania has approximately one million people employed in the mining industry, mainly as artisanal and small-scale miners. There are several large-scale gold and gemstone mines, plus other small or developing nickel, copper, and platinum mines, so there is potentially a large pool of potential employees in Tanzania.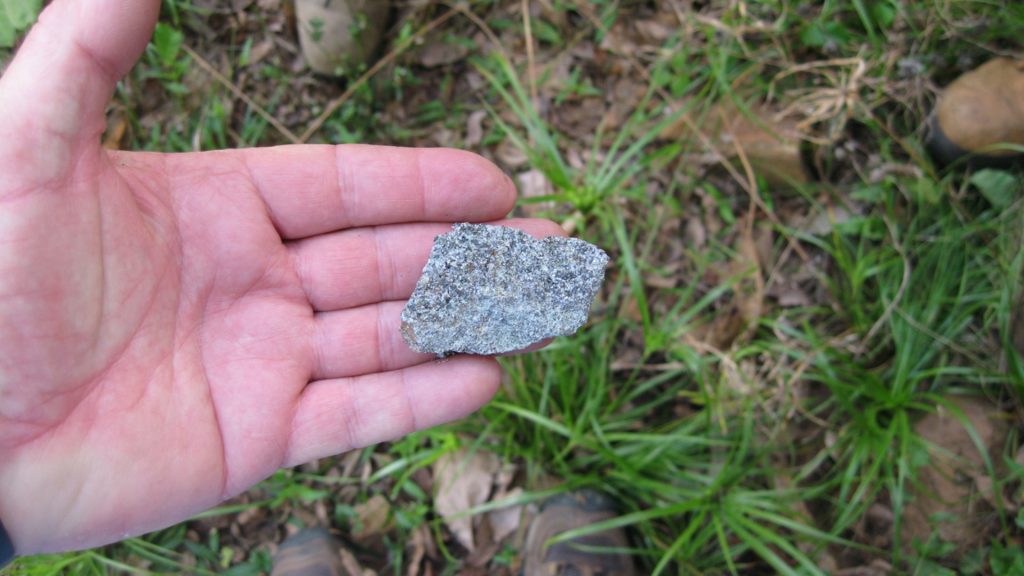 The Mahenge Liandu Graphite Project has a mining inventory to support an initial 17-year mine life producing a coarse graphite flake size, commanding a high value for the product.
The process plant design is based on proven technology and has been supported with a programme of metallurgical test work with the infrastructure requirements, such as roads, to support an operation of this size.
The company looks forward to the next stage of the project's development at a time of substantially increasing graphite demand.
Please note, this article will also appear in the tenth edition of our quarterly publication.