The PUREVAP™ Quartz Reduction Reactor from HPQ Silicon Resources is helping to improve the economic and environmental efficiencies in silicon metal production.
The PUREVAP™ 'Quartz Reduction Reactor' (QRR) is designed to take advantage of economic and environmental efficiencies in silicon metal production — efficiencies which offer North America the opportunity to reclaim the industry as a core domestic sector. Not only does the QRR have the potential to grow the economy and support middle-class job creation, but it can advance industrial decarbonisation at a critical point in history.
Silicon metal production in North America
The decline of North America's manufacturing sector has long played a central role in shaping the region's economy and politics. Largely a by-product of free trade policies and less regulated foreign labour and environmental markets, North America's offshoring led to a loss of well-paying manufacturing jobs and much of the foundation of the middle class. Silicon metal production – an element crucial to the modern digital economy and the ongoing renewable energy revolution – was no different and is now primarily based overseas.
An unfortunate side effect of this industry offshoring has been a marked increase in the pollution associated with manufacturing. Many countries favoured by free trade policies, such as China, India, Indonesia, and Malaysia, primarily rely on dirty energy sources like coal and exhibit more lax regulatory environments, enabling more significant residual discharges.
China, by far, is the largest silicon metal producer in the world, with no other nation even coming close. In 2021, the country produced six million MT of silicon, with the next most significant producer coming in at just 580,000 MT (Russia). This means that many of the technologies being used to fuel the global economy, and to stimulate renewable energy and other cleantech industries, are underpinned by unnecessarily dirty silicon metal.
This provides an opportunity for North America to regain its former manufacturing prowess –especially as ESG compliance and environmental reporting increasingly become mandatory. To do this, North America needs to harness a new competitive edge that aligns with other industrial and government objectives, like improving operational efficiency, fighting climate change, and adhering to sustainability commitments. There is no sense luring dirty operations back to North America, as necessary exemptions to regulatory compliance would be contrary to other societal objectives.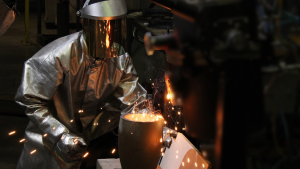 PUREVAP™ Quartz Reduction Reactor (QRR)
For silicon metal producers, this new competitive edge lies in the PUREVAP™ Quartz Reduction Reactor – a breakthrough technology capable of dramatically shaking up the silicon status quo.
Conventional silicon production relies on dirty smelters and several chemical cleansing steps to achieve the purity levels necessary for industrial applications, including feedstock for polysilicon and silicones and batteries. However, the QRR produces this high-purity silicon in a single step – without pollution from smelters and chemicals. As it is located in Quebec, Canada, the QRR is able to source energy from a grid that relies extensively on clean hydropower.
The QRR uses 25% less feedstock than traditional methods, providing up to a 20% cash cost advantage and reducing the amount of earth metals used. For every ton of silicon metal produced, the QRR requires only 4.5 MT of raw material. This is in stark contrast with conventional processes, which take 6 MT.
Heavy smelters – which fail to achieve the same purity levels as the PUREVAP QRR – use roughly 12,000 kWh of energy during the first cleansing stage. This is nearly the entire energy consumption of the QRR without even factoring in the additional steps needed to make the silicon industry-ready.
The PUREVAP QRR has clear economic advantages over competing silicon metal production techniques and has the means to repatriate the industry back to more ESG-friendly markets. With the potential to displace dirty silicon production while reinvigorating North American industrialisation across blue-collar communities, the QRR represents a truly remarkable technology.
Please note, this article will also appear in the twelfth edition of our quarterly publication.

Go to this partner's profile page to learn more about them