With its unique expertise in graphite and carbon-based solutions, Imerys Graphite & Carbon has become a market leader in providing innovative technology to enhance the performance of lithium-ion batteries.
Vehicles are no longer seen merely as modes of transportation but symbols of the technological advances in the automotive and energy-storage industries. The expansion of electric vehicles has been growing at a rapid pace for more than a decade, affecting the entire supply chain, and new technological enhancements are on the rise.
Within this context, Imerys Graphite & Carbon's role is to provide advanced technological solutions that can enhance the performance of lithium-ion batteries. The company is an industry leader in conductive additives, including the block buster Super P® Li and the C-NERGYTM line of conductive carbon blacks, which include the Super C65T and primary synthetic graphites such as KS6L and SFG6L.
A steady, growing leadership
Fully committed to the lithium-ion battery market, Imerys Graphite & Carbon is a global leader that offers graphite and carbon-based solutions to serve the big players within this segment.
Belonging to the Imerys Group – the world leader in mineral-based specialties for industry – Imerys Graphite & Carbon has its historical roots in Switzerland, where the company has been manufacturing and processing graphite for over a century. The company's global presence is significant, with three R&D laboratories based in France, Switzerland and Japan, and production facilities in Canada, Belgium, Switzerland, and Japan. Strong business partnerships and a high-quality service are ensured by the company's sales teams operating locally in all the key-markets.
Due to exceptional expertise and a customer centric approach, Imerys Graphite & Carbon markets a unique range of products. These include natural and synthetic graphite and conductive carbon black solutions which can be tailored to every client's needs.
In the lithium-ion battery market, the evolution of products and solutions has progressed – and is still progressing – in parallel with the technological advances and rapidly-changing business and production needs.
Imerys Graphite & Carbon has served the sector since the first commercial lithium-ion battery was introduced to the market in 1991.1 Back then, the lithium-ion market was relatively small and was primarily driven by the consumer electronics sector. Over the past 15 years, the demand for lithium-ion batteries has accelerated rapidly, primarily due to the development of technology for electric vehicles. This emerging market required high quality products to ensure efficiency and a favourable performance-to-price ratio. Imerys Graphite & Carbon was ready to respond with an offer of highly specialised graphites and conductive carbon blacks to serve all the major lithium-ion battery manufacturers.
By nurturing partnerships with key players within the industry, Imerys Graphite & Carbon broadened its expertise and from 2015, it began developing new carbon-based products. Two years later, the company acquired Nippon Power Graphite, with full ownership of an advanced, patented chemical vapour deposition (CVD) coating technology, which further strengthened its product portfolio for the electric vehicle market, and energy storage systems.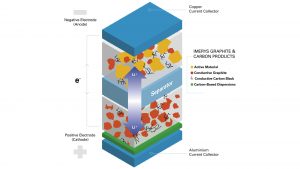 Imerys Graphite & Carbon's solutions became the benchmark within the industry and today, new breakthrough innovations are in the pipeline. A strong vision, supported by strategic investments, will ensure the company can grow in line with the market and continue to deliver new developments and enhanced technologies.
Commitment to the environment and sustainability
Considerable investments have been made specifically to mitigate the company's impact on the environment and favour the development of green solutions for its customers.
At the Imerys Graphite & Carbon site in Bodio, Switzerland a new SO2 treatment plant has been  fully operational since 2019. During the graphitisation process, the sulphur contained in the raw materials is released in the form of sulphur dioxide which needs to be treated. In order to further reduce these emissions, a significant investment was made in a new, state of the art SO2 treatment plant. This resulted in a 70% emission reduction in the first year of operation.
Another important phase will be deployed at the plant in Willebroek, Belgium where a recovery energy plan is underway. A plant will be constructed to allow the harvesting of energy generated during the production process and will result in a significant reduction in CO2 emissions.
Innovation, a focus on customer service, and sustainability will continue to direct the company's upcoming initiatives. Frank Wittchen, Vice President and General Manager, expresses his vision for the future: "Our objective is to develop and implement a sustainable growth strategy to continually reinforce the position of Imerys Graphite & Carbon as a world leader for speciality graphite and carbon solutions. Our primary focus is on our customers. We strive to utilise all our competencies and the passion of our teams to develop sustainable solutions which meet our customers' current and future needs."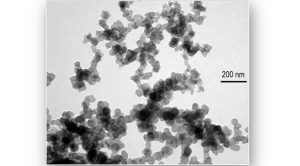 Innovative solutions for the lithium-ion battery industry
Some are well established benchmarks in the industry, and some are brand new: the strategic focus on solutions has remained the same – delivering sophisticated, premium conductive additives of the highest quality which are critical to the performance of the battery. The C-NERGY brand includes a complete range of high purity, primary synthetic graphite's and conductive carbon blacks especially designed for lithium-ion batteries.
Primary synthetic graphite's
C-NERGY L-SERIES  (KS6L, KS15L, SFG6L, and SFG15L) is a range of high purity, speciality, primary synthetic graphite's optimised for the lithium-ion market.  These grades have a very high crystallinity which makes them more electrically conductive compared to other products on the market.  This allows the cell manufacturer to achieve the same level of conductivity with a lower loading, giving them a higher degree of flexibility when designing their anode and cathode material mix. Another advantage of this crystalline structure is that it gives the battery a high cycling stability and charge acceptance. In other words, it is easier to charge the battery, and the charge does not diminish as quickly with each consecutive charge.
C-NERGY L-SERIES also contribute to a high electrode density and low spring back. This means that when the electrode is compressed, it will not rebound or expand. This is advantageous as manufacturers are always looking to design more compact batteries and optimise space. Compressibility also contributes to improved mechanical stability which in turn leads to improved battery safety and longevity.
These graphite's are characterised by efficient wettability, making them easy to disperse in the electrode slurry. The result is improved battery performance due to efficient anode wetting by the electrode.
Conductive carbon blacks: additives for the positive and negative electrodes
Carbon black is an essential ingredient in all lithium-ion batteries. It fills the free space and creates electronic and ionic pathways between the active material particles; its presence also enables the lithium-ions to travel between the positive and negative electrodes.
Imerys Graphite & Carbon has a unique production process that allows for a high degree of control over the structure and qualities of their carbon blacks and enables them to develop innovative solutions to meet their customers' requirements.
C-NERGY conductive carbon blacks are highly structured or branched. The benefit of this is higher electrical conductivity and a product that is easy to disperse in the cathode slurry. It is also highly graphitic, which ensures system stability.
Imerys Graphite & Carbon is known for carbon blacks of the highest purity which reduces the risk of costly rejection of cells for the manufacture. This also improves the battery safety for the end user.  Improving purity is a constant aim for Imerys Graphite & Carbon, both in respect to production processes and measurement methods.
C-NERGY SUPER C65T has a unique combination of high structure and low surface area which guarantees an exceptional distribution in electrode slurries.
Imerys Graphite & Carbon is launching three new grades this year:
C-NERGY SUPER C130T;
C-NERGY SUPER C400T; and
C-NERGY SUPER C800T.
The objective of these developments is to create carbon structures with more carbon units per unit of weight, in other words more carbon units to disperse throughout the electrode structure.  This will increase the number of contact points and consequently result in higher electrical conductivity, ensure a high level of processability and cost-effective production. Of course, improved purity goes without saying.
Carbon-coated graphite's by chemical vapour deposition (CVD)
One of the highly specialised graphite products in Imerys Graphite & Carbon's portfolio is our C-NERGY GDHR carbon coated graphite's.  A unique chemical vapour deposition process is used to coat a graphite substrate. The process is more environmentally friendly compared to conventional pitch coating.
These graphite's are used as an active mass in the negative electrode. The special surface treatment protects the graphite and improves the charge-transfer resistance. They are especially beneficial where high energy density is required – for example, in electric vehicles or rechargeable power tools. They are also beneficial for applications that are used in low operating temperatures.
Imerys has recently launched another family of CVD coated graphite – QX Quick charge. This is a conductive additive to enhance the performance of the active mass in the negative electrode which is shown to significantly improve the charge rate at low temperatures.
Innovative, customer centric, and quality focused
Development of solutions always starts from understanding a customer's needs. Fostering close technical and commercial partnerships ensure a fast and responsive service. At the same time, Imerys Graphite & Carbon offers a highly dedicated and competent technical service. Research and development experts, and the team of application engineers, work closely with customers on their specific projects in order to help them fully leverage the company's processes and solutions.
Quality management also plays a fundamental role. Processes, management systems, and measurements are in place to deliver the highest quality solutions. A dedicated interdisciplinary structure – Measurement Competence Center – is responsible for the development of analytical methods to monitor the characteristics that are critical to the quality of products.
A notable accomplishment of the Imerys Graphite & Carbon R&D team is the recent development of an enhanced measurement method ICP-MS which allows the more precise measurement of Fe-based particle contaminants in graphite powders.2
This is the result of over ten years of studies and an in-depth understanding of graphite production processes. The adoption of this method not only complements the existing analytical tools, such as the Hybrid-XRF for conductive carbon black, but it translates into an enhanced tool for Imerys Graphite & Carbon, their customers and the industry at large.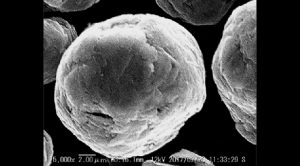 The finetuning of the ICP-MS method implies benefits on two sides. For customers, this ensures a vast array of information about the purity of the product that is fundamental to their own research and development phases. For Imerys Graphite & Carbon, it represents a valuable tool to further standardise and control production processes and the quality and safety of the final product. This stands as a further commitment to quality and customer satisfaction, fundamental to serve the market and set innovation.
Continuous evolution
Together with the major automotive companies and supply chain partners, Imerys Graphite & Carbon will continue to play a critical role within the market by finding solutions for the upcoming green energy technologies. Anticipating needs and setting new standards are vital in order to contribute to a better future for society and generations to come.
References
https://en.wikipedia.org/wiki/Lithium-ion_battery – 'Yoshio Nishi'. National Academy of Engineering. Retrieved 12 October 2019
Talanta 224 (2021) 121827, Elsevier – https://doi.org/10.1016/j.talanta.2020.121827
Please note, this article will also appear in the sixth edition of our quarterly publication.