Discover what is to come at the REIA 2022 Annual Conference, as the global rare earth community joins together again for the first time since the COVID-19 pandemic.
The global Rare Earth Industry Association (REIA) is preparing for its next global conference, to be held on 5-6 October at Congress Park Hanau-Frankfurt.
Rare earth elements (REE) are critical materials for electric vehicles (EVs) and wind turbines. EVs will only unleash their full environmental benefit when the electricity mix evolves towards a higher renewables content. For that, wind turbines also rely on rare earths' magnets for the highest efficiency and low-maintenance cost.
Despite their unmatched technological benefits, rare earths are considered scarce, their extraction is expensive, prone to price volatility and their supply chain concentrated in a single country. However, these perceptions do not entirely correspond to how the rare earths industry has evolved since the very mediatic 'Rare Earths Crisis' of 2010.
New producers, better technologies and a fast-growing demand make for a very different picture that requires, more than ever before, a strong collaboration between the rare earths industry, its industrial customers, research institutions and governments to ensure these materials deliver on their incredible potential to decarbonise energy and transportation. That is a key objective for REIA.
A hub for industry decisionmakers
This global annual conference will bring together key decisionmakers in the technologies of vehicle electrification and wind energy, rare earths producers, magnet makers, and more to review the current supply situation and identify improvements to better satisfy the requirements of the industrial downstream customers for a better technology adoption.
The 'Rare Earths for a Sustainable World' conference will be inaugurated by the legendary Professor Masato Sagawa, who invented the NdFeB sintered magnet. His speech will focus on 'Aiming at the Rare Earth Iron Age'. Professor Sagawa was recently awarded the Queen Elizabeth Prize in Engineering. His colleague Dr Iriyama Takahiko will speak on non NdFeB rare earth magnets.
Other speakers include representatives from Stellantis, ZF, Helix Motors, Neo Performance Materials, Grundfos, and WoodMcKensie, to name but a few.
REIA is looking forward to welcoming visitors from across the globe, and is delighted to have the opportunity to finally meet in person.
You will find the full programme and registration details here: https://www.global-reia.org/conference-2022/
For more information, please contact Florence.gomez@global-reia.org
Speaker spotlight: Minviro
Amongst the extensive offering of carefully selected speakers at the REIA Annual Conference is UK-based sustainability consultancy and technology company Minviro.
Minviro Ltd recently launched its innovative raw material life cycle assessment (LCA) software, MineLCA. After building a strong knowledge base of quantitative environmental impact data during the last four years of LCA work in the raw materials sector, the team at Minviro has created a tool for analysing projects producing ore, concentrate, metals, chemicals, and downstream technologies. This places the power to understand sustainability into the hands of those making decisions in the industry and integrates LCA firmly in the metal and minerals value chain. Demand for such materials is only increasing, and the pressure is building on producers to recognise the environmental burden of their products to remain competitive.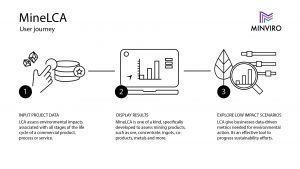 By using material and energy consumption data, plus any direct emissions from projects in development or operation, MineLCA generates accurate, regionally specific and process-driven environmental impacts for the production of a given end product – this can be a tonne of monazite ore, a kilogram of refined neodymium, and everything in between. Every bit of electricity and fuel, and every chemical and raw material used in a process bears embodied impacts, and MineLCA effortlessly does the complex LCA calculations to work this out, so the user doesn't need to.
MineLCA analyses up to 16 impact categories, including global warming potential (i.e., CO2 equivalent broken down by scope 1-3 emissions), acidification potential, ecotoxicity, particulate matter emissions, water scarcity, land transformation, and more. Not only this, but the tool helps simulate low-impact scenarios specific to the project in question by highlighting the most impactful inputs to the process for a chosen impact category and exploring alternative choices. This includes renewable energy scenarios, different reagent supply chains, and completely new process flows, which allows users to plan for future impact reduction roadmaps with a robust predictive methodology.
Minviro is working with REIA and Circularise to integrate MineLCA functionality into a new platform, CSyARES, that quantifies impacts related to the rare earth elements supply chain, using blockchain technology and guidelines from Product Category Rules (PCRs) for this particular commodity sector. The CSyARES project, which commenced in mid-2022 with an EIT Raw Materials grant, unites players from the entire supply chain, from resource extraction to magnet and motor manufacturing, to harmonise how environmental impacts are classified and promote traceable, sustainable material flows.
Get in touch with Minviro at www.minviro.com or by emailing info@minviro.com if you would like a demo of the software, a 24-hour trial account, or for more information about LCA or the company as a whole.
Rare Earth Industry Association
REIA – Rare Earth Industry Association
www.global-reia.org
https://www.linkedin.com/company/gloreia/?originalSubdomain=be
https://twitter.com/REIA_global
Please note, this article will also appear in the eleventh edition of our quarterly publication.