Renault Group has revealed a significant development in their mission to produce sustainable, European made electric vehicles, partnering with Vulcan Energy's ZERO CARBON LITHIUM™ project.
Automotive industry leaders Renault Group, who are pioneering innovative electric vehicle technologies for the European market, have signed a lithium offtake term sheet with global-leading lithium developer Vulcan Energy, which will see the car manufacturer join its ZERO CARBON LITHIUM™ project.
The agreement is scheduled for an initial period of five years, which, if mutually agreed upon, can be extended at its conclusion, with the start of commercial delivery set for 2026. Joining the ZERO CARBON LITHIUM™ project will see the Renault Group procure between 6,000 and 17,000 metric tonnes of battery-grade lithium, allowing the company to reduce its CO2  output by between 300 to 700kg for a 50kWh electric vehicle battery.
At the forefront of electric vehicle production
By joining allegiances with the ZERO CARBON LITHIUM™ project, Renault Group has made a major step in establishing a sustainable lithium chain to produce their next generation of electric vehicles. 2030 marks the end of the production of petrol and diesel cars in Europe – with the European commission striving to achieve carbon-neutrality by 2050 – an economy with zero greenhouse gas emissions.
With the transition to electric vehicles becoming increasingly more imminent, Renault Group's partnership with Vulcan Energy's ZERO CARBON LITHIUM™ project signifies a monumental step that will put the French car manufacturer at the forefront of Europe's electric vehicle production.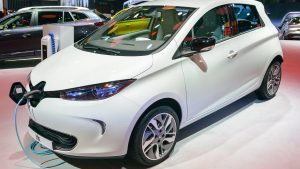 Renault Group aims to produce 'made in Europe' electric vehicles, an ambition that recently saw the company launch Renault ElectriCity, which is one of the industry's leading production units for electric vehicles in Europe. The group will continue to ramp up production by purchasing between 6,000 to 17,000 metric tonnes of Vulcan Energy's battery-grade lithium chemicals annually.
Obtaining carbon neutrality by 2050 is at the heart of the Renault Group's operations, which is aiming to accelerate its electric vehicle strategy to achieve the greenest mix in the European market by 2025, with more than 65% of electric and electrified vehicles in the sales mix and around 90% of battery electric vehicles in sales mix by 2030.
A green future with the ZERO CARBON LITHIUM™ project
The ZERO CARBON LITHIUM™ project aims to eradicate the carbon footprint that is created in the process of manufacturing electric vehicle lithium-ion batteries. The project is achieving this by producing the world's first lithium hydroxide monohydrate chemical product from a geothermal lithium brine project located in the Upper Rhine Valley, Germany.
The traditional method for obtaining lithium involves extraction and refinement from hard-rock mines, a process that would emit 1.05 billion tonnes of CO2 in powering the entire planet's electric vehicles.
In contrast, the ZERO CARBON LITHIUM™ project causes zero harm to the environment, producing battery-grade lithium through the combination of its geothermal energy and lithium resources whilst simultaneously mitigating lithium's high carbon and water footprint on production. This green process will see the Renault Group reduce the amount of   CO2 produced in each 50kWh battery by 300 to 700kg.
Gianluca De Ficchy, the Purchasing and Managing Director of Alliance Purchasing Organization at Renault Group, said: "We are very proud to partner with a European lithium producer with net-zero greenhouse gas emissions such as Vulcan Energy. Our environmental and social responsibility is at the heart of the Renaulution, and this must also apply to the providers we partner with if we want to create real value and offer the most sustainable vehicles in the market."
Vulcan Energy Managing Director, Dr Francis Wedin, commented: "It is important that we work with companies who share our ethos on sustainability. Renault Group is a pioneer in the EV space, with the successful introduction of truly affordable, mass-market models. Perhaps most importantly, the number one pillar of Renault's strategy is 'Carbon neutrality – Green as a business', with a commitment to producing carbon-free batteries and becoming carbon neutral. We look forward to a long and productive relationship between Vulcan and Renault going forward."