Located in one of the best mining states in Brazil, Resouro's Tiros Project represents potentially one of the world's largest undeveloped titanium projects, with heavy rare earths identified in historic drilling.
As the clean energy market continues to surge, demand for the raw materials required has never been more critical. Among the most essential components are titanium and rare earth elements (REEs), which are used in a wide array of applications. Resouro's Tiros Titanium and Rare Earth Project is here to fill in the gap.
Resouro Tiros Titanium and Rare Earth Project
At the beginning of this year, Resouro (TSXV: RAU) (FSE: BU9) announced that it was acquiring a stake in the Tiros Titanium and Rare Earth Project with the farm-in agreement to increase its ownership to 90% by completing several strategic development steps, such as a preliminary economic study, preliminary feasibility study, and definitive feasibility study. The project, which consists of ten mineral concessions covering 152km2, is in Brazil's Minas Gerais, a very pro-mining jurisdiction, and has excellent infrastructure and access to a qualified workforce. Resouro's team thinks that unlocking the value lies in de-risking the metallurgical and mineral processing component and is already moving ahead with the work programme that includes drilling and metallurgical testwork.
The Tiros Rare Earth Project covers the most prospective portions of the Capacete Formation with the greatest exploration potential and sits in a region occupied by pastures and crops, carrying low overburden and low environmental impact.
Vertical drilling characterised mineralisation as horizontal tabular bodies with an average thickness of between 20-40m. Thin unconsolidated overburden results in low estimated stripping ratios where waste could be deposited in already-mined areas. The ore is soft and weathered with fine grain size – Tiros will not require blasting or milling.
Preliminary metallurgical testwork completed by previous owners indicated an easy, low-energy intensive flowsheet with the resulting concentrate reporting 86-90% TiO2 and low levels of radioactive or deleterious elements. Four core project licences have a non-compliant resource of 630 million tonnes at 12% TiO2, and Resouro is working on converting it into a compliant NI 43-101 Resource.
In 2021, the global titanium market was valued at $24.7bn and, by 2026, it is projected to reach $33.5bn with a compound annual growth rate of 6.3%.
Titanium, known for its incredible strength-to-weight ratio, corrosion resistance, and high-temperature tolerance, is an indispensable material for the electric vehicle (EV) industry. One of the most crucial factors in EV performance is lightweighting, as reducing the vehicle's weight directly impacts energy efficiency and range. Titanium's remarkable properties make it an ideal choice for manufacturing lightweight components, such as battery casings, fasteners, and chassis elements. The commodity also witnesses rising demand in industrial use, such as in paints, coatings and rubber, as well as from aerospace, defence, and chemical process industries.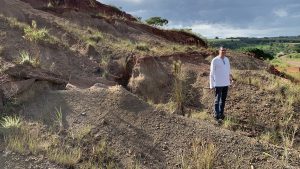 Tiros' rare earth potential
While Tiros' titanium exploration potential is estimated at over two billion tonnes, the project is also highly prospective when it comes to rare earths. Historical data from the previous project operators shows that approximately 24% of the content is made by neodymium, praseodymium, and dysprosium – elements used in magnet manufacture.
Results from the laboratory SGS-Geosol, using samples from 21 Core and RAC drillholes and totalling 288 samples, were used to define the mineralised bed, using a TiO2 cut-off grade of 6%. Within this bed, TiO2 grades average 13.4% and rare earth oxides average 0.4% TREO. These are averages weighted by sample size and do not represent a resource evaluation. High-grade intervals, with more than 20% TiO2 and 1% TREO, up to 4.8m thick, were identified in five holes.
The global demand for rare earths, which are employed in a range of applications including permanent magnets used in electric vehicles and renewable energy devices, has increased in recent years as the world looks to meet its decarbonisation goals.
By 2035, Adamas Intelligence, the independent research group, expects the production of rare earths to more than double and add about 300,000 tonnes, compared to 2021. But that would still not be enough to keep up with the annual growth in demand of 8-10%. In a report published in April 2022, Adamas said that the lack of new primary and secondary supply sources for rare earth oxides in the market from 2022 onwards, coupled with the inability of existing producers to increase their output, will create a major neodymium-praseodymium (NdPr) oxide shortage by 2035.
Estimating the exact increase in titanium and rare earth element (REE) supply needed to meet the 2050 carbon goals is a complex task, as it depends on several factors, including technological advancements, market trends, and policy measures. However, it is evident that the demand for these materials will increase significantly, as they play a crucial role in the transition to a low-carbon economy.
In fact, there has been a wave of new acquisitions in the rare earths space recently, including several large transactions in Brazil, which is becoming a new hotspot for the critical minerals industry. The market capitalisation of the ASX-listed Meteoric Resources more than quadrupled on the announcement of the option agreement for the Caldeira Project in Minas Gerais, and Canada's Appia Rare Earths and Uranium Corp. just signed a deal to acquire a rare earths ionic clay project in Goiás State.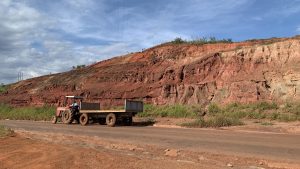 Resouro's Tiros Project compares very favourably with these acquisitions in terms of grade and size, yet has a significantly lower acquisition cost.
Progress at the Tiros Project
So, how is Resouro moving ahead with Tiros? Currently, the company's team is building and verifying the database of historic data as well as planning a 600m Auger drill programme using its own equipment and a 500m aircore drill programme to have sufficient data for a NI 43-101 compliant resource. The company is also developing metallurgical testwork flowsheets and will appoint a UK-based specialist metallurgical laboratory for specialist TiO2 and REE testwork.
In the meantime, Resouro has prepared a 208kg composite sample to be submitted to a local lab for analysis. The sample was made by collecting material from 243 samples from the existing RAC drill holes, selected from the intervals representative of the expected ore, which are defined by predominance of the more intensely weathered zone, by TiO2 grades over a cut-off grade of 6% and by TREO grades over a cut-off grade of 0.1%. The expected result is a process route to produce concentrates of TiO2 and rare earths.
Resouro anticipates that the initial work programme would move fast and result in a maiden resource in the next few months, as well as initial metallurgical testwork results. The company's team will then start working on the Environmental Impact Assessment (EIA), planning of environmental and social governance programmes, initial conceptual strip-mining planning studies and mine rehabilitation studies. Further assessment of the infrastructure and initial capital and operating cost assessment alongside the REE and TiO2 offtake market analysis will follow.
The benefit to considering Resouro as an investment now is that it boasts the essential details that make an asset like this successful, but the value attributed to it is yet to be realised. The company has set out to begin unlocking the full potential of the Tiros Rare Earth Project, and there is still time to position yourself before the share price begins to move.
Please note, this article will also appear in the fourteenth edition of our quarterly publication.