VRX Silica explores the impending shortage of silica sand, the need for responsible sourcing, and why the company's three multi-decade silica sand projects in Western Australia are a part of the global supply solution.
Global stocks of silica sand are being exhausted much faster than they are being discovered, and if shoring up the supply of the world's second-most used commodity after water is not already front of mind for investors, governments, and regulators around the world, it will be.
As the primary ingredient for all glass and concrete, silica sand is the foundational ingredient of the modern city. The UN estimates that the world currently uses 50 billion tonnes – or enough sand to build a wall 27m wide and 27m high around the planet – every year.
There is already a global supply squeeze on silica sand and, as populations within the developing world continue to rapidly urbanise, the demand is forecast to grow significantly year on year. As supply sources dwindle, miners are increasingly sourcing silica sand from vulnerable ecosystems and waterways.
There are well-documented environmental impacts of silica sand mining in marine and riverine systems leading to erosion, salination of aquifers, loss of protection against storm surges, and impacts on biodiversity. These threaten livelihoods through negative impacts on water supply, food production, fisheries, and tourism.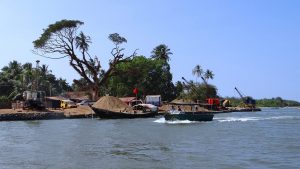 The impacts of sand mining have been so devastating that, in many Asian countries, including in parts of China and India, sand mining has been outlawed in rivers and lakes.
VRX Silica's potential to produce the world's silica
VRX Silica Limited's (ASX: VRX) three significant silica sand projects located in the Tier 1 mining destination of Western Australia (WA) – Arrowsmith North, Arrowsmith Central, and Muchea – have the potential to supply responsibly sourced, high-grade silica sand for more than 100 years.
The company's silica sand deposits sit on granted Mining Leases with secure tenure and a combined Mineral Resource of more than 1 billion tonnes of 99.6%-99.9% SiO2 grade silica sand. Bankable feasibility studies evaluations show that the three projects all have an initial mine life of 25 years of economic production.
Bruce Maluish, Managing Director of VRX Silica, believes the company will play an important role in providing responsibly sourced silica sand to meet current and future demand.
Mr Maluish stated: "Global silica sand supplies are running out. Once in production, VRX Silica's three responsibly sourced silica sand projects will be a part of the long-term solution.
"The rapid urbanisation of the global population means that enormous volumes of sand are required per year to keep up with current demand.
"With the global population expected to reach 9.7 billion people and urbanisation levels set to hit 68% by 2050, the demand for silica sand will only increase."
Concrete and glass for construction projects are not the only uses for silica sand. It also has a crucial role to play in the global decarbonisation effort. High purity silica sand with a low iron content is needed for the high-tech glass used in solar panels and smart screen technology. The increased uptake of solar panels in the Asia-Pacific region is expected to drive exponential growth in demand for ultra-clear glass over the coming decades.
Mr Maluish explained that there is a perfect opportunity for Western Australia to establish a new industry, just 50km from the Perth CBD at its Muchea project.
"Muchea is near Perth's northeast corridor, with the newly completed $1.2bn NorthLink WA infrastructure project connecting to a large, qualified workforce in the northern metropolitan region of Perth, and a secure domestic gas supply underpinning downstream processing and products from Muchea silica sand," he said.
Not all sand is equal
Not all sand can be used for glass and concrete. It is the shape of the crushed quartz crystals that make silica sand essential for concrete. The jagged edges of the grains allow it to bond when mixed in concrete. This means much of the world's desert sands have no use in concrete.
High-quality silica sand is developed from millions of years of granite weathering to produce clean, well-sorted quartz sand. This sand naturally occurs in marine and riverine systems referred to as active systems, or in dune deposits referred to as passive systems.
To meet the requirements of modern industry, high-grade silica sand must contain a concentration of silica of more than 99.5% SiO2. VRX's Arrowsmith North and Arrowsmith Central projects exceed this purity requirement at 99.7% SiO2 and 99.6% SiO2 purity, respectively.
The lucrative market for high-tech glass used in solar panels and smartphones requires ultra-high 99.9% purity silica sand. Muchea is one of a handful of world-class silica sand projects with an outstanding grade of +99.9% SiO2 and, most importantly, low impurities and less than 100ppm Fe2O3.
Not all sand is ethical
Most Asian countries have bans in place to limit or stop silica sand mining, but the insatiable demand for concrete and glass has driven mining into illegal and often dangerous underground activity. Well-documented cases of illegal silica sand mining operations known as 'sand mafias', run by organised crime syndicates and operations, have been linked to everything from human trafficking and slavery to racketeering, extortion, and even murder.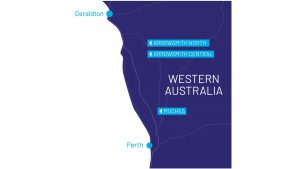 VRX Silica's three silica sand projects are located on passive dune deposits in the highly desirable and safe mining jurisdiction of Western Australia. Western Australia's rigorous environmental assessment and approval processes ensure that any new mining operations meet and exceed social and environmental standards.
VRX Silica has selected its projects in inland areas where, due to the predominantly low-lying scrub covering the land, clearing land for mining will cause minimal disturbance to native flora and fauna.
The VDT Method
Its designed-for-purpose mining method, the Vegetation Direct Transfer (VDT) Method, puts rehabilitation at the heart of the mining process and ensures direct and ongoing rehabilitation of mined land by keeping the vegetation, topsoil, and microbiomes intact.
All three of VRX Silica's silica sand projects are suited to the VDT mining method. When clearing vegetation for a new mining area, VRX Silica will use a purpose-built and custom-designed front-end loader spade that lifts in-tact a 3x3m, 40cm-deep sod of topsoil from the area to be mined, and transfers it directly to the previously mined area.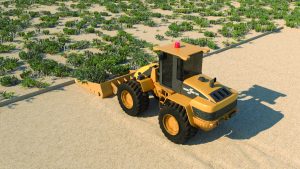 This 40cm sod contains the vast majority of native flora and invertebrate fauna while the root systems, near-surface humus, and all microbial contents remain intact for an immediate restoration.
Three high-purity, long-life silica sand projects in Tier 1 destinations
Arrowsmith North
The Arrowsmith North silica sand project is VRX Silica's most advanced project, with production scheduled to commence in 2023.
The project is located about 270km north of Perth, Western Australia, and adjacent to the Brand Highway and Geraldton-Eneabba railway – giving the company a direct connection to the Geraldton Port, and therefore bulk exports.
Arrowsmith North has a Total Mineral Resource of 771 MT at 98.0% SiO2, and a Total Ore Reserve of 223 MT at 99.7% SiO2. The company published a bankable feasibility study based on an initial 25-year mine life. A modest $40m capital expenditure (CapEx) is required to build the 2Mtpa operation, and the project is expected to yield $2.7bn in revenue over the initial 25-year mine life.
Permitting for Arrowsmith North is advanced. The Western Australian Environmental Protection Agency (EPA) approved VRX's Environmental Scoping Document (ESD) in March 2022 – a key milestone for the company that provided clarity around the final hurdles of environmental approval for the project.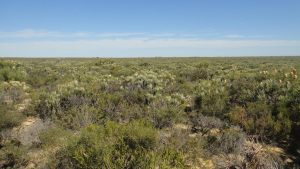 The next stage in the process was the submission of an Environmental Review Document (ERD), lodged in July 2022, that will be published on the EPA website once it is accepted.
Based on current estimates on timing after consultation with the EPA, the final assessment is expected to take place in December 2022. A short construction phase, expected to take six months, will begin soon after final approval, and the project will then begin producing high-grade silica sand for international markets.
VRX Silica is exploring options for renewable energy supply at Arrowsmith North to supplement or even replace LNG gas as the primary power source. In March 2022, the company announced a Memorandum of Understanding (MoU) with Xodus Group for the potential supply of renewable (green) hydrogen to the company's projects.
VRX Silica has also commenced the capital expenditure programme at Arrowsmith North, securing some long-lead items – the feed trommel and vibrating screen – which will limit the project's exposure to supply chain issues.
Mr Maluish said that, although securing the feed trommel and vibrating screen for Arrowsmith North was another move to maintain its first-mover advantage in the Western Australian silica sand industry.
He stated: "Arrowsmith North is the most advanced of our three high-quality, world-scale projects and the most advanced pureplay silica sand development opportunity in Western Australia. The approvals process is nearing completion and we have already purchased long-lead items required for the plant and production."
Arrowsmith Central
VRX Silica's second project, Arrowsmith Central, is located just 30km from the Arrowsmith North project, and is broadly similar in its silica sand purity and access to road and rail. The project is immediately adjacent to the Eneabba-Geraldton rail line to bulk export products from Geraldton.
Arrowsmith Central has a Total Mineral Resource of 76.5 MT at 96.6% SiO2, and a Total Ore Reserve of 18.9 MT at 99.6% SiO2. Similar to Arrowsmith North, the 2Mtpa project has a low CapEx of about $40m. The project is expected to generate more than $2.1bn in revenue over an initial 25-year mine life.
Mr Maluish said: "The Resource at Arrowsmith Central is only a small portion of the tenement area, selected for initial mining studies. We believe this can be substantially increased with further aircore drilling over an increased area in the future."
Permitting at Arrowsmith Central has commenced and is in progress. The company has submitted the Environmental Scoping Document (ESD) to the EPA which details the environmental studies required to allow the assessment of the project. Like Arrowsmith North, the approval of the ESD will provide the company with an indicative timetable for final environmental approvals.
Mr Maluish said that, although it was too early to set a definitive timeline for the EPA approvals process, Arrowsmith Central was on track and the company looked forward to completing the ERD submission once comments are received on the ESD.
"The process we have established with the EPA during the approvals process for the Arrowsmith North silica sand project will be mirrored for the approvals required and development of the Arrowsmith Central and Muchea silica sand projects. Studies outlined in the submitted Arrowsmith North silica sand ESD and ERD documents have been duplicated for both the Arrowsmith Central and Muchea silica sand projects," he said.
"We expect this to aid in the swifter progression of the approvals processes for both of these projects."
VRX Silica has also completed the final Aboriginal heritage surveys at Arrowsmith, meaning archaeological and ethnographic clearance has been granted for works over long-term mining and critical infrastructure projects for both Arrowsmith North and Arrowsmith Central silica sand projects.
Mr Maluish said: "We have a strong and supportive relationship and consultative approach with the local Yamatji Nation. We appreciate their efforts in progressing the conduct of the surveys and reports and look forward to continuing to work closely with them as we progress project development."
Muchea
The Muchea silica sand project is one of the few world-class silica sand projects with an outstanding grade of 99.9% SiO2 purity. This level of purity, and critical low-iron content, is perfectly suited to supply sand for the booming ultra-clear, solar panel flat glass industry.
Muchea is located 50km north of Perth and, like the projects at Arrowsmith, is strategically located close to bulk transport routes and reliable energy supplies. Muchea is adjacent to the Brand Highway and a rail connection to the Kwinana Port, suitable for bulk shipping.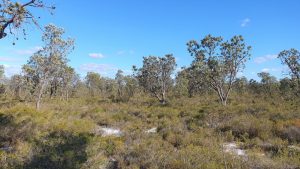 Muchea has a total Indicated and Inferred Mineral Resource of 208 MT at 99.6% SiO2, and an Ore Reserve of 18.7 MT at +99.9% SiO2. Muchea has a low CapEx of $40m required to build the 2Mtpa operation, which is expected to yield $3.3bn in revenue over a 25-year mine life.
Muchea's substantial ultra-high purity, low iron content silica sand deposit, and proximity to reliable energy and transport infrastructure, make it the perfect location to establish a sustainable glass-making and downstream processing industry to meet the booming demand for ultra-clear glass for solar panels and other high-tech products.
Energy makes up almost 80% of the glass manufacturing input cost and Muchea's exposure to a strong domestic gas industry (including to two major gas pipelines) and the Mid-West Renewables Hub, together with access to underutilised rail and road transport infrastructure, are ideal preconditions for a solar panel glass manufacturing plant.
"Muchea is the perfect location to establish a glass making and glass recycling industry in Western Australia," Mr Maluish said.
"The establishment of a glass manufacturing industry would create new highly-skilled jobs and attract more than $1bn in international investment to regional areas due to the soaring demand for solar panels around the world as economies transition to net zero emissions.
"This will expand WA's downstream processing track record. Muchea's highest-quality silica sand and access to reliable and affordable energy open the door for solar panel glass to be manufactured in WA – to be exported domestically and to the world. Key defence industry materials also require hi-tech glass and other silicon products."
A company committed to ESG
Sustainable investment now tops $35tn globally, including a two-year growth of 25% across Australasia, which has transformed the environment in which VRX Silica operates.
The company has aligned itself with the recommendations and goals of the UN's 17 Sustainable Development Goals (SDGs) and the World Economic Forum's (WEF) Stakeholder Capitalism framework to inform sustainability planning and map its progress.
VRX Silica's Environmental, Social, and Governance (ESG) programme is focused on identifying new opportunities to reduce risk and promote efficiencies across its projects, particularly in support of potential glass production in Western Australia.
"We are operating the business to the highest standards of ESG performance, and we are committed to adhering to ESG principles at all stages of the value chain," Mr Maluish said.
"The company understands that the responsibilities of a modern business now extend beyond the scope of shareholder returns alone. There are many important challenges to be met, including evolving priorities around climate risk, biodiversity loss, and, more recently, COVID-19 and its associated public health and social challenges.
"VRX Silica takes a 'think global, act local' approach to selecting appropriate frameworks, with the SDGs ensuring it will play its part globally, while the WEF framework offers more granular detail on material topics.
"At VRX Silica we applaud the fact that expectations of corporate behaviour are changing, and investment capital is being redirected towards more responsible entities. The company's ESG programme charts a path to play its role in a cleaner world."
VRX Silica is investigating opportunities to further limit the impact of mining activities at its three projects, and the company said it would build resilience and drive positive outcomes through its commitment to long-term, sustainable value creation for all stakeholders.
To ensure that VRX Silica can measure, assess, and communicate progress, the company has engaged ESG specialist Futureproof Consulting to ensure appropriate data disclosures and framework alignment.
Following global best practice, stakeholders have been engaged and a list of material ESG topics has been developed alongside a materiality matrix to prioritise the most critical issues.
Please note, this article will also appear in the eleventh edition of our quarterly publication.