Saietta Group's Wicher (Vic) Kist explains how the company is accelerating electrification transitions with its EV powertrain solutions.
Saietta Group PLC is a multi-national business which designs, engineers, and manufactures complete powertrains for electric vehicles (EVs) on land – from scooters to buses – and at sea.
We have engineered breakthrough electric technology, including proprietary axial flux technology (AFT) and radial flux technology (RFT) motor designs which pair with in-house controllers and transmissions. The designs are unique and modular, delivering both high and low voltage electric drive (eDrive) solutions.
Saietta's difference lies in our ability to conceive powertrain solutions tailored to deliver a
competitive advantage, and our turnkey engineering services which are designed to fast-track electric vehicle manufacturers from concept to start of production.
Our vision is to play a leading role in cleaning up the air in large cities around the globe and we have delivered a step-change since becoming a publicly listed company on the London Stock Exchange's AIM market in July 2021.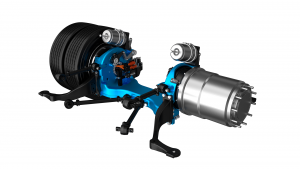 Three dedicated technology divisions
One of our divisions is focused on lightweight vehicle mobility. With its high-tech, low-cost, low-voltage performance and exceptionally durable and robust characteristics, the Saietta AFT electric motors are the ideal powertrain to transform lightweight mobility from being old and pollutive to new, advanced, and sustainable. When matched with our own controllers and gearboxes, the combined 'crate' solution provides a modular solution for manufacturers of electric scooters, motorbikes, rickshaws, and final mile delivery vehicles.
We are also futureproofing the AFT design. Saietta announced a technical collaboration focusing on inner-city solutions in November 2021 with Electric Assisted Vehicles, a leader in lightweight vehicle engineering and sustainable technologies. This collaboration aims to accelerate the widespread adoption of e-mobility solutions within inner-city areas, which we believe will ultimately transition to full autonomous operation.
The focus for the second division is the other end of the road transport spectrum – trucks and buses. In November 2021, we announced the 100% acquisition of Netherlands-based e-Traction, which we renamed to Saietta Europe. This move brought proven, high voltage RFT motors integrated into entire electric axles (eAxles) for trucks and buses into the Saietta Group. It also significantly increased the number of our electric drive specialist engineers and further accelerated our growth by adding new technical capabilities; most notably, an experienced in-house power electronics team.
The third division takes Saietta onto the water. November 2021 was a transformative month because, as well as securing e-Traction, we also launched our state-of-the-art marine propulsion brand, Propel. Based in Amsterdam, Propel is dedicated to designing, developing and commercialising a range of innovative complete in-board and out-board motor solutions based on our AFT architecture. Our aim is to fast-track the electrification of the marine industry while supporting decarbonisation and delivering sustainable and clean mobility on waterways in response to increasingly stringent legislation.
Growth enablers
A key enabler in achieving our vision is investing significantly into state-of-the-art production facilities, equipment, processes, and people. In early April, we took over a manufacturing facility in Sunderland from ZF Automotive. This agreement will enable Saietta to meet its stated objective of establishing a UK pilot production facility significantly ahead of our 2024 target. The number of motors produced will build in a series of phases over time, with the first stage growing to a capacity of 100,000 units per annum.
Our new Sunderland production facility has become one of our 'four pillars' alongside Saietta's engineering bases in Upper Heyford (Oxfordshire) and Silverstone in the UK, Propel's operations in Amsterdam and Saietta Europe's headquarters in Apeldoorn which is also in the Netherlands.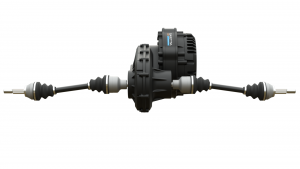 We are pleased to say that AFT motor production has moved from concept to commercial sale primarily through Propel, but also with prototype sales in the US. We have also successfully completed multiple retrofit activities in the last year to convert buses from diesel to our RFT electric drivetrains through our RetroMotion service, and have an ever-increasing order book. RFT motor development continues for bus and truck applications for both Europe and the US markets.
Saietta has a contrarian approach
As an industry, are we on the right path to speedily enable the electrification of mass transport? At Saietta, we of course fully support the transition from inefficient, dirty combustion engines to zero-emission electric powertrains. However, we are concerned as to how the industry is achieving this. Some uncomfortable questions need to be asked at this critical point for the automotive world.
Why are so many car manufacturers intent on producing high-powered, highly torqued EVs to transport the masses from one point to another? Especially at a point in time when these zero-emission silent-running vehicles are far from breaking into the mass market, with owners having a variety of concerns including price point, downtime costs, fast charging anxieties and real-world driving range worries.
The latter two points are especially pertinent and are directly impacted by the industry's fixation on high-performance all-electric passenger cars which have performance figures higher than 600ps and 700Nm torque. Because, of course, the more power you dial into an e-powertrain, the greater the adverse impact on both charging time and real-world driving range.
In this respect, at Saietta we have always stayed true to our convictions and do not follow the crowd. That is why we are championing a scaleable, more sustainable electric powertrain model that will truly democratise EVs.
What are EV powertrain technologies?
Powertrain electrification technologies have the potential to provide cities around the world with cleaner air, whilst significantly reducing the environmental impact of mobility. By optimising the EV powertrain technology for its intended purpose, plus enhancing sustainability throughout the development and manufacturing processes, it is possible to unlock the key to the full benefits of electrification. Utilisation of lightweight, high torque and high efficiency electric motors enables manufacturers around the world to carefully align application and powertrain requirements, reducing the reliance on raw materials and cutting total vehicle up-front and operating costs.
That is why the Saietta engineering teams across Europe have been working incredibly hard to develop, hone and perfect our EV 'crate' solutions based on our AFT and RFT motor architectures.
Take the AFT design as an example of our approach. The axial flux architecture is a dual-rotor, permanent-magnet motor with yokeless stator and distributed winding. The key attributes it delivers are high torque and continuous power, delivered at both low rpm (meaning a simple, cost-effective transmission or no transmission at all) and low voltage (major simplification for after sales servicing) and tuned to deliver high efficiency on urban duty cycles (meaning less battery capacity size/weight/cost for a given range).
These powerful performance characteristics, alongside the typical lightweight and compact size of axial flux technology, make AFT an attractive proposition for manufacturers of lightweight electric vehicles.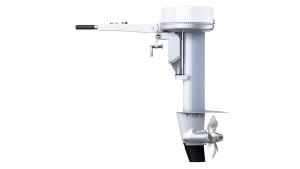 The simplicity of the design – including the yokeless stator arrangement – essentially eliminates the need for a heavy frame that is required to support the stator windings in alternative motor technologies. AFT has also been rigorously designed to enable its production to be highly automated in mass manufacture.
The result is that AFT delivers the right performance at the right price for lightweight vehicles.
Deploying our technology
Again, we will focus solely on AFT to demonstrate our global technology deployment strategy.
Most lightweight vehicles such as scooters, motorbikes, rickshaws and final mile cargo carriers are sold in Asia where the speed and scale of the transition to electric propulsion is rapidly ramping up by the day.
India has six of the ten most polluted cities in the world. Scooters and motorbikes are estimated to account for over 60% of India's retail petrol consumption, with sales in 2019 of just over 21 million units and this is forecast to rise sharply over the coming years. So, emission levels from two-wheeled vehicles in India is a considerable issue and authorities are putting strict legislation in place to drive the uptake of electrification in mega-cities because widespread adoption could transform the living conditions of millions through the provision of clean air.
To fast-track the deployment of AFT in India, Saietta has formed a joint venture (JV) with a well-respected Tier 1 automotive supplier called Padmini VNA, which is already an approved supplier to major lightweight vehicle manufacturers. The JV will jointly manufacture AFT technology in India.
Our strategy is to establish appropriate routes to market globally to fast-track the deployment of our technology.
Business outlook
There is no denying that 2021 was a breakthrough year for us at Saietta and 2022 promises to take our growth to the next level.
Demand for our AFT and RFT motors remains strong, with a number of commercial negotiations advancing, and the directors are confident that Saietta remains on track to reach its revenue expectations for the financial year, which commenced on 1 April 2022.
The world is still coming to terms with e-mobility and, as a result, there is much more to this shift than attention-grabbing headline power performance figures and brand-building. It is about true sustainable mobility across the lifetime of the vehicle and, just as importantly, zero emissions and clean air for all. Saietta intends to stay at the forefront of democratising electric vehicles of all shapes and sizes.
Please note, this article will also appear in the tenth edition of our quarterly publication